CENTRO INTERNAZIONALE STUDI CONTAINERS
ANNO XXXVIII - Numero FEBBRAIO 2020
---
LOGISTICS
CONTAINER FREIGHT RATES CONTINUE TO TUMBLE
"Maersk CEO Soren Skou warned yesterday that factories in China were still only operating at 50-60% capacity and a rebound in shipping demand in the coming weeks would depend on a swift economic recovery from the impacts of coronavirus."
There are few signs of a respite for carriers just yet with Drewry's composite World Container Index losing 5.8% this week and is now down 1.9% versus a year earlier.




In the week to 20 February, freight rates to Europe on the key Shanghai-Rotterdam and Shanghai-Genoa lanes fell 9% and 10%, respectively, noted Drewry.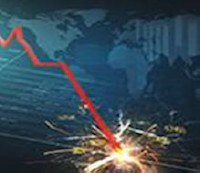 A similar picture is apparent on the trans-Pacific. Freightos reported earlier this week that the coronavirus outbreak "has been profoundly disruptive to the global supply chain, especially for importers heavily reliant on Chinese manufacturing".




It said China-US West Coast prices had lost 8% over the last week to slump to $1,371 per FEU, with rates now 24% lower than at the same point of 2019.




China-US East Coast prices fell 6% to $2,661 per FEU over the week and now trail equivalent pricing in 2019 by 10%.




Cargo scarcity a continued blight




According to Freightos, such is the scarcity of cargo that price cutting is not much of an option for lines given that those vessels that did sail this week reported that up to 90% of capacity was empty.




With demand devastated, carriers are continuing to cut capacity. Skou said Maersk had now cancelled 50 sailings in addition to services that were blanked for Chinese New Year holidays and factory closures in late January.




The strategy is being replicated across the liner sector. According to Alphaliner, carriers have cancelled an unprecedented number of sailings from Asia in the past month.




Mass void sailings the only response




Alphaliner's latest survey of Asia-North Europe liner services revealed that 33 sailings were cancelled in the last four weeks, meaning that 46% of scheduled departures on the route were dropped.




"Further to this, carrier schedules and customer announcements indicate that another 17 sailings are to be blanked in the next four weeks," said the analyst. "Capacity reductions over the eight-week period from Chinese New Year are thus expected to reach about 700,000 TEU."




This compares to post Chinese New Year cuts of just 340,000 TEU in 2019 and 210,000 TEU in 2018.




"A similar situation is observed on the other key outbound routes from China," added Alphaliner. "Capacity reductions on the Asia - Med route will reach about 290,000 TEU, while 680,000 TEU will be removed from the trans-Pacific trade lane's capacity."




While work in China has finally resumed after the extended three week holidays, the container demand recovery has been slow.




"Vessel capacity utilisation therefore remains low, despite the many cancelled sailings," noted Alphaliner.




Backhaul slot shortages likely




"Capacity constraints could however begin to affect the backhaul routes in the coming weeks, as outbound capacity from Europe and the United States will be limited as a result of the current cancelled sailings from Asia."




According to Freightos there is room for optimism. The partial resumption of work and beginnings of production are generating some initial signs of hope, believes CMO Eytan Buchman.




Freightos recorded a 2% uptick in China's share of searches for freight bookings out of Southeast Asia for the first time since the outbreak, indicating that some shippers have - or are - anticipating orders that will be ready soon.




"But aside from areas still officially shutdown, the resumption of work has remained slow even in the cities and provinces that are back from the extended holiday," he added.




"Some factories are waiting to reopen out of fear that the close quarters in factories and dormitories could lead to more infections.




"Only about 10-20% of factories have received permits to reopen so far and though transportation within most provinces is back to normal, travel between provinces is still limited, which will also add to the slow recovery."




China's GDP growth could collapse




With China still in a state of shock, the economic outlook remains bearish.




"China's economy is experiencing the rare case of simultaneous demand and supply shocks," said a note from Nomura.




"Because COVID-19 in China is far worse than SARS in terms of breadth and speed of infections, the 'fear factor' among China's population is palpable, with people shunning crowded places like shopping malls and restaurants, crimping consumption, which contributed nearly three-fifth of China's GDP growth last year.




"On the supply side, the government's draconian controls to contain COVID-19 have blocked transportation and disrupted factory production and probably exacerbated the fear factor.




"[This has all been] made worse by the extended lunar new year holidays, stranding tens of millions of migrant workers at home."




Nomura now expects China's real GDP growth to tumble from 6% in Q4 2019 to between 0.5% and 3% this quarter.




And it warns the damage will spread far beyond Chinese borders: "Do not underestimate the hit to growth in economies outside China, particularly in Asia." .




www.lloydsloadinglist.com - 21/02/2020






- Piazza Matteotti 1/3 - 16123 Genova - ITALIA
tel.: 010.2462122, fax: 010.2516768, e-mail