CENTRO INTERNAZIONALE STUDI CONTAINERS
ANNO XXXVIII - Numero APRILE 2020
---
INDUSTRY
DELOITTE HELPS NAVIGATE DISRUPTION WITH FIVE TRENDS INFLUENCING TOMORROW'S MANUFACTURING INDUSTRY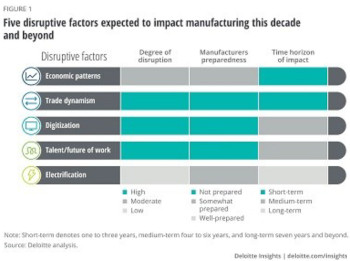 At the start of the 2020s, it seems the only constant is an intensified pace of disruption and a call for manufacturers to recalibrate strategies and operations to prevail.




Deloitte has identified through leadership discussions and analysis of primary and secondary sources five factors that are expected to have an impact on manufacturers in the next 10 years. Each varies in the time horizon of its potential impact, the scale of disruption it could deliver, and the level of preparedness manufacturers have for its expected impact. Nonetheless, all five could redefine how manufacturing will possibly look by 2030.




This report describes these factors and suggests some of the primary ways in which they could alter where, when and how manufacturers deliver value to customers and other stakeholders.




Highlights




Economic patterns: According to Deloitte research, some traditional barometers for manufacturing health may not reflect the new dynamics of today's economy. Regardless, companies should act now to build resilience.
Manufacturers should first understand how they were impacted during the past recessions and second, find ways to build resilience for the upcoming ones.
1. For example, a statistical analysis of past recessions by Deloitte found industrial manufacturers with easier access to capital and relatively lower debts fared better in a recession and posted higher revenue growth during recovery periods.




2. Also, while it's tempting to batten down the hatches and close the coffers when heading into a slowdown or possible recession, historically, industrial manufacturers that chose to invest more in technology and assets posted much better results in the recovery period.




Trade dynamism: A recent survey of Deloitte industrial manufacturing leaders revealed a 92% consensus that manufacturers are "minimally prepared" to handle long-term trade volatility.
Deloitte's industrial leaders expect that if international trade volatility persists, manufacturers could move to managing their operations and production more regionally, as soon as in the next one to three years.
To increase resilience and prepare for the new normal in global trade, Deloitte suggests companies assess and standardize trade processes, derisk supply chains and partner with regional players, among other approaches.
Digitization: Now is the time to make bold decisions regarding digitization. According to Deloitte's industrial manufacturing leaders, as many as 35% of today's industrial companies could be out of business or significantly changed in the next decade if they don't embrace digitization.
Deloitte's industrial leaders predict that in 10 years, as much as 30% of new revenue for manufacturers could come from digital revenue streams. In fact, industrial companies could see a 50/50 split between selling "products" and selling "outcomes/solutions.""
www.logisticsmgmt.com

- Via Raffaele Paolucci 17r/19r - 16129 Gênes - ITALIE
tél.: +39.010.2462122, fax: +39.010.2516768, e-mail