CENTRO INTERNAZIONALE STUDI CONTAINERS
ANNO XXXVIII - Numero GIUGNO 2020
---
ROAD TRANSPORT
TRUCKING TRENDS: PRODUCE SEASON COMING JUST IN TIME FOR TRUCKERS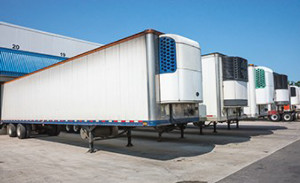 This spring the COVID-19 crisis put trucking companies on a path to success that resembles a double-black-diamond ski slope. Not only has the virus created working conditions that are potentially dangerous for a truck driver's health, truckload volumes spiked in mid-March and then plunged while stay-at-home orders persisted and much of the economy shut down.




The DAT Truckload Volume Index, a measure of dry van, refrigerated, and flatbed loads moved by truckload carriers, fell 19 percent in April compared to March and was down 8 percent year over year.




With so much of the manufacturing supply chain shut down during March and April, capacity from contract carriers shifted to the load boards. The April load-to-truck ratio for van freight averaged 1.0 nationally, the lowest since February 2016. For three weeks in April the ratio was actually less than 1.0, meaning there were more available trucks than freight on the spot market. Van spot rates averaged $1.63 per mile nationally last month, 23 cents lower compared to March and off 17 cents versus April 2019. Some truckers parked their equipment to wait for better conditions.




Finally, there are signs that volumes are building again, with much of this activity related to fresh fruits and vegetables and temperature-controlled freight. Here are three things to watch in the coming weeks:




1. Fruits and vegetables are on the move




The U.S. grows about 70 percent of the food consumed in this country, and the next highest supply comes from Mexico via gateways in Texas, Arizona, and California. After seeing volumes of refrigerated freight increase in isolated border-crossing markets in late April, the number of loads moved during the week of May 4-11 increased on 49 of the top 72 reefer lanes monitored by DAT compared to the previous week. The average spot rate was higher on 36 of those lanes.




The good news is that reefer volumes are gaining like they're supposed to during May. The bad news is that they're starting from exceptionally low levels and have a long way to go.




2. Food supply chains are adjusting




With restaurants and other commercial kitchen closed or severely limited in their operations, foodservice companies are trying mightily to maintain their supply chains by promoting take-out services and transitioning into becoming retail grocery suppliers. This isn't as easy as making a sale. The types of products and size of the packaging on the commercial and wholesale market often isn't suitable for individuals buying groceries. But the foodservice supply chain is adapting.




3. Crucial weeks ahead




The next two to four weeks are crucial for small carriers and independent operators, which provide vital capacity for fruit and vegetable producers. If many can't financially survive deeper into produce season, or rates are too low to operate, or crop yields are poor, the impact on the ag and food supply chains could be significant.




These small trucking operators have few places to turn for relief from low volumes.




A drastic reduction in manufacturing, oilfield activity, and construction has contributed to a deep decrease in the national load-to-truck ratio for flatbeds, down from 21.8 in March to just 5.3 last month, an all-time low. The national average flatbed spot rate was $1.93 per mile, 26 cents less than March and the lowest since January 2017.




Carriers of dry-van retail goods are facing double-digit year-over-year declines in import traffic this spring and summer. According to the National Retail Federation, U.S. ports handled 1.37 million TEU in March, the latest month for which after-the-fact numbers are available. That was the lowest volume since 1.34 million TEU in March 2016, down 9.1 percent from this February and down 14.8 percent year-over-year.




For now, any uptick in reefer volumes is a welcome sight. I'm treating these trends with cautious optimism, understanding that the forces driving the market are very fragile and largely depending on how successful states are with their reopening plans. In the meantime, be safe and stay healthy.




Ken Adamo is the chief of analytics at DAT Solutions, which operates the largest load board network for truckload freight and provides forecasting and other market intelligence to the transportation industry. For more analysis about the impact of COVID-19 on truckload freight, visit dat.com/industry-trends/covid-19.

- Piazza Matteotti 1/3 - 16123 Genova - ITALIA
tel.: 010.2462122, fax: 010.2516768, e-mail