Significant events
Situation by ship size:
- VLGC
- LGC
- Mid-size
- 8 000/23 000 cbm
- 8 000 cbm and less
Perceptions
The second-hand market

Significant events

The three successive blows which have contributed to the slowdown in the major industrial and financial markets over the last two years led us to a certain scepticism at the end of 2001. In practice the international economic situation experienced in quick succession the bursting of the technological bubble at the end of the second quarter 2000, then the tragedy of September 11 th with its multiple geopolitical repercussions, and finally the fall in the stock markets linked initially to the Enron affair during the last quarter of 2001.
The confidence required for any growth in the economy upon which our sector of maritime transport largely depends had already been seriously shaken.

We then thought that we had had the worst of the storm behind us and could hope for the start of a recovery, but if the cyclone left over plenty of turbulence, other financial scandals came in affecting the book value of large American companies during the early months of 2002, fostering a sense of lack of confidence.

With greater or lesser impact, all segments of our shipping markets were affected by a spiral of uncertainty up until mid-year, and it is only as from the third quarter that an initial shiver of activity came up.

Within this gloomy climate, a few tendencies can be observed over the past 12 months :

A global but limited recovery in prices for oil products and derivatives, following the collapse seen at the end of 2001, besides a few exceptions such as ethylene. Here are the prices fluctuations over the last 2 years: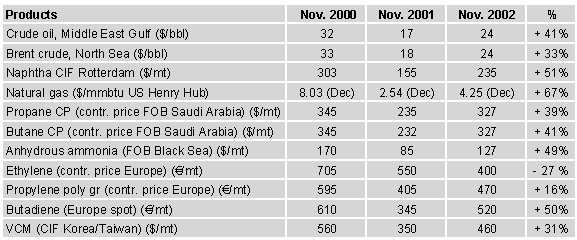 Parallel to this recovery in product prices, the level of freight rates in the spot and short-term market experienced a strong downward pressure during the first half of the year, in the different ship size categories, with the exception of the VLGCs which were already at an historical low at the end of 2001 and were able to benefit from alternative employment in the naphtha and clean petroleum product markets. Globally freight rates remained depressed during the first half of the year, then began to rise during the summer, prior firming up more significantly during the last quarter.

We will stress again that these average rates exclude any eventual idle time between voyages and are in no way an indication of owners' profits either out of the spot market or from longer term transactions of 2 years or more.

The development of voyages concluded around the arbitrage of LPG prices within loadings out of Atlantic export zones (North Europe, North Africa, and West Africa) towards the Far East and the U.S. These are not steady movements but generally have the effect of capturing larger capacities of transport, by the voyage length and by an optimisation of ships' sizes (i.e. movements of 20 / 35,000 cbm from North Europe to the Mediterranean Sea). Less frequently, a few arbitrage movements were also concluded with ethylene and propylene out of Asia towards Europe.


A sharp increase of the oldest ships sold for demolition, as we had anticipated at the end of last year.

This is a crucial balancing factor in the market, often alluded to these last years but rarely seen in practice since many years. Maintenance procedures and a higher degree of reliability of gas carriers have meant that those ships have been kept in service much longer than most other tank ships.

The volume of ships which have been demolished in 2002 has been impressive. At the end of December 2002 a total of 30 units had been sold for scrap for a total capacity of 782,000 cbm of which 6 VLGC over 66,000 cbm representing a capacity of 434,670 cbm. The average age of these 30 units is 28 years old. Nonetheless we include in these sales two small ships of 920 cbm which are being converted and two 12,000 cbm purchased back from the scrap yard by a Middle East trader.

Numerous constricting quality standards imposed by Majors in recent years, even if sometimes smacking of protectionism, has helped accelerate the trend towards demolition. The inevitable consequence of accidents that tankers have suffered in recent times is affecting the age limit and consequently the period of active life span of ships. We should even see this tendency becoming more accentuated over the next few years, when a strong rejuvenation of the fleet is expected, mainly for sizes over 35,000 cbm capacity.

A strong depreciation of ships' values mainly due to their lower replacement costs; as the price of newbuildings for identical or even better performing carriers has fallen sharply in the last few years has taken place to reach upto 25 % below that of earlier years. These depressed valuations also affect the possibility of capital realisation, be it for second-hand or scrap sales.




Situation by ship size

Another gloomy year for this sector, despite the limited contribution of the naphtha and jet fuel markets, with however a slight improvement during the second half and more sound result at year's end.

Whilst spot rates on the reference voyage MEG / Far East did not exceed $ 19 / 20 per ton during the first half ' for an average time charter equivalent (depending on ship's specifications) of about $ 400,000 per month ' the time charter rates for a short period (3 / 6 months) were slightly higher at $ 450,000 / 500,000 per month. Trading of LPG remained depressed and the contribution of the clean petroleum product market was very limited.

The second half of the year was better orientated with an initial stimulus given by some arbitrage movements from the North Sea, West and North Africa to Asia, then a more sustained trend in the last quarter when spots voyages MEG /Asia rose to an average level of $ 28 per ton or an equivalent time charter of $ 675,000 per month.

The next few months remain highly uncertain in this category of carriers, until the current tonnage surplus (9 new units due for delivery during 2003-2004) can be absorbed by the sale of several older units for scrapping.




The LPG sector movements did not balance for the reduced demand in ammonia for these sizes. This tonnage category is in a period of rejuvenation, between old carriers which are still used in ammonia shipments, and 7 new units, which should be delivered between 2003 and 2005.

The most modern units, under time charter or contract of affreightment, continue to obtain the best returns in this sector, at a level of around $ 725,000 per month, whereas the rest of the fleet, suffering from extended idle periods, did not reach more than an average of $ 500 / 550,000 per month time charter equivalent on the spot market.

Ammonia movements and the optimisation of LPG cargoes in larger parcels, represent the staple diet for these vessels but the ammonia market continues to get more and more regionalised with the use of smaller sizes, whilst the LPG cargo lots fall in between two stools ' VLGCs sometimes less flexible by their size and that of 35 / 40,000 cbm showing better flexibility but at higher cost.

Two ships were sold for scrap in this segment size against no deliveries in 2002, but seven 59,000 cbm are on order for delivery spread out between 2003 and 2005 on behalf of Norwegian owners and Sonatrach.


As in the past, this sector resisted better to the global pressure on rates. This obviously does not take into account any eventual idle time which several units of 24 / 28,000 cbm suffered in the first three quarters and representing in the case of Exmar an annual waiting time percentage of some 17 %.

Renewing of time charters for 6 / 12 months were concluded at levels below 10 % compared to last years', whereas rates for contracts of affreightment hardly moved.
We should also note the additional capacity of the 22,000 cbm Navigator ships among which those which were unable to find petrochemical employment switched quite logically towards butane, propane and ammonia markets.

There have been 4 ships sold for scrap and delivery of two 35,000 cbm and two 22,500 cbm during 2002.

Given the greater flexibility of these ships (ammonia to the Caribbean and inter Asia, LPG in Europe and the Indian Ocean), the slightly better positioning of this category size and its age structure, it would not be surprising to see some owners benefiting from competitive prices still proposed by Korean and Japanese shipyards and placing orders for newbuildings intended to replace the units due to be scrapped in the coming years.


With the long-awaited recovery in petrochemicals not yet occurring, these ships again suffered severely in securing full employment throughout the first two quarters, and did not succeed to shake off the lethargy they faced at the start of the year.

As in the other sectors, the situation improved slightly during the third quarter with a relative recovery, assisted by some cross-continental movements of ethylene and propylene and an increased demand in the LPG market out of North Europe and the Mediterranean.

Fleets committed to some contracts of affreightment were less affected than ships employed in the spot market, among which some were on the point of being laid-up.
Average returns for spot voyages (on time charter equivalent) were hovering between $375 / 425,000 for the larger segment size and about $300,000 for the smaller size, with a slight premium for ethylene carriers when employed in ethylene traffic. These levels however were able to firm up towards the end of the year to reach over $ 500,000 for 15 / 22,000 cbm carriers and more than $ 375,000 for the 8 / 12,000 cbm sizes.

There was again the usual development of propylene and ethylene movements, built up around plants shutdowns due to programmed or accidental maintenance, sometimes to the benefit of shipping with the realisation of additional voyages outside traditional routes.

Three new ethylene carriers of 8,200 / 8,500 cbm were delivered in the course of the year (two for Schulte / Unigas and one for Norgas) from Chinese shipyards, and one 8,700 cbm semi-pressurised Japanese-built ship (fixed on long term basis to Geogas).

Eight new ethylene carriers of 8,500 / 10,200 cbm are under construction due for delivery in 2003 for the account of Italian, German, and Norwegian owners, but these units should soon replace a series of 7 ships of 6 / 8,000 cbm over 25 years old due to be phased out in the coming years.


The size range up to 8,000 cbm, a limit introduced several years ago, is no longer as clear a cut as it was, since several pressurised newbuildings with a capacity of 8,000 to 11,000 cbm have been ordered out of which some already delivered from Japanese shipyards.

These new pressurised carriers, although dedicated mainly for LPG trade, have a considerable impact on the smaller size units and consequently we have included them in this category.

This sector, split between petrochemical and LPG employment, has been under strong pressure throughout the year with results often lower than the already depressed numbers registered last year. The average results in the spot rates or for short term periods were between $ 140,000 and $ 240,000 time charter equivalent depending on size and type of vessel (4,000 to 8,000 cbm pressurised, semi-pressurised, refrigerated, or ethylene carriers).

At those floor levels, a number of sales and mergers were finalised. Tarquin International decided to lower its flag and sell its fleet, divided between Lauritzen Kosan for four 4,400 / 6,300 cbm, and the 7 other ships of 4,000 / 8,600 cbm to members of the Unigas Pool. Lauritzen Kosan and Exmar joined forces to operate their respective fleets of pressurised ships of 3,200 / 6,500 cbm capacity in Asia, whilst a Greek owner new to the gas market, Tsakos, has joined forces with Lauritzen Kosan on 4 units of 4,400 to 6,300 cbm already belonging to the latter.

As with the other size category of ships, the market picked up marginally during the last quarter and 2003 should begin under better auspices than January 2002 with fewer new units due to be delivered in the course of the coming months.

Eleven vessels were sold for scrap (of which 2 for conversion) against 14 newbuilding delivered during 2002 with 9 other orders due for delivery over the period 2003-2004.


Perceptions

Taking all categories into consideration and averaging together the variations particular to the different size sectors, the LPG market is very near bottom levels of operating seen over the last two years. Absorbing the economic shocks seen recently is proving more difficult than predicted.

The industry is also facing increased running costs. 2003 should witness a substantial increase in insurance cover premiums (some talk of more than 30 % !), higher bunker prices for ships working the spot market and contracts, and higher costs for improvement in quality, becoming more and more restrictive but necessary in order to insure the optimal employment required by all actors.

More bad news in an already difficult context, without mentioning the depreciation of the dollar. What is the solution ?

Even taking into account a probable improvement in the economic situation, which is always subject to major geopolitical disturbances or mini crisis (war or other attempts to control natural resources, etc.) one of the key factor for restoring a better balance in the market remains the level of tonnage availability.

Efforts made by shipowners at combining or joining forces together are most welcomed, when same are resulting in a better optimisation of ships employment, but they do nothing to correct the imbalance created by the surplus capacity.

In this respect the year 2002 can be considered a turning point due to the volume of sales for scrapping, much awaited but finally committed to in 2002, faced with an orderbook that has never been so close to the sole replacement of the fleet. Let us hope that this trend will continue without major disturbances over the next few years.


LPG carriers second-hand market

We have at last seen an increase in the number of carriers sold for scrap in 2002. A total of 30 ships for about 782,000 cbm:

6 VLGC and two ships of 52,000 cbm,

5 ships between 20,000 and 50,000 cbm,

5 ships of 12,000 cbm,

8 ships of 2,000 ' 7,000 cbm,

3 ships less than 2,000 cbm.

This is not very surprising if one sees that the average age of ships going for scrap was nearly 30 years old. But it is quite possible if low freight rates combined with high running costs and low newbuilding costs persist, that LPG owners will come into line with owners of other types of ships for which the average scrapping age is 25 years.

Nonetheless these figures remain significantly below the number of ships delivered in 2002 or due to join the fleet in 2003. Three VLGCs were added in 2002 and 7 more are due in 2003. Four units of 60,000 cbm and 2 of 35,000 cbm will be delivered in 2003, adding to 4 of 20,000 ' 35,000 cbm already delivered in 2002.


Six VLGC and 2 units of 52,000 cbm went to the scrapyards. The only sale for further trading in 2002 was the 'Co-op Sunrise' of 77,000 cbm, built in 1987, bought by Bergesen for service in his pool, at a price close to $ 27 million. Outside this sale, only the oldest units were put on the market and they only found interest for demolition.

There still remain 28 ships over 25 years old and 20 over 20 years which should, at least for the first category, make them candidates for scrapping when they submit to a technical inspection.


Carriers between 20,000 ' 50,000 cbm

2002 began with the sale of 'Sombeke', 33,000 cbm, built 1990, for about $ 31 million and ended with the sale of 'Zeebrugge', 24,000 cbm, built 1984, for $ 16 million against a three year charter back.

These prices can be considered strong in comparison to the building costs of such carriers. But the concentrated ownership of this type of ship among a reduced number of players, and the absence of alternatives other than newbuilding, coupled with good freight rates meant that healthy levels were maintained.


Carriers between 9,000 ' 20,000 cbm

Outside sales for scrapping, no others were made in this category.


Carriers less than 9,000 cbm

Pressurised ships of 3,000 ' 3,500 cbm suffered a further drop in value of about 10 % compared to the previous year. We can cite the following sales:

'Golden Crux n' 15', 3,500 cbm built in 1991, sold for $ 4 million

'Isle Fortune', 3,500 cbm built 1996, sold for $ 5.9 million

'Regulus Gas', 3,500 cbm built 1998, sold for $ 6.6 million

'Gas Rosario', 3,500 cbm built in 1995, sold for $ 5.1 million

'Cotswold' and 'Snowdon', 3,200 cbm, built 1989, sold for $ 3.4 million apiece, with one year's employment attached

In the 'semi-refrigerated' carrier category, the big event of the year was without doubt the consolidation of the market following the return of 11 carriers belonging to the owner Tarquin to the control of Unigas, following a block sale for about $ 158 million to members of the pool : Sloman Neptun and Bernard Schulte each bought a 7,200 cbm built in 1997 and a 8,600 cbm built 1998, whilst Othello took a 8,600 cbm and a 6,300 cbm built 1999, as well as an ethylene carrier of 4,000 cbm built in 1988. As regards the smaller units, two 6,300 cbm built in 1999, a 5,600 cbm built in 1994, and a 4,400 cbm built in 1992 were resold for about $53 million to Lauritzen Kosan who, shortly afterwards, created a joint-holding 50 / 50 with Greek owner Tsakos to manage these carriers.

For carriers over 20 years, 2002 passed with buyers only offering prices close to scrap values. Only the 'Ledagas', 5,100 cbm built in 1984, managed to hit the jackpot in getting a price near $ 5.5 million, as her technical characteristics made her the only candidate acceptable for her Greek buyer.


* * *

The conclusion, valid for all size carriers, is that the future does not indicate a return to the good old times, when the technical life span of a LPG carrier (30 years or more) corresponded to the commercial life span. The commercial and financial conditions in force in the oil industry will more and more be imposed as a reference to the LPG market.

---
Shipping and Shipbuilding Markets in 2002
TRANSPORTE MARÍTIMO
Londres
PUERTOS

Barcelona/Nápoles
PROXIMAS SALIDAS
ASOCIACIONES

Marina di Carrara
FORUM
de lo shipping y
de la logística
CONFITARMA
Roma, 27 ottobre 2023
PUERTOS

Marina di Carrara
TECNOLOGÍA INFORMÁTICA

Hamburgo

PUERTOS

Estambul/La Goulette