The cruise market in 2005
WITH ONLY FOUR SHIPS AND A TOTAL CAPACITY OF 9,450 BERTHS DELIVERED THIS YEAR, against ten the year before, representing the equivalent of 23,500 berths and an average of thirteen ships and 25,000 berths per year delivered over the three previous years, the cruise companies have been able to consolidate their positions and allow themselves to increase their prices in the face of a demand which is as strong as ever. The industry has therefore been able to return to the price levels of pre-September 2001, and the whole market has been able to gain from this revival, including the 'luxury' segment which has come back into profit. This general improvement of the cruise market 'unless some major external event' should continue through 2006, a year in which only six new ships with a capacity of 16,000 berths are expected to join the fleet.
To illustrate this situation one only has to look at the ever-exceptional annual results of the Carnival Group, which improved its turnover by 14 % at over $ billion and managed to improve its net margin which reached 20.3 %, allowing it to achieve a net result of $ 2.25 billion. This result is all the more remarkable in the face of the strong rise in bunker prices and the succession of hurricanes, which severely affected the tourist season in Florida and the Caribbean during the last quarter.
The close commercial relationship which has been established between the Fincantieri shipyard and the Carnival Group has again been very fruitful this year, since the latter started the year by ordering a new ship for Costa and finished it by announcing a combined order of four ships with an option for a further two, for over $ 2 billion (the order being split half in dollars, half in euros).
Fincantieri finished the year with thirteen cruise ships on order (with two options), spread over three building sites, all destined for the Carnival Group. This certainly augurs well for the privatisation which the shipyard has announced, but such an example of a supplier dependent on a single client is also a very special case.
The world orderbook for cruise ships at the end of 2005 totalled 28 ships for a total of 77,400 berths (compared to 21 ships and 56,000 berths at the end of 2004), or an average capacity by ship of 2,760 passengers (on the basis of two passengers per cabin), an increase of 4 % from last year. Fifteen ships within this orderbook are of post-Panamax dimensions, whereas there were only 9 in 2004.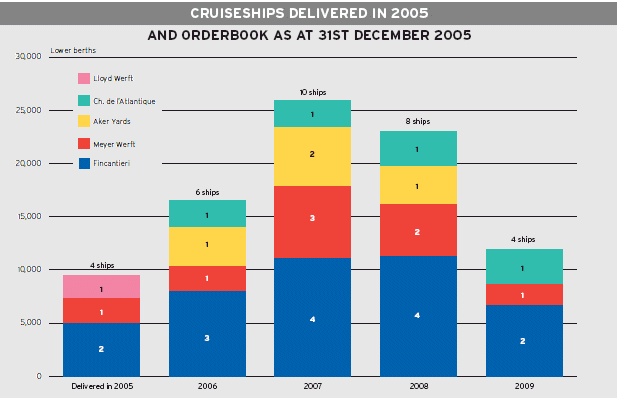 Eleven new orders were definitely concluded for in 2005, which are broken down as follows:
Six firm orders with two options for the Carnival Group:
A third ship of the 'Sphinx' type, 68,500 gt, 1,015 cabins, for Aida Cruises with Meyer Werft at a price of 315 million euros, for delivery in 2008.
Another Panamax ship for Holland America Line (HAL), considerably bigger than the previous ones, 86,000 gt and 1,022 cabins (compared to 81,800 gt and 924 cabins for the 4 preceding ones in the 'Zuiderdam' series) for about $ 450 million, for delivery in 2008, to which can be added one option.
Two ships of 112,000 gt, 1,502 cabins, of the 'Concordia' type for Costa Crociere with Fincantiere Sestri, respectively at 475 and 485 million euros, for delivery in 2008 and 2009.
One ship and an option for Carnival Cruise Line on the basis of a new hull of 130,000 gt and 1,804 cabins, namely the biggest luxury cruise vessel ordered with Fincantieri Monfalcone, at a price of about e560 million, for delivery in 2009.
A third unit in the series of the 'Crown Princess', 116,000 gt and 1,557 cabins, for Princess Cruises, at a price close to $ 570 million, for delivery end 2008, also being built at the Monfalcone site.
Two firm contracts and one option for Royal Caribbean Cruise Ltd. (RCCL):
A third ship in the 'Freedom' series for RCI, 158,000 gt, 1,852 cabins, with Aker Finnyards at Turku, at a price of $ 720 million, for delivery in 2008.
A ship in the new 'Challenger' series, for Celebrity, 118,000 gt, 1,452 cabins, ordered with Meyer Werft at a price of $ 641 million, delivery in 2008, with an option for a second ship. A firm order for Norwegian Cruise Line (Star Cruise Group):
A third ship in the 'Pride of Hawaii' series, 93,000 gt, 1,188 cabins, ordered with Meyer Werft at a price of '391 million.
The owner abandoned the two options that he had negotiated with Aker Finnyards at the end of last year, and has returned to his favourite supplier, Meyer Werft, to order this new ship.
Two ships firm for Mediterranean Shipping Cruises (MSC):
Two post-Panamax units of 133,500 gt, 1,650 cabins ordered with Chantiers de l'Atlantique for around '520 million each.
These two ships will represent the seventh and eighth ships of the MSC fleet built with Chantiers de l'Atlantique.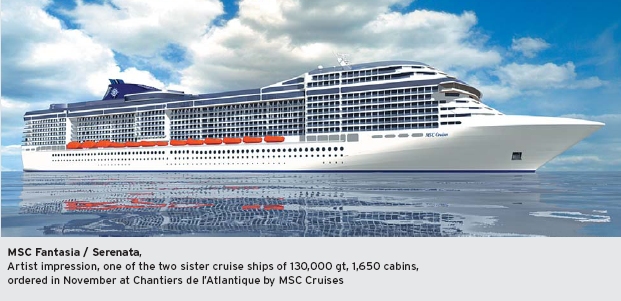 This orderbook is indicative of the evolution of the size of cruise ships, with owners permanently looking to lower their running costs per passenger by maximising the scale effect. The Panamax dimension is becoming, little by little, a less important reference.
It should be pointed out that it is fairly difficult to make an exact calculation of the cost price of a cabin, especially given the variation in exchange rates and the provision for supplementary costs, which vary from one ship to another and are integrated in the published prices. However, on average, the price for a post-Panamax ship is somewhere below $ 400,000 per cabin.
At the beginning of 2006, Chantiers de l'Atlantique, somewhat behind in their plan of new orders compared to their European competitors, announced their sale to Aker Yards, which could therefore offer two sites for the building of post-Panamax ships and become a serious competitor to Fincantieri. For owners in this sector it is one less European supplier: there are now only three. But after all, was it not the owners who took the first step towards consolidation with 85 % of the market split between the three big players in the cruise industry?
Of the four ships delivered during the course of 2005, two were for the Carnival Group:
The first was for P&O Cruises: 'Arcadia', 82,500 gt, 1,952 lowerberths, 984 cabins, delivered in March 2005 by Fincantieri.
The second, for Carnival Cruise Line: 'Carnival Liberty', 109,500 gt, 2,974 lower-berths, 1,438 cabins, delivered in July 2005 by Fincantieri.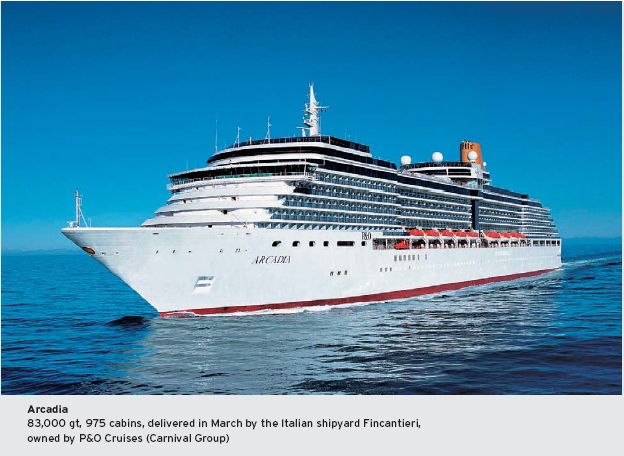 Two others were delivered to Norwegian Cruise Line:
'Pride of America', 81,439 gt, 2,146 lower-berths, 1,073 cabins, delivered in June 2005 by Lloyd Werft. This delivery marked the end of a long saga that has accompanied the building of this ship. It was initially ordered by the American company AMCV (American Classic Voyages) in 1999 with the American shipyard Ingalls under the name of 'Project America'. Bought by NCL in 2002 following the liquidation of AMCV, hit by the full effects of the September 11 2001 events, the unfinished ship was then transferred to Lloyd Werft to be completed. Several months after her official launching, the ship was victim of a major accident in the shipyard caused by a heavy storm. Her delivery planned for August 2004 was again put back. The ship was finally delivered to her owner on June 6th 2005, namely 6 years after the initial order. Her American origin will allow her to carry the national flag and to cruise out of Hawaii to perform cabotage cruises within American waters.
'Norwegian Jewel', 93,502 gt, 1,188 cabins, delivered in August 2005 by the shipyard Meyer Werft. It is currently the biggest Panamax cruise ship ever built. Three sister ships are on order for deliveries due in 2006 and 2007.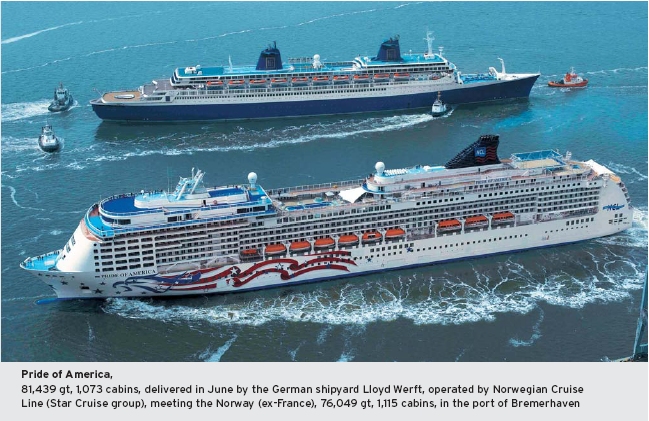 We should also record the successful lengthening in a very short time of 'Enchantment of the Sea' of RCCL (built in 1997), carried out by the Keppel Verolme shipyard under the technical management of Aker Finnyards. In nine weeks a central section of 22.2 metres was added, allowing to carry a total capacity of 2,252 lower-berths compared to 1,950 previously, with 151 new cabins.
In the face of growing demand, the second-hand market has been very active during the course of the year with, as a consequence, higher transaction prices than in previous years.
The Cypriot owner Louis Cruise Line was again very active on the second-hand market with the following deals:
'Triton', 14, 155 gt, built in 1971, 756 lower-berths, bought at an auction following the bankruptcy of Royal Olympic Cruises at a price of $ 9.5 million.
'Aegean 1', 11,560 gt, 576 lowerberths, built in 1973, bought at a price of $ 5.4 million.
Sunbird', 37,773 gt, built in 1982, resold for $ 90 million to a Norwegian K/S company and chartered for 10 years to Louis Cruises who has himself sub-chartered her to the tour operator Thomson Holidays. This ship had been bought by Louis Cruises in 2004 from Sun Cruises (My Travel) for $ 71 million.
Spain has, once again, been a very active buying and selling market, thanks to its two principal tour operators Viajes Iberojet and Pulmantur:
Iberojet sold the 'Grand Latino', 28,400 gt, 755 lower-beds, built in 1972, to Fred Olsen Cruises for about $ 30m. This ship had been bought a year earlier from Star Cruises by Iberojet at a price of $ 20m.
Iberojet also lifted its purchase option on the 'Voyager', 24,391 gt, 736 lower-beds, delivered in 2000, that the bank KfW had bought in an auction following the bankruptcy of Royal Olympic Cruises in March 2004, at a price in the order of $ 95 million.
Pulmantur acquired 'Pacific Sky', 46,087 gt, 1,184 lower-berths, built in 1984, belonging to Princess Cruises (Carnival Group), for around $ 44 million and, at the end of the year, negotiated the purchase of the 'R Seven', 30,277 gt, 698 lowerberths, delivered in 2000, for a figure close to $ 122 million. Several months earlier, Pulmantur had purchased the 'R Six', 30,300 gt, 698 berths, delivered in 2000, for $ 120 million.
With this sale, the whole of the ex-Renaissance fleet has now found definite homes, Oceania being the long-term charterer of three of the ships, with purchase options, and Swan Hellenic (Carnival Group) has lifted its option to buy the 'Minerva II' (ex 'R Eight') for a sum of about $ 120 million.
Among the significant sales this year, we can also mention the following transactions:
'Asuka', 28,850 gt, 584 lowerberths, built in 1991, through a longterm charter deal with a purchase option for about $ 65 million to a German tour operator, Phoenix Seereisen.
This sale allows Crystal Cruises to part with 'Crystal Harmony', which will replace the 'Asuka' on the Japanese market under the name of 'Asuka II' after some transformations.
'Radisson Diamond', the only cruise catamaran, built in 1972, 354 lower-berths, sold at the beginning of the year to the company Asian Cruises based in Macao for around $ 58 million, operated by Radisson up until October 2005 and operated on casino cruises from Hong-Kong under the name 'Omar Star'.
'Berlin', 9,570 gt, 352 lowerberths, built in 1980, sold for about 10 million euros to the Saga group, which has thereby increased its fleet with a third ship.
Japanese interests also sold the 'Orient Venus', 21,884 gt, 606 lowerberths, built in 1990, to a group of Greek investors, for a price around $ 20 million, the latter having the intention of refurbishing her and increasing her capacity in order to put her on the charter market.
'World Renaissance', 11,724 gt, built in 1966, 481 lower-berths, sold at auction following the liquidation of Royal Olympia Cruises at a price of $ 3.4 million.
'Odysseus', 9,821 gt, built in 1962, 454 lower-berths, sold also at an auction following the demise of ROC, at a price of $ 2.2 million.
The old 'Jason', 4,561 gt, 310 lower-berths, built in 1964, the last ship of the Potamianos family, was bought by the Indian company Ocean Cruises, for a sum of $ 3.2 million, in order to develop cruises in India out of Goa.
This year, the European market which, for its part, has continued to grow at a rhythm of 5 % should achieve three million passengers out of a world total of nearly fourteen million. This geographical zone has an important development potential since only 1 % of Europeans have already been on a cruise, compared to 4 % of Americans.
In addition, as Europe is becoming more and more a popular destination for American clients, American owners in Europe will need to increase their fleet capacity by more than 20 % in 2006.
On the other hand, the cruise market in the Asian-Pacific zone, with the exception of Australia, has still not been able to take off. For twenty years, now this market beckons, but disappoints owners that have tried to operate there. Nonetheless, 29 million Chinese went abroad in 2004 and this figure, apparently, should surpass the 50 million in 2010, and although the Chinese middle class is growing much faster than in any other region of the world, classic cruising does not seem to be catching on in the western way, except for casino cruises. The main reason for this stagnation seems to be that potential new consumers dream initially of discovering Europe or America, and having very little holiday leave, do not consider cruising 'with its limited range- as a means of transport attractive enough to satisfy their new appetite for discovery.
All the big operators have their eyes fixed on the Far East in the hope of finding a new source of growth, which may follow the development of the mature western markets. It is however, very likely that it will be quite a few years before Asians turn to this form of tourism in big numbers.
---
Shipping and Shipbuilding Markets in 2005