The Cruise market
in 2000
Is the bottle half full or half empty ?

While the reading of the statistics and the results of the first half of the year gave rise to satisfaction, this quickly turned sour on the pessimistic analysis of the prospected yields in this sector, and particularly the risk of over-capacity brought about by a full orderbook.
At year's end, the number of firm berths on order has surpassed last year's record and has reached a level of 100,000 berths spread over 50 ships.
This impressive figure represents almost half of the existing capacity and will be delivered over the next four years. But is it really a problem in view of the latest statistics published by the Cruise Lines International Association (CLIA) showing that the American market has reached nearly seven million passengers in 2000, an increase of close to 18 % over the previous year, and the European market more than 2.2 million!
The cruise industry has proved over the last 25 years that it is capable of filling up all ships as they come into service, and except for an economic catastrophe there is no reason why the 8 % per year growth pattern of this sector ' directly dependent on the development of tourism, the leisure industry, the rise in population with longer life expectancy as well as the improved lifestyle of retired people ' should diminish in the forthcoming years.
In the Caribbean the closure of Premier Cruises and Cape Canaveral Cruise Line, followed soon after by the collapse of Commodore Cruise Line will reduce the capacity by 7,500 lower berths in 2001, and it is highly probable that the older vessels which are unsuited to the American market today will be phased out over the next three years. This will help attenuate the impact of the new units which will be brought into service in this sector.
Nonetheless the financial analysts in America came up with a radically different conclusion in the first quarter, based on the orderbook and the fleet's growth projections between 2000 and 2003. Their perceptions precipitated a general drop in the shares of cruise companies quoted on the stock exchange, and the average p/e (price / earnings) ratio of the big companies fell from 30 to 10, casting considerable doubt on the sector.
Most of the managers have minimised the consequences of the drop of their stock prices, focusing mainly on their occupancy rate (over 100 %), and their capacity in filling new ships in a market driven by offer. However, such stock movements had a severe consequence on the banks' perception of the sector and mergers and acquisitions.
While the industry is proud of its profits performance, with the leading companies posting 20 % per year or more, financial analysts reason in terms of profit growth and rise in stock prices, and fear that profits will either stagnate or fall in the near future.
It should not be forgotten that the strategy of cruise companies is based on a minimum three years period, the time taken to plan and build a cruiseship, whereas analysts are much more concentrated on the short term.

The orderbook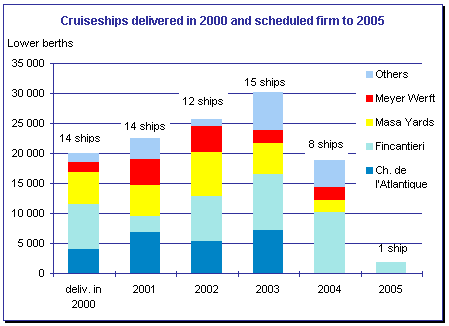 At year end, 70 % of the orderbook comes from the three 'majors' (Carnival Corp., RCC, and P&O) which reflects their market share, and the average capacity of the vessels on order has reached 2,000 berths per ship due to the high proportion (11 units) being built above 100,000 grt.
This size factor considerably improves a ship's productivity, and the ability to generate a substantial turnover on board ship during voyages is also an important factor which allows cruise operators to contemplate the future with confidence.
A survey of the orderbook shows the predominance of European shipyards and in particular the leading four which are Chantiers de l'Atlantique, Fincantieri, Kvaemer Masa, and Meyer Werft, - with however some disparities between them :
Chantiers de l'Atlantique has a full orderbook up until end 2003, with different size ships, often prototypes, posing both a technical and logistical challenge which happily seems under control. They can be proud to have been awarded this year the biggest cruise ship contract ever placed, the 'Queen Mary 2' for Cunard, 150,000 grt, 2,620 berths, and to have persuaded the Japanese Crystal Cruises to confirm their third luxury cruise ship with them : 68,000 grt, 1,280 berths.
The orders with Fincantieri go up to 2005, with series of ships by site; big ships of over 100,000 grt are built at Monfalcone on behalf of Carnival and P&O Princess Cruises ; Marghera has been awarded an order for a series of five ships for Holland America Line, while a third site will become operational in the port of Genoa at the old Sestri shipyard, with two ships of over 100,000 grt ordered by Costa. The opening of this third site will stir up further an already fierce competition within the European shipyards.
Kvaerver Masa was dragging behind at the beginning of the year due to uncertainties within its shareholders, but since the reaffirmed support of Kvaerner they have secured three ships for the Carnival group on the Helsinki site and two additional ships in the 'Voyager' class 137,000 grt, for RCC at the Turku shipyard.
Meyer Werft who has orders up to 2004 with two ships for Star Cruises and four ships of the 'Vantage' type for RCCL plus two options, is the only shipyard which has an open slot in 2003 due to the cancellation by Star Cruises of the letter of intent for two ships of 115,000 grt due for delivery in 2003 and 2004.
artist view of the
QUEEN MARY 2
150,000 grt, to be delivered in 20003 by Chantiers de l'Atlantique to Cunard

All the orders placed this year were with European shipyards. Once again Europe showed its ability to fulfil the demands of cruise owners to the point that one can anticipate a potential surplus capacity if owners' ambitious attitude should start to waver.

The Carnival group has been particularly active this year with their new ships, having taken delivery of the following :
'Amsterdam', 58,000 grt, 1,380 berths, and 'Zaandam', 62,000 grt, 1,440 berths, delivered by Fincantieri for Holland America Lines.
'Carnival Victory' 101,000 grt, 2,642 berths, delivered by Fincantieri for Carnival.
'Costa Atlantica', 82,000 grt, 2,100 berths, delivered by Kvaerner Masa for Costa Crociere.
In addition nine firm orders have been placed by the Carnival group:
three for Holland America Line with Fincantieri Marghera, 84,000 grt, 1,800 berths,
two for Costa with Fincantieri Sestri, 105,000 grt, 2,720 berths,
two for Carnival and one for Costa with Kvaerner Masa Helsinki, 86,000 grt, 2,100 berths,
the 'Queen Mary 2' for Cunard with Chantiers de l'Atlantique.
Carnival who currently operate 48 ships, by the end of the year held a record number of 16 units under construction for the group, representing an investment of about US$ 7 billion.
Royal Carribean Cruises took delivery of :
'Explorer of the Seas', 137,000 grt, 3,100 berths, with Kvaerner Masa
'Millenium', 91,000 grt, 1,950 berths, with Chantiers de l'Atlantique,
and firmed up two options with Kvaerner Masa Turku for the 'Voyager' class 137,000 grt, 3,138 berths and two options with Meyer Werft for the 'Vantage' class 88,000 grt, bringing a total of four firm and two options for ships in this series under construction with Meyer Werft. At year's end, the declaration date for the two options was postponed by several months.
MILLENIUM
90,228 grt, blt 2000 by Chantiers de l'Atlantique - Operated by Celebrity Cruises
The P&O group whose cruise activity was spun offand launched onto the stock market in November under the name of P&O Princess Cruises (comprising P&O Cruises, Princess Cruises and their German operation Aida Cruises) took delivery of the following liners :
'Ocean Princess', 77,000 grt, 1,950 berths, with Fincantieri.
'Aurora', 76,000 grt, 1,800 berths, with Meyer Werft which is earmarked for the British market ' the leader in the European cruise scene.
After the surge in orders last year, totalling nine ships under construction for the group, no new order was announced this year and two options with Chantiers de l'Atlantique were also postponed by several months. It is worth noting that with all the ships under construction for P&O Princess Cruises, their capacity will double over the next four years.
As to the others, Renaissance Cruises took delivery of the 'R Five', 'R Six', and 'R Seven', 32,000 grt, 702 berths, with Chantiers de l'Atlantique. This company ran into some problems due to its extremely rapid expansion and had to reorganise its management during the course of the year.
Royal Olympic Cruises took delivery of the 'Olympic Voyager', 25,000 grt, 840 berths with Blohm and Voss. This is the fastest cruise liner in service today with a speed of 27 knots. A second sister ship the 'Olympic Explorer' will be delivered in 2001.
Silverseas took delivery of her 'Silver Shadow', 25,000 grt, 390 berths, with Mariotti, which will be followed by the 'Silver Whisper' in 2001, and there remain two additional options which have not yet been confirmed.
Star Clipper took delivery of her 5 mast sailing boat 'Royal Clipper', 5,000 grt, 225 berths, with the Merwede shipyard, and finds success in developing a niche market of passenger sailing cruise ships.
This makes a total of 14 ships and 20,000 berths which have been delivered this year, compared to 11 ships and 18,000 berths in 1999. This represents a growth in capacity of nearly 10 % in 2000, against 9 % in 1999, and 11 % expected in 2001 and 2002.
EUROPEAN VISION
1,500 pax, to be delivered in 2001 by Chantiers de l'Atlantique to Festival Cruises
Consolidation
Moves towards consolidation within the cruise industry were considerably constrained due mainly to the drop in companies financial evaluations.
The battle for the control of NCL which started last year between Carnival and Star Cruises, was won in February by the latter after Carnival's withdrawal, at a price which today looks expensive. The fall in the stock markets has placed a doubt on the cost, if not the opportunity, of such an operation. Star will now have to co-ordinate the operating of its two poles of activities, Asian and American, and already some reshuffling is being planned with the departure of the 'Norway' to Asia and the arrival in NCL's fleet of the ex. 'Superstar Scorpio' under construction with Meyer Werft.
The financial markets have in any event slowed down ideas for consolidation and P&O's purchase of Festival has not gone through.
However Carnival has been able to buy Airtours from Costa at a price of US$ 525 million, leaving the latter group with a very healthy profit of nearly US$ 400 million in just three years.
The RCC group which has no foothold in Europe in contrast to its rival Carnival, has established a cruise joint venture with the English tour operator First Choice, which will run the 'Viking Serenade', 40,000 grt, 1,512 berths.
These two operations prove the growing interest from North American companies for the European market. Costa, P&O and Festival's bright results confirms some optimistic forecasts on this market still not enough supplied with modern vessels. Only 11 ships currently on order are due to join the European market. This state of facts has surely influenced MSC in ordering a 780 cabin vessel with Chantiers de l'Atlantique, in the ultimate days of December.

The second-hand market
On the second hand market, the year was relatively calm, buyers mainly looking for modern ships:
The 'Norwegian Star' built 1973, 28,500 grt, 800 berths, was involved in a purely financial transaction with a charter party in return for a price of US$ 48 million, between Actinor and Mosvold.
Two small ships belonging to Sun Cruises, a company no longer existing, the 'Sun Viva' and 'Sun Viva 2' built in 1991, 4,200 grt, 114 berths, were bought by Star Cruises in block for US$ 33 million, then resold at the same price to Cruise West and Hebridean Cruises.
The 'Astra II' built 1974, 10,500 grt, 460 berths, was sold for US$ 13 million to Italians, then bareboat chartered with an option to buy to Asians.
The 'Dream 21' built 1989, 6,100 grt, 154 berths was sold by Samsung to Society Expeditions for a sum of US$ 20 million. This company lost its only vessel this year, the 'World Discoverer' off the Salomon Islands.
The 'Ocean Breeze' built 1955, 21,480 grt, 776 berths was sold by Premier Cruise to Imperial Majesty Cruise Line for US$ 14.5 million
The 'Calypso' (ex 'Regent Jewel') built 1967, 11,100 grt, 500 berths, was sold to Louis Cruises for a figure of US$ 14 million.
The 'Fair Princess' one of the fleet's veterans, built in 1956, 24,800 grt, 1,000 berths was sold by P&O to the Asian operator Emerald Cruises for US$ 15 million.
Premier Cruises operations have been stopped by its principal creditor DLJ, putting five old turbine vessels onto the market. It seems that it will be difficult to find buyers at reasonable prices for certain of them, given their age and high operating costs.
It should be remembered that the 'Regent Star' built 1957, has been looking for a buyer since 1996 and is laid up since then. Maybe it is time that certain cruise ships which have been navigating for nearly 50 years should be scrapped. Few serious buyers are interested in second hand vessels given the concentration of the industry is few hands, which are far more attracted by building new ships, better adapted to their clientele and which offer in addition better financing possibilities.
The problem of the utilisation of old ships in a market dominated by modern vessels, adapted to the needs of the clients and meeting the latest security norms, becomes more and more acute as time goes by.

So, is the bottle half empty or half full? For us there is no question that it is half full and that the market will continue to offer attractive prospects, to companies that know how and are able to convince their shareholders and bankers to continue developing long tem strategies, far from the heady gyrations of the stock market.

---
Shipping and Shipbuilding Markets in 2000
PLATEFORMES LOGISTIQUES

Gorizia
LES DÉPARTS
TRANSPORT PAR CHEMIN DE FER

Assagus
PLATEFORMES LOGISTIQUES

Gorizia / Turin
FORUM
des opérateurs maritimes
et de la logistique
ASSOPORTI
Napoli, 30 settembre 2020
TRANSPORT PAR CHEMIN DE FER

Rome

TRANSPORT PAR CHEMIN DE FER

Berne
CHANTIERS NAVALS

Istanbul
PROGRÈS ET TECHNOLOGIE

Hambourg