The Offshore Market in 1998
By the end of year 1997 oil prices had started to decrease nevertheless expectations remained on the high side. One year later one can only notice that the oil price slump has been continuous since and the most significant result is the sharp decline of oil companies' revenue and profits. At time of writing the Brent is quoted close to $9.5 a barrel. One now foresees the oil price level to remain depressed throughout 1999 leading to a concentration wave among the oil majors such as BP / Amoco, Total / Petrofina, and Exxon / Mobil.
Drilling, exploration and construction
Drilling plans for 1999 which already have been affected by the turmoil will be even more restricted. These big mergers aim first to provide more cost effective entities with, certainly, extensive reallocation by the newly-merged companies of existing long term chartered units. It follows that sub-letting has good days ahead.
In consequence, the drilling market is now sharply affected and globally utilisation rates have dropped by an average 15%; 22% for the Mexican Gulf jack-up market. Harbours see more and more units idle at anchor and drilling contractors such as R&B Falcon have already undertaken to "coldstore" some of their units, mainly jack-up rigs.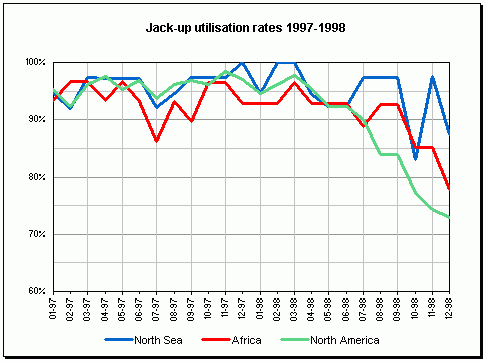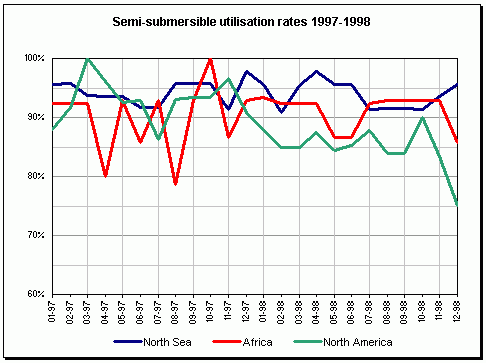 The jack-up market has been severely hit and North Sea rates for harsh environment - high specification units have fallen from $100,000/day down to $50,000 at end 1998/early 1999. Simultaneously the older second generation semi-submersible units have seen their average income falling from $80,000/day to $45,000 during the same period.
Drilling contractors are now reassessing their belief that levels of demand in the deepwater sector will keep it isolated from the market downturn. Oil companies consider not to renew of some of their existing contracts for fourth or fifth generation units, either because of general delaying some projects or because one expects to benefit from cheaper rates in the near future. Shell deciding in August 1998 not to declare its option and thus releasing the "Transocean Richardson" after three years instead of the initially-envisaged five year program was a clear signal of oil companies' gloomy expectations. This rig becomes the first fourth generation "semi" to be available from end January 1999.
Furthermore, construction costs and delays reported on numerous newbuilding and conversion projects will increase the pressure on the operators. Companies will have to adopt defensive positions in order to protect their cash flows. Besides their share prices have fallen sharply and we believe one may witness new giant mergers or acquisitions in the sector.
The subsea market has not been affected, as yet, as the drilling market, despite rescheduling of exploration budgets and expenses. Oil companies have already committed oil field developments for the coming year, and inspection, repair and maintenance demand is still strong, especially when low oil prices have served to delay other new expansive developments.
The sector has seen consolidation movements through merger and acquisition, such as Dresser - Halliburton, giving birth to a world leader in oil field services, followed by Baker Hugues and Schlumberger. Stolt Comex Seaway (SCS) purchased US-based subsea contractor, Ceanic Corp and the ROV subsidiary of Dolphin Drilling AS, increasing the company size by more than one third.
Owners of vessels providing supply and general service capabilities have ordered or taken delivery of large multipurpose vessels such as the "Normand Atlantic". Vessels of this type have the capability to handle tasks such as ROV support, maintenance operations and so on. Sealion has taken delivery of the "Toisa Perseus" and "Toisa Polaris" - committed long term to Rockwater and Subsea - whilst Saïbos has put an order for a 155m deepwater J lay pipe layer. Coflexip Stena Offshore (CSO) should finally select a yard during 1999 to convert its "Kitt" and SCS is now into the newbuilding market for several subsea construction vessels.
Although perspectives are in general somewhat pessimistic, one has to say that 1999 should be a very good time to order vessels. On the basis of an average construction time of about two years the operators would be able to welcome these modern versatile deliveries into their fleets at an appropriate moment; to enable them to tackle new technological challenges at the start of the new century.
The seismic market and especially demand for 3D seismic data-providing services has been extremely high this year. In contrast everybody now expects a downturn, the duration of which seems to be a matter of conflicting opinions. Half a dozen new vessels should enter the market during the course of 1999 and into 2000. Compagnie Generale de Geophysique (CGG) is awaiting its new "Alizé" - due delivery in March and able to tow up to 16 streamers. Early in the year, Petroleum Geo Services (PGS) should take delivery of another two "Ramform" vessels increasing its fleet to 14 vessels.
Another two 3D seismic units are also due to be delivered to Geko Prakla, one being built in Norway and the second one under conversion at Aker McNulty. Veritas DGC which has taken delivery of the new 3D seismic "Veritas Viking", is now awaiting delivery of a second sister vessel in the coming months.
Newly formed seismic subsidiary Aker Geo of Aker Maritime has ordered a newbuilding 3D seismic vessel at Aker Finnyards for delivery in June 1999, and a second order is still pending. All above-mentioned new units have construction costs, including sophisticated seismic equipment, ranging from $70,000,000 up to $85,000,000 and this underlines the high level of commitment by seismic data providers to the expected growing demand for high acquisition efficiency.
The cable laying sector is still booming, this growth being based on the incredible technology development and the burgeoning fibre-optic sector. It is remarkable to note that the capacity of new transatlantic cable corresponds to the capacity of all existing transatlantic cables.
Cable and Wireless underscores this trend with its order of a second vessel at Van der Giessen. The ship will have a length of 129 meters, a beam of 22 meters and a 5,500 tons cable storage capacity and is due delivery in December 1999. Cable and Wireless had already taken delivery of its jointly owned "Cable Retrieve" from Kvaerner Turku. Parallel Dutch company Van Der Stoel has ordered an original shallow draft cable layer at De Hoop, Holland, against a long term charter with ABB for energy cable laying and maintenance operations. This vessel will have a 5,000 tons cable storage capacity and is due delivery during second quarter 1999.
In spite of poor short term perspectives in the oil offshore business - certainly 1999 will be tougher than the exceptionally good conditions of the recent past - it should be noted that in most sectors, perhaps with the exception of multipurpose supply / AHTS units, the longer term demand for high specification and versatile units is still not met. Players with a strong enough backbone to anticipate and bridge the expected temporary downturn will certainly be the successful contractors of next century.