The offshore and specialised ships markets
in 2005
THE DYNAMISM OF THE OFFSHORE INDUSTRY IN THE SECOND HALF OF 2004 SEEMED TO BE TAKING US TO HEALTHY MARKET LEVELS IN 2005, WHICH IN FACT HAS PROVED TO BE AN EXCEPTIONAL YEAR.
Global demand for oil and gas has surpassed all forecasts, mainly due to the growing energy needs of China and India. In 2005, China became the second biggest oil consumer in the world, after the United States.
With crude oil prices remaining over $ 50 per barrel, Major oil companies immediately enjoyed record profits.
The explosion in oil prices has resulted in an unprecedented surge of investment in 2005 from both domestic oil companies and Majors, developing their exploration activity and crude oil production. Budgets have nearly doubled since 2002, in the hope of building up their proven oil reserves and bringing existing fields into production as quickly as possible.
The overall offshore sector has greatly benefited from this race to develop oil and gas production, with a strong increase in the demand for services and support vessels, to which have been added the needs to repair the offshore installations affected by the hurricanes which hit the Gulf of Mexico.
OFFSHORE SUPPORT VESSELS
From the beginning of the first half 2005, utilisation rates for drilling rigs were at a maximum, thus contributing to a strong demand of support vessels in worldwide offshore zones.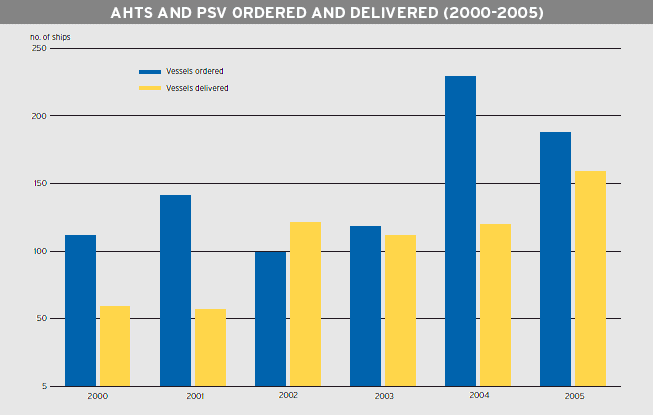 Nonetheless, it seems that there is no shortage of offshore supply ships in the short term. The renewal programmes and the development of the fleet of Platform Supply Vessels (PSV) and Anchor Handling Tug Supply (AHTS) are beginning to pay dividends and new units have been steadily joining the market this year.
Some of the ships built and delivered in the Asian-Pacific zone, where the offshore business continues to rise, have not been operating in that area, but have moved off to West Africa and the Middle East.
These construction programmes have been reinforced and expanded during the year, which may result in a settling-down of rates after the delivery of these ships.
It should be mentioned that the latest vessels launched have been experiencing lengthy delays in the supply of main equipment (particularly engines, propellers, winches and lifting equipment), caused by manufacturers not having developed their production capacity sufficiently to deal with the increased demand.
As for the construction of offshore ships, production requirements, due to enhanced security and environmental concerns (which have recently caught up with this sector), are being increasingly adopted within the standard characteristics of the latest ships on order.
In addition to rationalising their costs, owners are also looking for greater safety and reliability, which is synonymous with the best returns and an enhanced utilisation of their assets.
This year we have seen numerous examples of innovations which have been put into practice to achieve better productivity and safety, such as:
the 'Safe AHTS' of Bourbon, which has been designed in partnership with the Norwegian ODIM for the anchor handling system that reduces human intervention on deck;
the PSV 'Skip Teknisk ST 216' for 'stensj', developed by PG Marine, which also limits human presence as well as handling on deck in drill cutting operations;
the reverse bow, or 'X-bow' design, in the latest AHTS and PSV projects of Bourbon Norway, a technique which has been developed in collaboration with Ulstein Verft, with the intention of improving the ships' performance at sea;
the 'low loss concept', developed by Aker Kvaerner, introduced by Solstad on its PSV 'VS4420' built by the Norwegian shipyard Flekkefjord, whose objective is to reduce power losses in diesel-electric installations;
PSVs with dual fuel and gas (LNG) propulsions, developed for Eidesvik by Vik & Sandvik.
Diesel-electric propulsion is tending to become the norm on numerous types of ships, including AHTS, although their operating mode have not really fully justified such a technique yet.
This type of propulsion offers incomparable flexibility for multipurpose ships in terms of control of the on-board electrical production, compared to the ship's consumption.
Finally, regarding the environment, some owners have started to order ships with 'DNV clean' and 'clean design' labels, such as Farstad, with its AHTS 'UT 732 CD' under construction at Aker in Norway, or Fesco, with its 'Fesco Sakhalin' delivered this year by Aker Finnyards. Owners in the North Sea who have taken these steps are already reaping benefits, compared to their competitors, in obtaining long term charters for their ships.
The significant event of this year, was the merger between Seacor and Seabulk, which took place in March and consequently reshuffled the ranking of the big players in offshore ownership, demonstrating the importance of size in having the capacity to cover the multiple zones of activities and the ability to support heavy investment programmes.
Platform Supply Vessel - PSV
As the very high rates achieved by the large PSVs in the North Sea show, ships over 3,000 dwt are still very much in demand, pursuing the development this market has recorded for now several years. At the end of the 1990s some owners, such as Gulfmark, Farstad and Bourbon, placed their bets on an increased demand for large ships and have developed their fleet with PSVs of over 3,000 dwt. Newbuilding orders are currently numerous in this sector.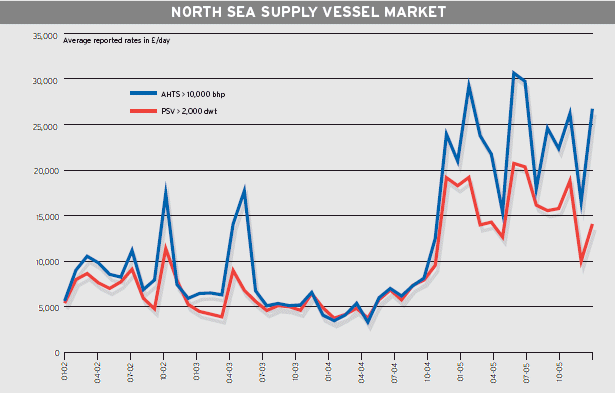 The PSV fleet under 3,000 dwt has an average age of over 20 years. Based on the ships currently in service, 25 % of the fleet will be over this age limit in 5 years' time. The fleet needs to be greatly rejuvenated within the general context, as charterers are being increasingly forced to use more and more ships over 20 years old. This applies particularly to American owners, who are employing numerous small PSVs in the Gulf of Mexico.
Anchor Handling Tug Supply AHTS
The Anchor Handling Tug Supply market, which heavily depends on deep-sea exploration activity, has seen orders and deliveries of large quantities of ships with 110 to 150 tons bollard-pull capacity since 2003.
This part of the fleet, nonetheless, comprises 55 % of ships over 20 years old and, as is the case for the overall offshore sector, these ships seem doomed in the short term and will have to be replaced.
Generally speaking, the fleet, whose average age is 17 years, will suffer the effects of the 20 years age limit being applied by charterers, which is synonymous with partial early retirement for the units and limited possibilities of being re-employed in other operating zones.
As with the AHTS, the Anchor Handling Tugs (AHT) and tug boats are seeing average power capacities on the increase. However, not being restricted by having the carrying capacity of supply ships, the size of AHTs tends to be reduced. Amongst the deliveries within 2005, a large number of tug boats have pulling capacities of nearly 70 tons, with overall lengths of under 30 metres.
The other perceptible tendency in this market, even for the very powerful ships, is the success of the azimuthal propulsion, combining an easy fitting on board with high manoeuvrability which are highly appreciated both in harbour and in offshore operations.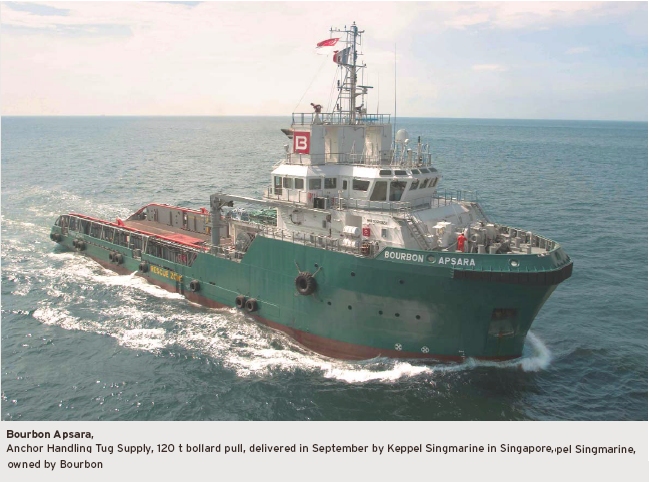 Construction and installation
More recently than the AHTS or PSVs, which have benefited earlier from the revival of business during the summer of 2004, construction ships have seen a strong recovery starting from the spring of 2005. In contrast to offshore production, which uses rather standard tools, building and installation projects require more elaborate planning.
In this sector, the traditional short-term seasonal market in the North Sea, now tends to spread from April to November.
This revival of activity, at levels rarely seen, quickly exhausted the resources of a fleet whose high average age shows that it has been poorly rejuvenated in recent times. Consequently, the next two years will be critical in terms of availability.
2005 was therefore a particularly notable year, with all main participants heavily engaged in investing with a view to expanding capacity. The pipe-laying sector is probably one of the most dynamic. The following orders have been concluded:
for Subsea 7: a 157 metre long, 28.4 metre wide, pipe-layer, 21,000 kW, DP II, accommodations for 130 people and equipped with a vertical tensioner of about 300 tons, with the Merwede shipyard;
&
for Allseas: the 'Audacia' project for a new 233 metre long, 32.2 metre wide 'S' pipe-laying vessel, 55,000 kW, DP III, accommodations for 385 people and equipped with three tensioners of 175 tons each, with the Keppel Verolme shipyard in Rotterdam, built on the base of a converted Panamax bulk carrier hull;
for Stolt Offshore: the 'Sapura 3000', a new 'S' and 'J' pipelaying vessel, 131 metres long and with a capacity to accommodate 330 people;
for Solstad: a ship 123 metre long, 28 metre wide ship, on a Vik & Sandvik design, with the Ulstein Verft shipyard for delivery in July 2007;
for Geo: a 105 metre long ship, with accommodation for 100 people, Aker 'ROV 06' design, placed at Akers' Soviknes shipyard for delivery in March 2007.
Conversions, in particular those of former cable-layers by Solstad, DOF and Stolt Offshore, offer shorter delivery periods but the ships' performances, or at least their capacities, are more restrictive in view of their size and the technical limitations of a conversion.
The confirmed acquisition by Cal Dive of 10 ships from the Torch Offshore fleet, following the latter's liquidation, allowed them to enrich their range of services with the pipelaying ship 'Midnight Express' of 158 metres long, whose laying technique is still to be tested in service.
The long-term charter market was also very active with, as an example, Clough Engineering (Australia) taking on the 'Normand Clipper' for three years; a former cable-laying ship converted into a construction ship and whose sister ship 'Normand Cutter' had already been chartered out for an identical period to Sonsub (Saipem Group).
At the beginning of 2006, it is most likely that there will be new orders placed for construction and laying ships, or even for ships dedicated to offshore diamond drilling.
This market is split into two parts, based on the size of ships and the core activity of the owners.
The first segment is made up of non-specialised owners, such as Farstad, Bourbon, 'stensj', Trico and Eidesvik, who build and operate MPSV ships extrapolated from large PSV designs. In order to develop their multipurpose use, the beam of these ships is between 22 and 24 metres, which allows them to have a lifting capacity of over 150 tons and to lay down loads to depths of 1,500 to 2,000 metres. The other general characteristics of MPSVs are to have the capacity to accommodate 80 to 90 people, DP2 equipment, a moonpool and a deck surface which can go up to 1,200 m2.
The purpose is to employ these ships in the Intervention Repairing Maintenance (IRM) mode, diving support work, light construction, and, in some cases, supply mode or pipe carrying. The financial risk is therefore limited and only marginally linked to the specialisation of the ships.
The second segment consists of more specialised ships over 100 metres in length and widths of 24 to 30 metres. Their owners, such as DOF, Solstad, Sealion, Maersk and Island Offshore, put highly specialised ships, equipped in construction mode, at the disposal of the main subsea construction and oil companies. We must stress that they are working more and more in underwater operations, which is the case of Island Offshore, who have ordered a very sophisticated Well Intervention Vessel, ('UT 787', accommodation for 100 people), being built at the Aker Langsten shipyard for delivery in January 2008 on the back of a long term service contract with Statoil.
For all construction ship projects of this kind, the challenge today is to find shipyards that are interested in delivering these units for the 2008 season, while capitalising on the possibility of achieving design and engineering 'packages' with the highest quality, more often from Scandinavia.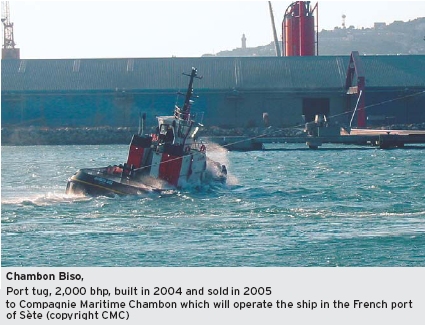 DRILLING
The explosion of oil prices, together with the reduced exploration programmes during the past few years, has had the effect of pushing the drilling sector to heights rarely attained. Deep-sea drilling platforms are on hire for about half a million dollars a day.
Norwegian drilling contractors, such as Maersk Contractors, have anticipated this spectacular turnaround by ordering a record number of platforms with Singapore and Korean shipyards. The American contractors have only partially followed this movement, to the extent that constraints, based on prudent management, have limited their possibility to place speculative orders.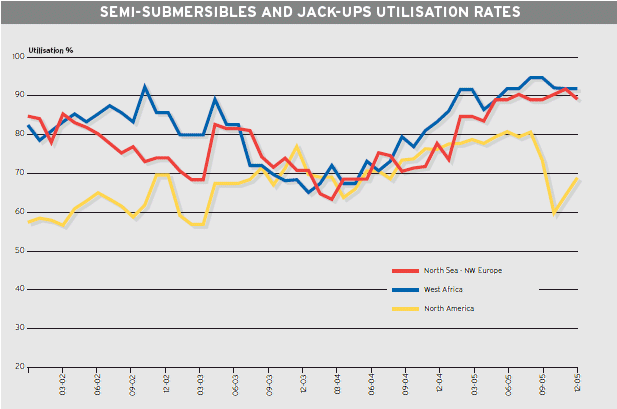 This tendency was also reinforced by an ageing fleet with an average age of 20 years and only 40 drilling units built over the course of the last 20 years.
Demand for new units will remain firm in 2006, sustained particularly by the needs of the American oil Majors, but the lack of sufficient capacity of the main shipyards is a real handicap. With external growth allowing them to partly get around this problem, American companies have started to look at Norwegian contractors. We have witnessed the partial takeover of Smedvig by Noble Drilling and we can expect to see other Scandinavian mergers, lead by SeaDrill (the offshore arm of the Norwegian shipowner John Fredriksen).
The newbuilding market for drilling units also underwent an important development since the previous boom in the second half of the 1990's. In practice, contractors ask and obtain from shipyards to be able to complete their orders on a turnkey basis, including all drilling equipment.
This increased risk exposure for the shipyards, together with the specificity of building semi-submersible or jack-up platforms, does not attract new contenders, which are currently extremely sought after in building conventional tonnage.
These last two facts reinforce the difficulties of the sector to find and/or develop new construction capacities, and is thus contributing to the slow-down of the fleet expansion in 2006.
Production (FPSO ' Leasing and EPC)
Demand has never been so strong, either in the leasing of production units, or in the sector of supply turnkey projects (EPCI) for accounts of oil companies.
The main players in this market are suffering from a lack of available capacity in engineering and building. The large Korean shipyards virtually have no docks available for 2 million barrel units for delivery in 2008. Experience shows that productivity gains as well as a reengineering of their building process will free up some capacity in the yards, but prices may remain prohibitive. For 2005 alone, Total ordered two major production units with Hyundai: one for the Moho Bilondo project in Congo (FPU without storage) and the other for the Akpo project in Nigeria (FPSO placed in conjunction with Technip).
2005 also confirmed Saipem's presence in the FPSO leasing sector, since the latter was awarded the Petrobras tender for the 'FPSO Golfinho'.
By and large, the main contractors have a work overload to such an extent, that they no longer have sufficient engineering capacity and project management available to respond to current tenders.
DREDGING
The sector has seen a sustained growth in activity, which has benefited the four main players, namely DEME, Jan de Nul, Van Oord and Boskalis.
These companies have decided to considerably increase their investments in order to allow them to continue modernising and expanding their fleet of dredging and seagoing working units.
These operators have taken advantage of developments in oil production, in particular the building of new offshore oil and gas terminals, as well as in the construction of artificial islands in the Middle East Gulf, and from some European port development projects.
There was also the order for a hopper dredger of 700 cbm, fitted with a suction pipe, for the GIE Dragages-Ports with Damen shipyards. The vessel will be built by Damen Galati in Romania.
CONCLUSION
Increased demand in offshore markets should continue throughout 2006, as should the flow of orders, as long as credible delivery periods can continue to be offered. The introduction of new equipment and ships could, however, begin to hold down freight rates.
The move towards consolidation should carry on in the field of special ships and offshore services. However, the tendency towards greater specialisation is likely to grow and vertically integrated companies, apart from the notable exceptions of Saipem and Technip, are still exceptions.
The offshore sector is suffering from a lack of qualified personnel in all areas (engineering, planning, offshore work, crew), which seems to be one of the consequences of the long period of stagnation which the industry experienced, as well as a lack of interest that the new generation is showing in highly demanding jobs.
It seems a foregone conclusion that 2006, and probably 2007, will still be good years for services to the offshore industry. However, this clear view does not go any further, as 2008 could well see a drop in the utilisation rates, essentially due to the abundance of new units.
For the future, and beyond oil exploration, the concern over energy resources linked to the exhaustion of hydrocarbon reserves triggers the question of what means the offshore industry can offer in the development of alternative energy. Although somewhat tentative, though promising in the coming years, particularly in Europe, projects for windmills with the construction of large offshore parks close to the coast would seem to be one of the options offering interesting prospects.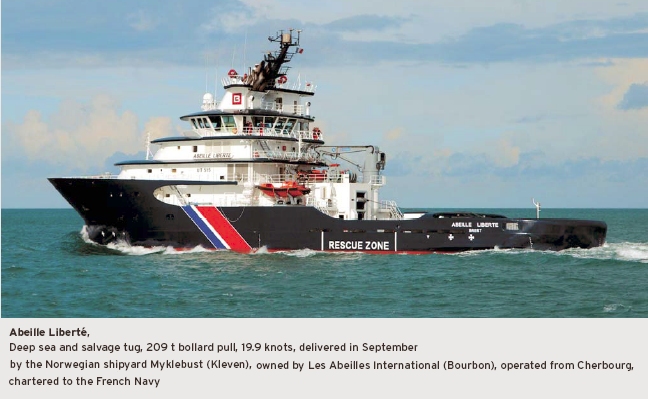 ---
Shipping and Shipbuilding Markets in 2005