The Cruise Market in 1998
In a troubled economic world where the financial markets, stock markets and freight rate markets are experiencing violent and disordered movements, the cruise industry remains on course: 1998 should be the best year ever recorded, according to the managers of the major companies.
While all shipping sectors are affected to a greater or lesser extent by the economic crisis and anxiety is shaking the markets, the cruise sector continues to prosper and grow, much to the surprise of certain observers, who thought that this sector might be extremely sensitive to stock market fluctuations.
It is true that the world crisis predicted by certain doom-mongers did not happen and the economic development of the United States and the European countries was relatively protected compared to that of some countries, particularly in Asia, which were very severely affected.
It thus appears that the cruise sector, an integral part ofthe leisure industry, was relatively little affected, in so far as the leisure and vacation budget in the developed countries has become a necessary and intangible item,and therefore relatively insensitive to stock market movements.This is seen even more clearly in Europe, where the retired population has much less investment in the stock market than in the United States.
The occupancy rates of the major American cruise companies in 1998 should be practically identical to those of the previous year, at around 105%. The selling prices per day have increased slightly but, as one of the directors of Carnival remarked, prices are now at the level of those charged in 1988, the companies progressing by better productivity and by increasing the ancillary revenues per passenger and per day derived from the various services offered on board.
This price stabilization is naturally a factor in the concentration movements observed over the last few years, amongst the cruise companies.
This consolidation continued in 1998, with the purchaseof a highly symbolic company, Cunard, by the Carnival group and the acquisition of Orient Lines by Norwegian Cruise Line.
Cunard was sold for a price of $500 million, of which $375 million in cash, to the Carnival group associated with a Norwegian group. At the time of the acquisition the intention was to list this company on the Oslo stockexchange, but the state of the financial markets has delayed this plan for the time being.
With the acquisition of Cunard, Carnival now manages six different brands, thus offering a complete range of cruise products to its entire customer base.
Some of the Cunard ships have been incorporated into the Seabourn up-market fleet, Cunard now operating only two ships, the "QE2" and the "Vistafjord", underits own name, to which a new ship, currently understudy with the project name "Queen Mary", should be added in the future.
Orient Lines, a company operating one ship, the "MarcoPolo", 20,500 grt, 800 berths, was sold to Norwegian Cruise Line (NCL) for $80 million, mostly payable in NCL shares.
Certain companies, profiting from the euphoria on the financial markets at the beginning of 1998, were able to organize their financing either by partial listing of their capital on the stock exchange - this was the case for Royal Olympic Cruises, which experienced no difficulty in placing almost 45% of its capital for a sum of approximately $80 million - or, like Premier Cruise Line, by a successful issue of high-yield (11.5%) bonds.
During the second half of the year the financial markets slumped, to the detriment of some companies, such as ResidenSea and NCL, that were not able to implement their listings in time and had to delay their development projects.
The rate of orders was maintained during the year with a total of 17 firm ship orders:
The Carnival group continues its expansion at an impressive rate, and placed orders for several ships:
with Masa, for Costa, an 82,000 grt, 2,100-berth ship for delivery in Spring 2000, intended for the European market, at a price of approximately $390 million, to be named "Costa Atlantica";
with the same yard, for Carnival Cruise Line, three 82,000 grt, 2,100-berth units including two on option, for delivery at the end of 2000, 2001 and 2002, at a price of $370 million per ship;
with Fincantieri, for Holland America Line (HAL), one 61,000 grt, 1,380-berth ship, sister to the "Rotterdam", for delivery in Autumn 2000, at a price of $285 million, followed by the confirmation of two giant vessels of the "Destiny" class (102,000 grt, 2,760 berths) intended for Carnival Cruise Line, to be delivered in October 2002 and June 2003 for a price of $450 million per ship;
two new units were under negotiation for HAL at the end of the year and, if contracts were signed, would bring the group order book to 13 ships including the options.
Royal Caribbean International placed firm orders for fours hips, accompanied by three options:
with Chantiers de l'Atlantique, two "Millenium" class ships (85,000 grt, 1,900 berths) for Celebrity Cruises, to be delivered in June 2000 and January 2001, at a priceof $350 million per ship;
with Meyer Werft for one "Voyager" class ship (85,000 grt, 2,000 berths) for RCCL at a price of $345 million, for delivery in February 2001;
with Masa, confirmation of the third "Eagle" class giant vessel, 142,000 grt, 3,100 berths, for delivery in Spring 2002 for a price of around $500 million.
The Malaysian shipowner Star Cruises confirmed an order negotiated over a long period with Meyer Werft for two "Libra" class ships (85,000 grt, 2,300 berths), tobe delivered end 2001 and first quarter 2003, at a price of $380 million. Despite the Asian crisis, this fast-expanding shipowner thus confirms its growth option.
With the market reaching greater maturity and the extension of the range of products, the up-market segment,where activity had remained low up to now, is strengthening, with new orders for ships of more modest capacity.

Carlson, in association with the Vlasov group in Monaco, ordered a 25,000 grt, 490-berth ship, based on an incomplete hull in Russia, from Mariotti, for delivery in August 1999, to be named "Seven Seas Navigator". The Carlson group has a bold expansion program and, at the end of the year, concluded a long-expected order with Chantiers de l'Atlantique for a luxury ship of about 45,000 grt, 720 berths.

Silversea Cruises also confirmed two 25,000 grt, 395-berth ships in Italy with Mariotti for July 2000 and May2001 deliveries at a price of $150 million each. The hulls will be built by Visentini.

Renaissance Cruises confirmed the order for "R Five"and "R Six", 30,000 grt, 690 berths, from Chantiers de l'Atlantique for February and May 2000. These will be sister ships to the preceding vessels in the series and the order price was $180 million each.

As 1998 drew to a close, the firm order book contained a total of 36 ships under construction, representing approximately 63,000 berths, giving the prospect of an increase of more than 10% per year in North American capacity over the next three years.

Twelve ships were delivered during the year, including the much-anticipated "Disney Magic", delivered to Disney Cruise Lines by Fincantieri.
Disney Magic

83,338 gt, 2,400 passengers,
blt 1998 by Fincantieri,
owned by Walt Disney Company'
The newcomers to the market in 1998 were:
"Elation": 70,000 grt, 2,040 berths, delivered by Kvaerner Masa to Carnival Cruise Line,
"Vision of the Seas": 72,000 grt, 2,014 berths, delivered by Chantiers de l'Atlantique to RCCL,
"Pacific Venus": 26,000 grt, 720 berths, delivered by IHI to Japan Cruise Line,
"Deutschland": 22,000 grt, 650 berths, delivered by HDW to Peter Deilmann,
"Grand Princess": 109,000 grt, 2,600 berths, delivered by Fincantieri to P&O,
"Disney Magic": 85,000 grt, 2,400 berths, delivered by Fincantieri to Disney Cruise Lines,
"R One" and "R Two": 30,200 grt, 690 berths, delivered by Chantiers de l'Atlantique to Renaissance Cruises,
"Superstar Leo": 75,000 grt, 2,300 berths, delivered by Meyer Werft to Star Cruises,
"Paradise": 70,000 grt, 2,040 berths, delivered by Kvaerner Masa to Carnival Cruise Line,
"Le Levant": 3,000 grt, 95 berths, delivered by Alstom Leroux Naval to Compagnie des Iles du Ponant,
"Sea Princess": 77,000 grt, 1,950 berths, delivered by Fincantieri to Princess Cruises.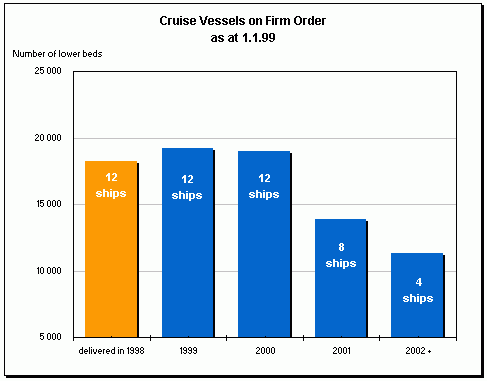 Contrasting with the activity observed in the newbuilding market, the second-hand market was relatively calm, with a volume of activity (in number of ships) down by half compared with the previous year.

The event of the year was the establishment of a new Korean cruise company, under the aegis of the Hyundai group, whichis opening a symbolic line between South Korea and North Korea to visit Mount Kumgang, so dear to the hearts of the Koreans. Let us hope that this line forms the basis of a more open relationship between the two countries. Hyundai has chartered two ships for four years: the "Superstar Sagittarius",ex-"Sun Viking" (built in 1972, 18,450 grt, 728 berths), which was purchased for $33.5 million by a Norwegian financial company, and the "Superstar Capricorn" (built in 1973,28,380 grt, 1,022 berths), owned by Star Cruises.

Among the other sales, that of the two ships of the Indonesian company Awani - which therefore terminates its brief excursion into cruising - is worth noting: "Awani Dream I" (built in1966, 11,430 grt, 608 berths) for $14 million and "Awani Dream II" (built in 1975, 16,800 grt, 800 berths) for $32 million to Royal Olympic Cruises. These ships have been renamed "World Renaissance" and "Olympic Countess", respectively.

Royal Olympic Cruises in turn sold the "Olympic" (built in 1956, 31,480 grt, 950 berths), renamed "The Topaz", to Greek interests for $17 million.

Airtours - Sun Cruises purchased the "Song of America"(built in 1982, 37,580 grt, 1,414 berths) from Royal Caribbean International at a price of $94.5 million with a back charter until March 1999.

The Italian veteran "Ausonia", built in 1957 (12,600 grt,750 berths), was sold to Louis Cruises in Cyprus for around $5.5 million.

The second-hand market is becoming increasingly selective.This is no doubt a consequence of the consolidations which are reducing the number of players in this market to groups of companies giving priority to the building of new ships, but also of the Asian crisis which has affected a region that showed high transaction activity in 1997. The capacity and the age of the ships are becoming the basic criteria of choice for the buyers.

At the end of 1998 the cruise ship fleet comprised approximately 225 ships, 122 of which, representing approximately 123,000 berths, were positioned on the American market (representing an average of 1,000 berths per ship) while 84 ships-about 51,000 berths (an average of 600 berths per ship)-were more particularly assigned to the European market.

The total capacity of the fleet in terms of the number of passengers carried annually is estimated at about 8.4 million, including nearly 6.5 million in the United States, 1.4 million in Europe and 500,000 in Asia. In 1998, 5.3 million Americans went on a cruise, generating an overall turnover of 11 billion dollars.

For 15 years the market has grown at an annual rate of almost 8%, leading to predictions of at least 6.2 million cruise passengers in the American market in 2000.

The European market continued its growth at a higher rate than that of the American market, while the Asian market stagnated as a consequence of the regional economic crisis.

In Europe, the market has shown rapid growth only for a few years, but the estimates for 1998 are for 1.4 million passengers, generating an overall turnover of about 2.5 billion dollars.

Two million European passengers are expected in 2000; the growth in this market, like that of the American market, should be boosted by the arrival of new ships built specifically for European tastes (P&O, Costa, Festival, Hapag-Lloyd, etc.) and by the new interest shown by the powerful European tour operators in cruise packages.

There is considerable growth potential in Europe, when it is considered that no form of leisure or type of hotel accommodation that has been successful in the United States has not become established in Europe little by little, albeit with some adaptations.

Certain handicaps will have to be overcome, such as multilingualism, eating habits, the winter climate, but Europe also concentrates the richest population of the planet, with the longest paid holidays and never located more than a one-hour air journey from a port.

Furthermore, the introduction of the single currency should also contribute to the expansion of this market through simplified management of costs, tariffs and revenues.

The European fleet, too old and too fragmented, must be modernized, restructured and certainly consolidated on the American model over the new few years in order to be able to offer the services expected by an increasingly informed clientele.

Homogeneous growth depends on this development, ensuring full employment of the new ships and, above all, of the European shipyards specialized in the construction of cruise ships.
---
Shipping and Shipbuilding Markets 1999