ECSA AS AN ORGANISATION
ECSA, formed in 1965, comprises the national shipowner associations of the EU and Norway.
ECSA works through a permanent secretariat in Brussels and a Board of Directors, as well as a number of specialised committees.
Its aim is to promote the interests of European shipping so that the industry can best serve European and international trade and commerce in a competitive free enterprise environment to the benefit of shippers and consumers.
TABLE OF CONTENTS
FOREWORD BY THE PRESIDENT
EUROPEAN SHIPPING IN A GLOBAL MARKET
ECONOMIC AND TRADE DEVELOPMENTS
SHIPPING MARKETS AND THE EUROPEAN FLEET
OUTLOOK
EUROPEAN TRANSPORT POLICY
REVISED WHITE PAPER ON TRANSPORT POLICY
A FUTURE MARITIME POLICY FOR THE UNION
MARITIME INDUSTRIES FORUM (MIF)
SHORT SEA SHIPPING
Marco Polo Programme
Trans-European Transport Networks (TEN-T)
Mid-Term Review of the 2003 Programme for the Promotion of Short Sea Shipping
EUROPEAN PORTS POLICY
SECURITY
SUPPLY CHAIN SECURITY
ADVANCE CARGO DECLARATION
SAFETY AND ENVIRONMENT
THIRD MARITIME SAFETY PACKAGE
ENVIRONMENT
Air Emissions
EU Thematic Strategy for the Protection of the Marine Environment
Ship Recycling
THE HUMAN ELEMENT
MARITIME LABOUR CONVENTION
MARITIME EMPLOYMENT
MAINTAINING EU MARITIME KNOW-HOW ESSENTIAL FOR EUROPE
PIRACY AND ARMED ROBBERY
MARITIME EXTERNAL RELATIONS
WTO-DDA NEGOTIATIONS SUSPENDED
EU BILATERAL TRADE RELATIONS
BILATERAL MARITIME RELATIONS
APPLICATION OF EU COMPETITITION RULES ON MARITIME SERVICES
LINER SHIPPING
TRAMP SHIPPING
LEGAL ISSUES
CRIMINAL SANCTIONS FOR SHIP-SOURCE POLLUTION
PROPOSAL FOR A DIRECTIVE ON CIVIL LIABILITY AND FINANCIAL SECURITIES FOR SHIPOWNERS (MARITIME SAFETY PACKAGE III)
PROPOSAL FOR A REGULATION ON THE LIABILITY OF CARRIERS OF PASSENGERS BY SEA AND INLAND WATERWAYS IN THE EVENT OF ACCIDENTS
PASSENGER SERVICES
PASSENGER RIGHTS
TAXATION - PROPOSED SUPPLY OF SERVICES DIRECTIVE
TRAVELLERS ALLOWANCES
RESEARCH & DEVELOPMENT
EU MARITIME INDUSTRIES TO STAY ON THE INTERNATIONAL FRONTLINE
INTERNAL MARKET ISSUES
ENLARGEMENT
EUROPEAN CONSTITUTION/CONVENTION
ECSA INTERNAL
ECSA SECRETARIAT MOVES TO NEW PREMISES
ANNEX 1
ANNEX 2
ANNEX 3
SHIPPING IN ECSA MEMBER COUNTRIES
ANNEX 4
ANNEX 5
FOREWORD BY THE PRESIDENT
EUROPEAN SHIPPING KEY FOR EUROPEAN AND GLOBAL TRADE
The past year was generally a good one for shipping. World seaborne trade continued to increase and rate levels were overall healthy. European shipping continued to play a key role in global maritime trade with a controlled fleet of almost 41 % of the world merchant fleet. European shipowners are active in all the different shipping sectors offering maritime services intra Europe, linking Europe with its main trading partners and in cross trades between different continents.
The global economic outlook for the remainder of 2006 and for 2007 remains still positive but may of course be influenced by political factors. For shipping optimism is also warranted, however, factors such as imbalances in trade, high oil prices and phasing in of newbuildings may have some negative impact in some sectors.
A REALISTIC APPROACH IN TRANSPORT POLICY WELCOMED
The past year was marked by Commission initiatives to review EU transport policy papers. A constructive consultation process on the mid-term review of the 2001 White Paper on Transport Policy resulted in a realistic approach taking into account experience gained and the suggestions of industry. It is recognised that efficient transport capacity is a key element to apply the Lisbon Policy aiming at making Europe the most competitive economy of the world. In this context investments in ports and hinterland connections enabling multimodal maritime services to contribute to quality logistic chains are essential.
The review of the action programme on the promotion of short sea shipping demonstrated the successful development of this transport mode. Action should now concentrate on further improvements on structural hindrances.
ECSA looks forward to further constructive discussions with the EU Institutions and stakeholders on applying the policies as suggested. This includes the debate on a European Port Policy that has been launched again in June 2006.
A FUTURE MARITIME POLICY FOR THE UNION
ECSA is encouraged that the June 2006 Green Paper on a Future Maritime Policy, launching a debate on a broader maritime policy, recognises the importance and the economic potential of the maritime dimension in Europe. The paper recognises the essential role that shipping services have for the European economy and for the daily lives and wealth of European citizens. This is heart-warming, particularly taking into account that this is often ignored by the European citizens at large.
ECSA will directly contribute to the consultation process and ensure that the role of maritime transport and ports in the logistic chains that link the single market to the world economy is safeguarded. Shipping and ports should be able to work and expand taking into account the global environment that they are operating in.
SHIPPING A SAFE AND ENVIRONMENTALLY FRIENDLY INDUSTRY
The third Maritime Safety Package anticipated in last year's annual report was issued in November 2005 and is now going though the institutional discussion process. The reactions of the industry are in general positive and supportive, though some problems may arise in respect of national competences. Concern has been expressed on the proposal on Civil Liability. The industry recommends a realistic approach that should in the first instance concentrate on the ratification and application of existing legislation laid down in the IMO. New legislation should only be introduced if it has clear added value.
Though it is recognised that shipping is an environmentally friendly transport mode, the industry is committed to further improving its environmental performance. It should, however, be realised that a holistic international approach to find an overall environmental benefit for the long term is the only effective solution.
SECURITY
Now that the ISPS Code and the relevant EU Regulation and Directive are in force for some time, the main attention has focussed discussions on the implementation of the security measures contained in the Customs Code, particularly to advance cargo declaration. An industry coalition of transport industries has made a number of detailed submissions aimed at having an efficient security checking system thereby avoiding unnecessary bureaucracy. The exercise has been difficult in view of its complexity. ECSA hopes that the useful suggestions made by the transport industry coalition will be taken into account.
MARITIME LABOUR CONVENTION WELCOMED
ECSA welcomes the adoption of the ILO Maritime Labour Standards Convention in February 2006 as a global solution for a global industry. The social partners ETF/ECSA are examining in a Social Dialogue Working Group all aspects of a possible incorporation into EU law. The priority for ECSA is that the Convention is ratified as soon as possible by the required number of States allowing early application.
Efforts to maintain maritime know-how in Europe by attracting young people for a maritime career are continuing. This is in line with the Transport Council Conclusions adopted under the UK Presidency in December 2005. An outward looking approach on maritime employment, taking into account that European shipping is working in a global market, is essential. In this context, it is evident that restrictive and/or labour protectionist measures are very unhelpful and would have the opposite effect to that intended.
NEW ECSA PREMISES FOR BETTER SERVICES AND CONTACTS
The office occupied ECSA in rue Ducale 45 in Brussels for more than 19 years became too small. Hence ECSA has moved to larger premises in rue Ducale 67 with larger meeting facilities offering a better service to the membership and allowing better contacts with the European institutions and industry stakeholders.
With a hectic programme of consultations on policy issues, ECSA will further enhance its cooperation with Member States, the Commission, the European Parliament and the industries of the maritime cluster.
We have a common interest in securing a good future development.
Lennart Simonsson
EUROPEAN SHIPPING IN A GLOBAL MARKET
Continuing growth with changing trade patterns and positive outlook
ECONOMIC AND TRADE DEVELOPMENTS
Overall 2005 was outright good for shipping and showed a general solid economic growth of 3,3 %, just a bit slower than in 2004, but above decade average and in spite of higher prices for energy and other commodities. Core inflation stayed low, but concerns began to mount about the growing imbalances in the global economy. World trade growth decelerated after the 21% boom in 2004, but still increased by 13%, for the first time surpassing US $ 10 trillion. The increasing oil prices notably pushed up the export values of the producing countries in Africa, Middle East and the CIS. China continued its particular role with a growth in GDP of about 10%, continued growth in exports by 25%, but imports halving to 11,5% over year 2005. In real terms, discounting price changes, the volume of World trade in goods grew by 6% with an outlook of 7% for 2006, according to WTO reports.
SHIPPING MARKETS AND THE EUROPEAN FLEET
In terms of trade and ocean transport demand several regions and countries demonstrate quick development, such as Latin America, India and especially China taking a particular place. In both exports and in imports China now ranks third after the EU and the US. According to WTO data China's exports in value terms amount to about 57% of what EU exports and 38% of what the EU imports. China accounts for 42% of iron ore trade carried by sea, but (still) for less then 8% of oil demand - the US is the dominant oil importer with 25%. China's container trades across the World and intra-Asia continue to burgeon, having a strong influence on the employment of increasing capacity.
International seaborne trade volume in 2005 increased 3,9% and maritime transport in tonne-miles grew by 4,7% to about 28.868 billion tonne-miles (+6,7% in 2004). Volumes were as always dominated by the rather low value bulk commodities, oil trade and dry bulk shipments went up by 2,4 and 4,7% respectively. LNG shipments continued their increase with about 10%. Container transport increased by 10,2% to 115,7 million full TEU end to end moves, of which 36,4 million in the main East/West ocean trades, about 20 million TEU in the North/South trades and regional trades counted some 45 million TEU out of which an estimated massive 33-35 million in intra-Asia trades. Global port handling in 2005, including empties and transhipments came to some 399 million TEU, of which 76 million in West Europe. Rates in the dry and liquid bulk sectors were volatile but remained healthy on average. Container trades and charters came under rate pressure by end of the year and early 2006, under threat of imminent large new capacity, but demand notably in the Far East has at least for the time being easily absorbed the new capacity.
YEAR

EEA

WORLD

EEA AS
% OF
WORLD
TONNAGE

N'

MN. TONNES

N'

MN. TONNES

1990

7,659

72,326 GRT

38,221

383,96 GRT

18,8

2000

6,783

84,351 GT

45,023

518,22 GT

16,3

2004

9,291

152,709 GT

46,551

584,3 GT

26,1

2005

9,047

154,332 GT

46,801

618,11 GT

25,0

2006

9,037

156,907 GT

48,096

660,75 GT

23,7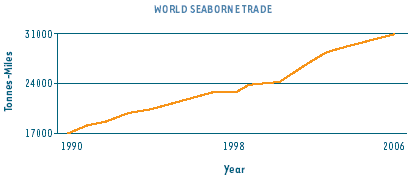 EEA shipowners continued their strong presence with a control of 40,8% of the World fleet measured in gross tonnage. The EEA registered fleet increased by some 2,5 million GT or 1,7%, representing almost 24% the World fleet, which itself increased by 6,9 %.
OUTLOOK
The economic outlook for the remainder of 2006 and for first half 2007 is for a continuation of rather strong growth. However, there are also negatives and risks, investment levels remain low, there are unprecedented imbalances in current accounts and for varying reasons the oil prices remain very high. Growth in World trade is estimated to reach a higher 7% and GDP to increase by about 3,5%. Economic development and industrial output will not be equally spread between regions and countries, resulting in a continuing shift in trade flows and in imbalances. In the course of 2005 China introduced a controlled floating of its currency; China's record trade surplus increase over first half 2006 by 55% to US$ 61,5 billion compared to same period last year, adds to further pressure for revaluation of the Yuan.
The underlying factors of economy and international trade warrant a positive outlook for maritime transport and the shipping sector as a whole. The suspension of the WTO negotiations is most regrettable but should on the short term not have a negative impact on global trade. However, there are as always threats and uncertainties to reckon with. High oil prices, but also restrictive regulations on air emissions may have their economic impact on deep sea and intra European short sea shipping. Imbalances are costly, while too limited capacities of ports and hinterland connections risk congestion and high costs. Many will closely watch the impact of the phasing in of newbuildings, especially the very large container vessels.
EUROPEAN TRANSPORT POLICY
REVISED WHITE PAPER ON TRANSPORT POLICY
Realistic approach welcomed
On 22 June 2006, the Commission approved a Communication on the mid-term review of the 2001 White paper on European Transport Policy.
In the renewed agenda the overall objectives of transport policy are confirmed notably a competitive, secure, safe and environmentally friendly mobility, fully in line with the revised Lisbon Policy agenda for jobs and growth. The previous policy of uncoupling growth in trade and growth in transport is abandoned. Growth of efficient and sustainable transport is considered essential. The modal shift should develop on the basis of optimising the performance of the relevant transport modes. This new policy is in line with the suggestions made by the maritime industries through the MIF.
As far as maritime transport is concerned particular attention is drawn to known areas such as the growth of short sea shipping, the necessity of investments in ports and hinterland connections, the possible creation of a common European maritime area, the application of the ILO Convention, strengthening the functions of EMSA, and the development of a strategy for freight transport logistics.
The revised White Paper on Transport Policy was followed by the publication of a Commission Communication on Freight Logistics on 28 June 2006. The Communication will be the basis for an Action Plan for Freight Transport Logistics, which is expected to be issued in 2007.
The Communication proposes, amongst others, to set up a group of National Focal Points to identify and solve bottlenecks hampering development of freight transport logistics. It is also proposed to improve tracking and tracing, to build logistics terminals and to establish a dedicated rail freight network. Furthermore, it is envisaged to harmonise transport documents and liability regimes of the transport modes.
Freight logistics will be a priority item of the Finnish Presidency having taken over from Austria in 1 July 2006. The statements made by the Finnish Transport Minister Ms Huovinen on July 12 in the European Parliament Transport Committee that intermodality should not be seen as an objective in itself but as a tool that could be used to achieve better logistics, are in line with the views expressed by the MIF Group Transport coordinated by ECSA in its statement of March 2006.
ECSA welcomes the new approach and looks forward to an ongoing constructive exchange of views with the EU Institutions and stakeholders.
A FUTURE MARITIME POLICY FOR THE UNION
European shipping a corner stone of European and global trade
ECSA appreciates the initiative of the Commission to launch a broad exchange of views leading to overall European maritime policy starting with the issuing of the Green Paper on a Future Maritime Policy for the Union on 7 June 2006.
ECSA is encouraged that the Green Paper recognises the importance of and the economic potential of the maritime dimension of Europe. The Paper stresses the essential role that shipping services have for the European economy and for the daily life and the wealth of EU citizens. As mentioned in the Green paper this is often ignored by EU citizens.
Indeed, 90 % of European external trade and over 40 % of its internal trade are transported by sea. The European maritime clusters are the biggest in the world. Maritime transport is the catalyst for the maritime clusters.
Maritime transport and ports are recognised as key elements in the logistic chains which link the single market to the world economy. Their efficiency is crucial for the competitiveness of the EU in a globalising world. It is therefore no surprise that shipping services and ports are identified as growing sectors and as key elements of the Lisbon Policy making Europe the most competitive trading entity in the world.
ECSA strongly feels that these basic facts cannot be ignored in a future maritime policy for Europe and in particular in looking for the right balance between the economic, social and environmental dimensions of sustainable development.
Shipping and ports should be encouraged to expand to serve the needs of European and global trade. Congestion in ports and other bottlenecks that hinder efficient services should be taken care of. Investments in ports and in hinterland connections should be made giving Europe efficient and seamless logistic chains. The growth of short sea shipping during the last decennium should be further enhanced in an integrated European transport system.
By its very nature shipping has always been a global industry. Globalisation of trade has enhanced this global role and character of shipping services. This de facto global character and nature of shipping services has to be taken into account on all fronts. The Green Paper recognises sustainable development necessitates developing universally applicable rules.
The competitive framework of European shipping should constantly take into account the global competitive environment that shipping is operating in. This is also key as far as employment is concerned. Whilst efforts are taken to maintain maritime knowhow in Europe, labour flexibility in the global labour market that shipping is operating in is essential. Restrictive and/or labour protectionist measures would have counterproductive results towards employment and maintaining maritime know-how. It should also not be overlooked that the main employment in the maritime industries is ashore and not at sea.
In line with the policy promoted by Vice President Verheugen the Green Paper stresses that action at EU level should be undertaken only when it contributes value-added. In this context additional bureaucratic layers should be avoided. This should be taken into account when considering questions such as on an optional European register and a European coast guard.
An efficient and effective EU maritime external relations policy should safeguard a good working international framework for shipping services. The Maritime bilateral agreement with China has established a good working framework for constructive maritime relations with China. ECSA hopes that a bilateral agreement with India can be agreed upon as well.
The Green Paper recognises that shipping is the most energy efficient and environment friendly mode of transport in Europe. Nevertheless, as mentioned in the chapter on safety and environment of this Annual Report the shipping industry is working on further improving its performance on emissions.
ECSA welcomes the recognition in the paper that shipping is international requiring global rules, and shares the view that Member States should ratify internationally agreed Conventions and ensure that they are properly enforced. A strong and efficient International Maritime Organisation (IMO) is essential for shipping as a global business. Therefore EU policy should aim at reinforcing the role of IMO and its efficiency.
The Green Paper will now go through a consultation period of one year. ECSA looks forward to an active and constructive consultation process.
MARITIME INDUSTRIES FORUM (MIF)
Clear Recommendations
The group Transport of the Maritime Industries Forum (MIF) continued to work on a practical basis concentrating on the main transport policy proposals of the Commission.
Recommendations were made on the mid term review of the White paper on Transport Policy and on Logistics for promoting Freight Intermodality. It is encouraging to note that the Commission has taken the recommendations into account particularly in recognising that growth in economy cannot be uncoupled from growth in transport and in accepting a commercial approach in promoting intermodal transport. On the latter point the MIF also stressed the importance of sufficient and efficient infrastructure, the need for one stop administrative shopping and single window, the need for a realistic approach on the 45 ft containers and the necessity of an international approach through UNCITRAL on multimodal liability.
The MIF will meet in Plenary on 5/6 October in Oslo with as a main theme an exchange of views on the Green Paper on a Future maritime Policy. Vice President Günter Verheugen and Commission Joe Borg will attend the plenary meeting.
SHORT SEA SHIPPING
Marco Polo Programme
In May 2006, an agreement was reached on the Commission proposal for a Second Marco Polo programme.
The Marco Polo II programme pursues the same objectives as the First Marco Polo programme, i.e. granting Community financial assistance for start-up, catalyst or common learning actions with an aim at reducing road congestion, improving the environmental performance of the freight transport system and enhancing intermodal transport. However, the second programme includes two new types of action (i.e. Motorways of the Sea and Traffic Avoidance actions) and it has a larger scope of application, covering also EFTA countries, Russia, Belarus, the Ukraine, the Balkans and the Mediterranean Region.
The programme will run from 1 January 2007 to 31 December 2013 with an overall budgetary envelope of ' 400 million instead of an initially proposed envelope of ' 740 million. This reduction is a result of the reduced overall EU Budget for the period 2007 - 2013.
Trans-European Transport Networks (TEN-T)
In July 2005, the Commission adopted a series of measures to speed up the completion of the trans-European Transport Network. The measures included, amongst others, the nomination of six European coordinators to facilitate the implementation of the key priority TEN-T projects.
The Commission also proposed to set up a Trans-European Transport Network Executive Agency with an aim to providing the Commission with technical expertise, to take care of the technical and financial management of TEN-T projects and to manage the funds available under the TEN-T budget.
In December 2005, the High Level Transport Group on the Extension of Major trans-European Transport Axes to the Neighbouring Countries submitted a report in which priority transport axes and measures to connect the EU with its neighbouring countries were identified. The aim is to remove physical and administrative bottlenecks along main transport axes, to facilitate cooperation and communication between national authorities in the different countries, to harmonise documents and procedures, etc.
As regards maritime transport, the High Level Group recommended harmonizing the Paris, Mediterranean and Black Sea Memorandums of Understanding, ratifying and implementing international standards and conventions fully and timely, improving the quality of port infrastructure and services and implementing regular frequency of shipping services (at least once a week) operating on the Motorway of the Sea.
The total cost of all proposed projects is estimated at ' 45 billion, of which ' 35 billion should be found between 2006 and 2020, primarily financed by the countries concerned and by international financing institutions, complemented with support from the EU.
The recommendations made by the High Level Transport Group may be reflected in a Commission Communication later in 2006.
Mid-Term Review of the 2003 Programme for the Promotion of Short Sea Shipping
Promotion and growth to continue
In July 2006, the Commission adopted a Mid-Term Review of the 2003 Programme for the Promotion of Short Sea Shipping. The review evaluated the results of the 14 actions that were introduced in the 2003 Commission Communication for the Promotion of Short Sea Shipping. The 14 actions are aimed at enhancing the efficiency of Short Sea Shipping in Europe. They included uniform reporting formalities for ships to enter or depart from EU ports, guidance for successful Short Sea Promotion Centres which offer advice on the use of Short Sea Shipping and the elimination of obstacles that hinder the development of Short Sea Shipping.
The Mid-term review concluded that the 14 actions have been quite successful but advocates Member States, the industry and the European Short Sea Network to continue to work on remaining obstacles. To that end, it is proposed to retarget some of the 14 original measures in order to work towards making the first high-quality Motorways of the Sea operational in Europe by 2010, to examine the possibility of extending the scope of short-sea promotion towards the promotion of multimodal solutions in inland transport as part of the overall logistics chain and to improve the integration of the mode in the multimodal logistics supply chain to coincide with the modern image that Short Sea Shipping has already acquired.
Having been at the origin of the promotion of short sea shipping and being actively involved in its further expansion, ECSA will further contribute to the ongoing work of the action programme. European shipowners have invested heavily in the development of short sea services resulting in a wide network of motorways of the sea. It is evident that the competitive position of this network should not be endangered by artificially created services.
The Mid-term review also stresses the need for standardised, more efficient and stackable equipment that facilitates the transfer of freight from one transport mode to another in the context of the proposed Directive on intermodal loading units. Such standardization should lead to more efficient and productive logistics chains in Europe.
The Mid-term review notes that Short Sea Shipping plays a key role in ensuring sustainable mobility and contributes, amongst others, to alleviating congestion and environmental pressure caused by freight transport. Short Sea Shipping is an integral part of the logistics chain in Europe's transport system.
Between 1995 and 2004, the ton-kilometre performance of Short Sea Shipping in the EU-25 grew by 32 %, while road performance grew by 35 %. Short Sea Shipping performs 39 % of all tonkilometres in the EU-25 while the share of road is 44 %. The fastest growing segment of Short Sea Shipping is containerised cargo with average yearly growth rates of 8,8% since 2000.
EUROPEAN PORTS POLICY
Ports key in the supply chain
The saga relating to a European Ports Policy took yet another turn in 2005/2006. Starting in 1997 with the Green Paper on a port policy, it led to a proposed Directive I on market access to port services that was rejected by the European Parliament in November 2003. Also a proposed Directive II that was brought forward by the Commission in October 2004 was rejected by the European Parliament in January 2006. Eventually the Commission withdrew Directive II in March 2006, launching at the same time an general debate on an overall European Port Policy.
It is appreciated that the launched debate is based on a broader approach looking at three key points:
Free market access and modernisation/liberalisation of port services;
Port capacity and hinterland connections.
Funding, transparency and state aid guidelines.
For the shipping industry there are two items which need to be addressed with priority.
Firstly the necessity of appropriate port capacity and adequate hinterland connections. This is recognised by all. A new European Port Policy should encourage investments in port capacity. Therefore, in further policy making, concession periods for investments in terminals should be sufficiently long to attract investments allowing a decent return on capital.
Realism is also essential in the well known conflict between environmental and economic considerations that are facing ports in expansion projects. In this context the fundamental role of maritime supply chain services for European and global trade and indeed for daily lives is often overlooked. European wealth is depending on maritime services. This is a clear common interest and should be dealt with as such. This environment friendly transport mode very much depends on expansion of ports and efficient hinterland connections.
Secondly, liberalisation/modernisation of port services on which the views of the shipping industry are still the same. Action on this key issue is still necessary. This does not mean that all European ports are inefficient today. However, there is definitively room for improvement. This is not a theoretical statement. In the bottleneck exercise on short sea shipping that is constantly being updated it is clear that many cases refer to ports and port services on issues that would have been covered by the Port Services Directive.
Often the discussion on whether ports and port services are efficient enough is dealt with looking at port services in isolation. This is definitely wrong.
Reality is a supply chain approach where maritime services are an element in an overall service package. In such a supply chain approach each and every element or link in the chain plays a key role. The most efficient and cost effective transport mode will be chosen. Evidently handover points play a fundamental role in the end result.
Improving supply chains is one of the key elements of the Lisbon Policy to make the European economy the best in the world. It would be difficult to explain and to understand why one specific sector in a maritime supply chain should be an exception to this policy.
During the future discussions it should be made clear whether a specific legal framework taking into account the specificities of port services can be developed. However, what is often forgotten is that in absence of a specific framework the general legislation, notably the Treaty, and particularly the four freedoms and the competition rules apply. The European Commission is the guardian of the Treaty and should ensure that it is properly applied to the benefit of both shipping and trade.
SECURITY
SUPPLY CHAIN SECURITY
The Commission adopted on 27 February 2006 the long awaited Commission Communication on enhancing supply chain security including a draft Regulation. The proposed measures will not deal with Ships and Port security since these are already covered through Regulation 725/2004 (ISPS) and Directive 65/2005 on port security.
The draft Regulation covers other elements of the supply chain in a general way. Main element is the granting of the status of "secure operator" that will be awarded with advantageous/favourable treatment in controls to some extent comparable with the CTPAT system in the US. The status can be obtained on a voluntary basis.
The proposal will now go through the normal decision process (Council/European Parliament). Questions have been raised on the added value of the proposal.
ADVANCE CARGO DECLARATION
Discussions on a Regulation for the implementation of security measures contained in the Customs Code including key measures such as advance cargo declaration and the AEO status have taken place in 2005/2006 in the Committee procedure.
The industry, including ECSA, has been involved in a number of consultation meetings and industry comments on advance cargo declaration concentrated in particular on:
The fact that electronic data exchange is essential for advance cargo declaration. Therefore the implementation date should be postponed until this is possible or only done through entry points where this is possible.
The specific position of short sea shipping/ferries and bulk shipping.
Clarification on: who should file, data to be submitted, where and when to file, procedures on "do not load", freight remaining on board and the status of the Authorised Economic Operator (AEO).
NVOCCs/forwarders doing their own notifications.
Joint industry submissions have been made to the Commission and Member States on the initiative of the World Shipping Council and ECSA. The contributions of industry aimed at having an efficient security checking system avoiding thereby unnecessary bureaucracy.
SAFETY AND ENVIRONMENT
THIRD MARITIME SAFETY PACKAGE
In November 2005 the Commission published its Third Maritime Safety Package following consultation meetings with industry during the previous year or so. While the strictly legal elements of the package are addressed in the chapter on Legal Issues of this Annual Report the five proposed Directives relating to safety comprise the following:
Amendments to the Port State Control Directive 95/21, the objective of which is to recast the instrument in order to improve clarity following many changes introduced over the last decade and to reinforce and improve the effectiveness of PSC; a particularly notable element in the latter regard, and welcomed by industry, is the replacement of the current requirement to inspect 25% of all visiting ships by a system whereby high risk ships are more frequently inspected and quality ships less so.
Amendments to Directive 2002/59 concerning Vessel Traffic Monitoring and Information System. The key aims are to require the use of the electronic exchange network 'SafeSeaNet', to reinforce existing provisions relating to accommodation of ships in places of refuge and to require AIS on fishing vessels.
Compliance with Flag State Requirements, the broad goal being to ensure that EU Member State effectively and consistently discharge their obligations as flag States in accordance with IMO Conventions. More specifically, steps must be taken to make the provisions of the IMO Code compulsory in respect of the implementation of the mandatory IMO instruments relating to the flag States and also to introduce a flag State Audit Scheme.
Establishing Fundamental Principles Governing Investigation of Accidents; the objective is to form a Community framework for conducting investigations on marine casualties and to improve the exchange of information among Member States. It is also proposed that Member States establish independent investigative bodies for conducting the investigations in an impartial manner and with the required resources.
Classification Societies. The proposal is intended to underpin the Classification Societies by setting up a joint and independent body to assess the quality systems of the EU recognised organisations; the instrument also introduces a system of gradual financial penalties for low performance and changes to the recognition criteria aimed at clarification and simplification.
Overall, ECSA has reacted positively to the initiatives particularly on the proposals regarding port state control and the vessel traffic monitoring and information system, while recognising that the flag state compliance proposal will no doubt raise concerns in some Member States about the implications for competence of national maritime administrations at IMO; certainly the industry would not wish to see any reduction in the quality of the decision making in IMO.
ECSA's detailed positions on the proposals, developed jointly with ICS, (available on website www.ecsa.be) have been sent to national Administrations and to the responsible European Parliament Rapporteurs for consideration. In the Council, progress towards agreement has being made with the Port State Control and Vessel Traffic Monitoring proposals, with only the classification societies' initiative possibly being considered in 2006 and the remaining two in 2007. The Parliament has just started its internal examination of the package as a whole, with completion of the First Reading stage not expected to be completed before early 2007 at the earliest. It is likely to be 2008 before final adoption of the proposals can be expected.
ENVIRONMENT
Air Emissions
As acknowledged in the recent Green Paper, shipping is the most energy efficient and environment friendly mode of transport in Europe (see table 20). However, the industry itself recognises the negative impact of maritime air pollution and the wish both in the EU and internationally for lower limits than those recently made mandatory by MARPOL Annex VI.
It is against this background that the shipping industry is committed to further improving its environmental performance where there is a quantifiable benefit backed up by thorough impact assessments.
As all parties are aware, air pollution in general is a complex issue and reducing one pollutant may have a negative effect on other pollutants such as Green House Gases (GHGs). The industry therefore believes that a holistic international approach to find an overall environmental benefit for the long term is the only effective solution. In this context, there is scope for regional action on the international front via the possible creation of SECAs after thorough assessment of environmental vulnerability. It should, however, not be overlooked that it is unsustainable for EU ships to be subject to differing levels of emission control in different ports around the world.
As stated above, credible long term action must be based on sound environmental, technical as well as socio-economic assessment; in this regard, all measures to reduce maritime emissions must be as practical and cost-effective as possible; fuel quality and availability are important elements in this regard, as is the need to ensure that measures do not result in a modal shift to less environmentally credible mode of transport than shipping.
Reflecting these factors and principles ECSA, in close liaison with ICS, has undertaken a detailed assessment of the technical and policy options available to reduce air emissions; notably SOx, NOx, Volatile Organic Compounds and Particulate Matter. ECSA would draw attention to the following broad conclusions from this initiative;
There are promising developments taking place with regard to technologies to reduce SO2, NOx, PM and VOC emissions, and such developments should be promoted and fully exploited.
There are also promising developments taking place in EU and IMO concerning new and cost-effective economic incentives. Such possibilities should be considered as alternatives to new regulations, especially regional regulations, as long as the same or better environmental results can be achieved.
There is no single option available to the industry that will be suitable for all types of ship and the variety of trades they operate, and it is important for the international and EU framework to allow flexibility for the industry to find the most cost effective solutions.
It is hoped that the work undertaken by industry will positively contribute to the ongoing work in both the IMO and EU.
EU Thematic Strategy for the Protection of the Marine Environment
ECSA shares the overall objective of the Thematic Strategy on the Protection and Conservation of the Marine Environment published in October 2005, namely to ensure that EU marine waters are healthy by 2021 - thereby protecting the resource base upon which marine related economic and social activities depend; it is currently the subject of debate within the EU institutions. As recognised by the Lisbon strategy, sustainable development must be accompanied by the goals of promoting competitiveness and economic growth and development across Europe. In the latter regard, the principle of freedom of navigation is a fundamental requirement for free trade and competition together with unrestricted port access.
ECSA further acknowledges that from an environmental point of view, it may well be appropriate to subdivide the overall marine area of the EU into regions in order to establish what is required for each region (the so called marine spatial planning); what is necessary or best in one region may not be necessary in another region.
However, from the perspective of international shipping, having ships operating in all three regions, it is important to ensure that this approach does not result in a myriad of varying rules for shipping within the EU. Such a situation would not be operationally feasible for the shipping industry. Specific local requirements should be solved through international instruments e.g. SECAs.
Ship Recycling
The shipping industry fully recognises the need to improve the health and safety standards in ship recycling yards around the world and acknowledges the role played by the NGOs and regional bodies such as the European Parliament in drawing attention to this serious issue. In accepting its responsibilities, the shipping industry has been instrumental through both industry initiatives and via IMO in the significant progress made in recent years.
In particular, the IMO is currently formulating an internationally binding Convention on ship recycling to be adopted in 2009; this initiative, fully supported by the shipping industry, is closely based on the IMO Guidelines published in 2003 which in turn reflected the 2001 Industry Code of Practice on Ship Recycling; this introduced a number of recommendatory provisions such as gas freeing-for hot work on delivery, a list of potentially hazardous materials, and minimisation of potentially hazardous materials at the construction phase.
At a European Parliament Hearing jointly organised by NGOs and industry on 25th April Environment Commissioner Stavros Dimas and MEPs stressed that the most effective means to address the problems in the ship recycling industry is via international measures. The EU, through its 25 Member States, has significantly contributed to progress on the issue in IMO to-date and continues to exert considerable influence in achieving concrete and effective results, and this remains the most positive utilisation of the Community's influence in progressing the issue. The European Parliament also has an important role in promoting timely and effective international action.
In addition, the EU itself can actively promote the IMO work and ensure the success of the Convention by using EU Development Aid, cooperation agreements and other influential links with recycling States to provide equipment, expertise and training to raise safety and environmental standards to an acceptable level.
The Commission has also indicated its wish to develop an interim EU Strategy, with a particular emphasis on state owned ships following the controversy surrounding the recycling the warship 'Clemenceau'. In this regard a wide ranging study for the Commission on all aspects of ship recycling in the EU context is currently underway, and ECSA and the Industry Working Group on Ship Recycling will constructively contribute to that initiative.
ECSA has welcomed the inauguration of the EMSA headquarters in Lisbon in September 2006. Their technical expertise in the areas of maritime safety and environment in particular ensures that they will make a major contribution in the coming years, and ECSA looks forward to a continuing constructive working relationship in that context.
THE HUMAN ELEMENT
MARITIME LABOUR CONVENTION
A global solution for a global industry
There was in effect unanimous adoption of the Maritime Labour Standards Convention in Geneva in February. The Convention brings together and updates more than 60 international labour standards adopted in ILO since 1920 and covers such areas as conditions of employment and working conditions, including health, safety, minimum age, recruitment, working hours and accommodation on ships. It is regarded as the 'fourth pillar' of the international regulatory system for global shipping following SOLAS, STCW and MARPOL. Initiated and fully supported by industry, the Convention requires ratification of 30 states representing 33% of world tonnage for its entry into force.
The Commission has been very supportive of the ILO process and has signalled their wish that the Convention should be incorporated into EU law. In this context, and recognising the complexities of the issues, ECSA and ETF have established a Working Group of the Social Dialogue Committee to examine over the coming months, with the close involvement of the Commission, all aspects of the way ahead.
ECSA has urged EU Member States to ratify the Convention as soon as possible and has issued a joint statement with ETF to EU Ministers with this message; in this regard, it is hoped that a Council Decision with a similar goal, as proposed by the Commission in June, will be adopted in the coming months.
MARITIME EMPLOYMENT
An outward looking approach required
The increasing reality of globalisation presents particular challenges in the area of maritime employment in a generally high labour cost Europe. Ensuring that European shipping can continue to effectively and fairly compete in this global market must always be the cornerstone of the EU policy in this area. This is fully consistent with the EU Lisbon Agenda aimed at making the EU the most competitive economy in the world; a key element is a recognition that increased labour flexibility is in the interests of Europe's longer term sustainable growth.
The alternative approach which is to promote restrictive and/or labour protectionist measures would have the opposite effect to those intended, leading to lack of competitiveness, loss of markets, reductions in the size of EU fleets and, inevitably, to loss of European jobs. Such an approach, inconsistent with basic EU Treaty principles, has regrettably been evident in a number of instances within Europe over the last year or so, the European Court of Justice being called to make a ruling in this context.
As a consequence, ECSA has encouraged the Commission to pursue a policy which reflects the industry view as explained below and, within its area of responsibility, to take a pro-active stance towards any action taken which undermines this approach.
MAINTAINING EU MARITIME KNOW-HOW ESSENTIAL FOR EUROPE
In the context of the global reality referred to, ECSA fully recognises the importance of maintaining European maritime know how; it is essential for both the industry itself and for the maintenance of the maritime clusters that are vital to the economic and social interests of the Community.
While there is an estimated 300,000 plus seafarers employed on EEA registered vessels, with a broadly equal split between EEA and non-EEA nationals, it should be noted that the main employment in the maritime industries is ashore rather than at sea.
Against this background, there are a number of actions being pursued at national, Community and international level which can usefully be built upon and there is an important role for the social partners in this regard. Together, they will make a significant contribution to enhancing European maritime know how and the employment opportunities of EU seafarers. The following, consistent with Council Conclusions on Maritime Employment adopted under the UK Presidency in December 2005, and welcomed by ECSA, can be cited:
Supply and Demand of Seafarers. Past studies conclude that in many Member States there is a current or forecast shortage of EU junior officers; quite what the situation is today in each EU Member State could perhaps benefit from further examination. Considerable analysis needs to be undertaken nationally before increasing the supply as it is clearly economically and socially undesirable if those undergoing training are likely to find it difficult to find employment on completion of training.
The role of maritime clusters. The possibilities of shore-side employment for former seafarers can be an important factor in attracting persons into a seafaring career. In this context, the ECSA/ETF Career Mapping project, concluded in Autumn 2005, should be helpful in demonstrating the possible career planning opportunities for European seafarers in order to make shipping an attractive career option. The concept should be promoted and used nationally. However, ship operators should not be expected to bear the full burden of training, and the emphasis on shore based opportunities provides a strong argument for 100% public funding of maritime training.
A stable and competitive environment for EU Shipping. An appropriate EU framework providing stimulating elements for the maintenance of competitiveness of Member States' fleets and the promotion of European shipping know-how and maritime training, as well as the employment of European seafarers, is essential for shipping and has positive effects for the whole maritime cluster. The framework (the State Aid Guidelines) has to be stable and has to be applied in a flexible manner taking into account the specific national circumstances involved. A key element is that the structural operational environment should be able to meet global competition.
Maritime Labour Standards.
As mentioned above, the recent ILO Maritime Labour Standards Convention will provide a solid, comprehensive and global basis for world wide employment standards. ECSA urges ratification by EU Member States and its strict enforcement within the EU.
National Action and Exchange of Best Practice.
While there is considerable scope for EU action as described above, Member States are of course best placed to identify the particular problems in relation to maritime employment being faced nationally and how those issues can be most suitably addressed in the local circumstances. Examples include the national supply and demand situation, and particularly to the action necessary to train the required number of seafarers for their national needs; improving the image of shipping by appropriate campaigns tailored to meet the national circumstances are an integral part of this process. As set out in a UK Presidency paper of December 2005, there are many innovative and comprehensive initiatives being taken throughout the EU, and a greater emphasis on the exchange of best practice would be well worthwhile. ECSA will play its full part in this context.
These issues have been, and no doubt will be, the subject of further discussions with the Commission and ETF in the context of the Maritime Social Dialogue Committee.
PIRACY AND ARMED ROBBERY
The continuing serious problem of piracy and armed robbery against ships in certain parts of the world was discussed again in the ECSA/ETF Social Dialogue Committee, and a joint approach was made to the EU Transport, Trade and Development Commissioners. In doing so they provided detailed information on the scale and location of the global attacks and urged the Commissioners to take up the issue when having discussions and negotiations with those countries and regions where such attacks take place.
MARITIME EXTERNAL RELATIONS
Maritime transport serves and thrives on continuing increases in international trade and for ECSA members as a whole the trade between third countries and regions are at least as important as the intra and external European trades. Stimulating trade conditions with liberal, transparent and consistent national and international rules and procedures are therefore of great importance.
WTO-DDA NEGOTIATIONS SUSPENDED
High expectations were given to a successful conclusion of the comprehensive WTO round, under the Doha Development Agenda, launched in November 2001 towards agreements on strong reductions in subsidies and import tariffs of agricultural products, import tariffs for goods, on access to markets for services, global trade rules and special considerations for the least developed nations. The concept of solid agreements for international trade is generally recognised, as may be proved by the increasing number of currently 149 WTO members. However, the many differences between economies, levels of development and cultures make the complex negotiating process a very difficult undertaking. Appropriate balances must be found between the interests and priorities of the members. The Ministerial Conference in Hong Kong in December 2005 did not bring the desired breakthrough, but did confirm the commitment to continue and set deadlines, which in turn were often not met by all or not at all. Despite all the continuing efforts, the key actors in the negotiations - the US, EU, Brazil, India, Australia and Japan - had to conclude by end July that the set deadline of end 2006 could not be met and that the Round had to be suspended.
One notable positive development in the negotiations was the wide support for the good work done towards an agreement on Trade Facilitation - setting rules and objectives for the basic processes of cross-border trade. Hopefully these can somehow be made effective by means of other instruments and/or bodies like the WCO.
Although stimulation of global trade through an agreement would have been welcome also for shipping as the major transport mode, the point for the shipping sector itself is not so much that there are major practical hindrances for efficiently serving the external trade of member countries, which could have been resolved. However, obtaining the certainty that the de facto freedoms will last and thus allow long term planning and investments remains important. In the meantime the maritime standstill agreement, preventing new protectionist measures by WTO member states, should remain in force.
EU BILATERAL TRADE RELATIONS
The failure of the WTO-DDA round to conclude by end 2006 will no doubt further intensify the interest in coming to bilateral and multilateral regional trade agreements. Increasing the already over 200 of such agreements in place risk confusion by overlaps and/or discrimination for trade. Reportedly the WTO has meanwhile come to an outline for preventing such adverse impacts. The EU has been less active in this field than e.g. the US and Japan, although Free Trade Agreements exist with e.g. Mexico and is for several years less successfully under negotiation with MERCOSUR - as recently expanded with Venezuela. A new EU focus on agreements with Asian partners has already been announced, in which ECSA will endeavour to secure a rightful place for maritime transport.
BILATERAL MARITIME RELATIONS
The bilateral EU-China maritime agreement of end 2002 has proven its continued success to the benefit of trade and the maritime carriers, as was confirmed during the third implementation meeting in Shanghai in May 2006. Some European wishes, including the right of relaying international cargoes between Chinese ports by use of own vessels - avoiding transhipments outside China - remain under study.
ECSA welcomed the first round of negotiations on a EU-India maritime agreement in July 2006, at which the respective positions were extensively discussed and laid down in a paper for further negotiation. Although the common interests in efficient maritime transport and under the wider 'strategic Partnership' are recognised, the expressed maritime related priorities on the Indian side are differing from those of the EU negotiators and industry. Time has now come for real progress to be made and two next rounds of negotiations, agreed for end 2006 and first half 2007, are looked forward to with anticipation.
On the many maritime issues and developments at play around the world, ranging from legislative to purely practical and operational constraints, ECSA and company members closely consult internally, with the Commission services and with Member States on the appropriate approaches to be taken.
APPLICATION OF EU COMPETITITION RULES ON MARITIME SERVICES
LINER SHIPPING
The review of EU Competition Rules on maritime services that started in 2003 is in full process. In December 2005, the Commission adopted a proposal to repeal Regulation 4056/86 giving a Group Exemption to Liner Conferences. The Commission agreed to a postponement of the effective date with two years allowing a denouncing of the UNCTAD Code. Guidelines will be issued indicating what lines are allowed to do following the repeal of the Exemption. In the interim period an Issues Paper will be issued in 2006 containing the background for the Guidelines. The Liner Industry is in discussion with the Commission services on the Issues Paper and the Guidelines.
In this context the European Liner Affairs Association (ELAA) presented on 22 June a revised alternative regime for liner shipping in a post-liner conference era in Europe. A first alternative was presented in 2004 and was revised following multiple discussions between the ELAA and DG Competition.
In their revised alternative, which is supported by ECSA, the ELAA proposes to establish a port-to-port aggregated volume database, based on figures supplied by the carriers to an independent data service, to provide for an industry supply and demand forecast produced with the help of an independent expert and to establish a Liner Shipping Association enabling carrier discussions and consultations with other industry stakeholders. In addition, it is proposed to establish a simple aggregated price index by trade direction and to publish information from the public domain to increase transparency of costs such as bunkering, canal dues, port charges and currency exchange rate exposure. Finally, it is proposed to make all the information generated available to the general public and the benefit of all industry stakeholders and governments.
TRAMP SHIPPING
In the December 2005 Decision, the Commission also confirmed its intention to lift the exclusion of tramp shipping and cabotage from the Implementing Rules (Regulation 1/2003). There have been no complaints and consequently there is no case law on the application of Competition Rules for tramp shipping. Moreover the sector is terra incognita for many. Therefore the shipping industry is through ECSA involved in a constructive information and discussion process with the Commission services with the aim to have legal certainty by the time that the basic competence of implementing the Competition Rules (enforcement) is shifted from being solely with Member States, to be also with the Commission.
During this exchange of views it was confirmed that the Commission services would give guidance to the industry on grey areas that may exist. This guidance should be given prior to lifting the exclusion from the Implementing Rules.
In the context of this exercise the Commission issued on 21 February 2006 a tender for a study regarding the legal and economic analysis of tramp maritime services. The contract for the study was awarded end July and the consultants are expected to deliver the study within 4 months.
LEGAL ISSUES
CRIMINAL SANCTIONS FOR SHIP-SOURCE POLLUTION
Legal confusion continues after adoption of the Directive and Framework Decision
After a long and very confusing political decision-making process, which started in 2003, the Directive and Framework Decision on criminal sanctions for ship-source pollution were eventually adopted in 2005. From an industry viewpoint, the final outcome was very disappointing because of a much contested deviation from MARPOL and UNCLOS.
The Directive lays down the basis to sanction deliberate as well as accidental ship-source pollution. The Framework Decision determines the penalties, including imprisonment, for such pollution. The two texts were issued following the sinking of the oil tanker Prestige off the Spanish coast of Galicia in November 2002.
The provisions of the Directive and Framework Decision have to be implemented into Member States' national law by 1 March 2007 and 12 January 2007 respectively.
The future of the Directive and Framework Decision is, however, unclear since after adoption court cases were launched against them. The Commission has asked an annulment of the Framework Decision by the European Court of Justice. An industry coalition has contested the legal validity of the Directive before an English High Court. The High Court ruled on 30 June 2006 that the industry's challenge to the Directive is well founded and has remitted the case to the European Court of Justice.
ECSA is closely monitoring implementation of the Directive and Framework Decision into national law and will give an appropriate follow-up to the outcome of the court cases.
PROPOSAL FOR A DIRECTIVE ON CIVIL LIABILITY AND FINANCIAL SECURITIES FOR SHIPOWNERS (MARITIME SAFETY PACKAGE III)
The maritime safety Package III includes two proposals dealing with legal issues, the most controversial of them is the proposal on civil liability and financial securities.
The proposal aims at establishing stringent liability rules applicable to all ships with a view to preventing or repairing damage caused by ships. To that end, it is proposed that all EU Member States become contracting parties to the 1996 Convention on the Limitation of Liability for Maritime Claims (1996 LLMC). It is also proposed to incorporate this Convention into Community law in order to ensure its full and uniform application throughout the EU. As a second step, the Commission envisages seeking a mandate for negotiating a revision of the 1996 LLMC within IMO with a view at reviewing the level at which the shipowner looses his right to limit his liability.
The draft Directive also provides a more severe liability regime with gross negligence as conduct barring limitation, applicable to ships flying the flag of a State that is not a contracting party to the 1996 LLMC.
Furthermore, it is proposed to oblige shipowners to have a financial guarantee for civil liability, including for covering the costs linked to the repatriation of seafarers in case of abandonment. The financial guarantee must be a sum not less than double of the ceilings laid down in the 1996 LLMC, evidenced by a certificate which issued by a Member State. The certificate must be carried onboard the ship and notified to the Member State when the ship enters into an area falling under jurisdiction of that Member State. Member States are obliged to mutually recognize their financial guarantee certificates.
Requests for compensation of damage caused by the ship may be addressed directly to the provider of the financial guarantee.
ECSA supports the basic objectives of the Directive, i.e. a prompt ratification of the 1996 LLMC as well as of other IMO Conventions, in particular the HNS and Bunker Oil Spills Conventions. However, ECSA has questioned the added value of obliging Member States to issue a financial guarantee certificate for civil liability, and strongly criticised the suggestion of introducing gross negligence as conduct barring limitation and of obliging ships to have a financial guarantee for civil liability for double the ceilings of the 1996 LLMC.
ECSA has made some alternative proposals with direct added value and looks forward to a constructive dialogue with the relevant EU Institutions.
PROPOSAL FOR A REGULATION ON THE LIABILITY OF CARRIERS OF PASSENGERS BY SEA AND INLAND WATERWAYS IN THE EVENT OF ACCIDENTS
The second legal proposal of the Maritime Safety package III aims at incorporating the provisions of the 2002 Protocol to the Athens Convention relating to the carriage of passengers and their luggage by sea (Athens Protocol) into EC law. It is also proposed to extend the scope of application of the Athens Protocol to domestic traffic and inland waterways.
Furthermore, carriers will have to provide financial compensation to disabled passengers for damage to or loss of their mobility or medical equipment. They will also have to pay in advance in case of death of a passenger or personal injury to a passenger. Passengers will have to be informed on their rights under the Regulation prior to departure of the ship.
ECSA supports a prompt ratification of the Athens Protocol once the outstanding issues as discussed in IMO have been settled. As far as the transposition into EU law is concerned it is recommended to assess the impact of its extension to domestic traffic. There are concerns that domestic carriers will have difficulties in meeting the financial obligations resulting from the Athens Protocol, which was initially drafted for passenger ships operating international voyages only.
PASSENGER SERVICES
PASSENGER RIGHTS
While the Commission's 2005 Communication on Passenger Rights concentrated on air transport, it announced that the Commission would be turning its attention to the maritime sector; areas to be addressed include delays, cancellations, passenger complaints, denial of access and rights of persons with reduced mobility.
In this context, the cruise and ferry sectors have provided both the Commission and their consultants with comprehensive written information on the existing practice in these areas, and arranged meetings and visits to vessels to explain the arrangements at first hand. The Commission is currently reviewing the input from the various stakeholders, with any possible EU initiative likely to be taken in 2007.
TAXATION - PROPOSED SUPPLY OF SERVICES DIRECTIVE
While the possibility of VAT on passenger fares has been dropped following industry input to the consultation process, the Commission have addressed the issue of VAT on on-board restaurant transactions. Specifically, they are proposing that such on-board restaurant and catering services should be taxable at the place of departure of the transport service. Member States are discussing the proposal, it being understood that it will not affect the ability of individual Member States to decide whether or not to charge VAT on such transactions. It is anticipated that there will be a Council Statement to this effect which is crucial in order to safeguard the existing level of ferry services.
The issue of taxes on other services, such as on entertainment, is also under consideration, with the industry closely following the situation.
TRAVELLERS ALLOWANCES
ECSA has welcomed the proposed Directive to raise travellers' allowances and in submissions to Member States and Parliament has made the case for parity between sea and air travel. This is evident since passenger lines are in direct competition with airlines.
RESEARCH & DEVELOPMENT
EU MARITIME INDUSTRIES TO STAY ON THE INTERNATIONAL FRONTLINE
Research and development is core to innovation, also in maritime transport. First instance innovation is a responsibility for individual companies for operating efficiently and competitively. But there are many aspects where joint approaches between operators, yards and suppliers of equipment, but also with research institutes, are necessary for reasons of expertise, consultation and costs. These aspects may include areas as safety, propulsion, emissions, development of standards and the meeting of regulatory requirements. Technological research will most often be undertaken by suppliers and specialised institutions rather than by shipowners, although operational requirements and priorities must be closely consulted on and results tested. ECSA's main role lies in this supportive consultation and setting of priorities.
Research and development plays an important supporting role for stimulating know-how and the competitiveness of the EU under the Lisbon Strategy set by the Commission and Member States. To this effect the 7th R&D Framework Program has been allocated a substantially higher budget than the previous programs. With a long term view and also to guide the Commission in developing the 7th FP, the maritime industries' Technology Platform WATERBORNE developed and published a 'Vision 2020', followed by a 'Strategic Research Agenda'.
ECSA members have acknowledged the importance of R&D, but at the same time identified the difficulties in maintaining a good oversight of the almost abundant initiatives and developments at national and at community level, especially also individual Commission initiated policy related projects. Efforts will therefore be made in enhancing the tracking, monitoring and reporting efforts.
As a first step and also to better learn the R&D process, ECSA has taken on the coordinating role in the integrated project on safe maritime operations under the 6th FP. The proposal for this 'Flagship' project with almost 50 participants, including several member associations and companies, was formally approved early 2006 and after contract negotiations with the Commission is expected to start autumn 2006.
INTERNAL MARKET ISSUES
ENLARGEMENT
It remains the objective of the EU to welcome Bulgaria and Romania in January 2007 as full members provided that they are ready for full membership. To that end, both countries were called upon to rigorously step up their efforts to tackle decisively and without delay the remaining issues of concern.
Turkey was called upon to intensify the reform process and implement it fully and effectively and to make progress towards the complete fulfilment of the Copenhagen political criteria, including the commitment to good neighbourly relations. Turkey was also invited to avoid any action which could negatively affect the process of peaceful settlement of disputes.
After the June 2006 Summit Enlargement Commissioner Olli Rehn stressed in addressing the European Parliament that "Turkey should remove existing obstacles to the free movement of goods including restrictions on means of transport which are in breach of existing obligations under the Association Agreement". This means that Turkey should open its ports to vessels under flag of all member states, including the Republic of Cyprus. ECSA has approached the Commission repeatedly insisting that existing unacceptable boycott practices should be withdrawn immediately. In October or November 2006 the Commission is due to publish its progress report on Turkey, with Cyprus as one major issue.
The EU leaders also welcomed the start of substantive accession negotiations with Croatia and confirmed that the future of the Western Balkans (Albania, Bosnia and Herzegovina, Serbia and Montenegro and Kosovo) lies in the European Union. To that end, the EU will continue assisting the Western Balkan countries through practical measures which will integrate their economies and societies into the European mainstream. The Former Yugoslav Republic of Macedonia has also applied for membership and is working on the fulfilment of the Copenhagen political criteria.
EUROPEAN CONSTITUTION/CONVENTION
The so called reflection period on the future of the EU Constitution will be extended until end 2008.
The first year of the reflection period aimed on the one hand, to try to keep the constitutional process alive and, on the other hand, to create a "Europe of results" that is more in touch with the expectations and aspirations of the citizens. 15 Member States have ratified so far the Constitutional Treaty notably Austria, Belgium, Cyprus, Estonia, Germany, Greece, Hungary, Italy, Latvia, Lithuania, Luxembourg, Malta, Slovakia, Slovenia and Spain, whereas the Netherlands and France, whose citizens voted it down in June 2005, will not submit the same text to a new vote.
The European Council calls for the adoption on 25 March 2007 in Berlin of a political declaration by EU leaders, setting out Europe's values and ambitions and confirming their shared commitment to deliver them, commemorating 50 years of the Treaties of Rome.
ECSA INTERNAL
ECSA SECRETARIAT MOVES TO NEW PREMISES
With an expanding membership, the office occupied by ECSA in rue Ducale 45 in Brussels for more than 19 years became too small particularly the meeting facilities were insufficient. Hence the ECSA secretariat moved in April 2006 to a new office in rue Ducale 67 a few hundred meters from the previous office. The new office is adapted to the latest technology and offers meeting facilities allowing the ECSA Board, Committees and Working Groups to meet in an efficient infrastructure.
ECSA
EUROPEAN COMMUNITY SHIPOWNER'S ASSOCIATION
RUE DUCALE 67 B 2
1000 BRUSSELS
Tel : +32 2 511 39 40
Fax : +32 2 511 80 92
e-mail : mail@ecsa.be
Website : www.ecsa.be
ANNEX 1
ECSA STRUCTURE
BOARD OF DIRECTORS
PRESIDENT

Lennart Simonsson (Sweden)
VICE-PRESIDENT/PRESIDENT-ELECT

Philippe Louis-Dreyfus (France)
DIRECTORS / ALTERNATES
Members

Alternates

AUSTRIA

Hans Georg Wurmböck

BELGIUM/LUXEMBOURG

Nicolas Saverys

Marc Nuytemans
Leo Werkers

CYPRUS

Andreas Droussiotis
Charalambos Mylonas
Michalis Ioannides

Thomas Kazakos
Andreas Hatjiioannou
Tasos Panayides

DENMARK

Torben Janholt

Peter Bjerregaard
Jan Fritz. Hansen

ESTONIA

Toivo Ninnas

Jaan Kalmus

FINLAND

(FSA) Mika Nykänen
(Äland) Kent Nyström

Henrik Loennqvist
Hans Ahlström

FRANCE

Philippe Louis-Dreyfus

Yves Perrin
Anne Barthe

GERMANY

Klaus Meves

Hans-Heinrich Nöll

GREECE

Nicos Efthymiou
John C. Lyras

Matheos D. Los
Anna Bredima-Savopoulou

IRELAND

Shay Hickey

Brian W. Kerr

ITALY

Emanuele Grimaldi
(Confitarma) Nicola Coccia
(Fedarlinea) Giuseppe Ravera

Gennaro Fiore
Lorenzo Paolizzi

LITHUANIA

Vytautas Lygnugaris

Gintautas Kutka

MALTA

Nicolas A.Pappadakis

Joseph Curmi

THE NETHERLANDS

Marnix J. van Overklift

Guido Hollaar

NORWAY

Herbjørn Hansson

Morten Werring
Lars Almklov

POLAND

Pawel Szynkaruk

Adolf Wysocki

PORTUGAL

Joao Carvalho

P. Magalhães

SLOVENIA

Egon Bandelj

SPAIN

Juan Riva Francos

Manuel Carlier

SWEDEN

Lennart Simonsson

Håkan Larsson
Håkan Friberg

UNITED KINGDOM

Michael Parker

Mark Brownrigg
ECSA SECRETARIAT

SECRETARY GENERAL


Alfons Guinier

DEPUTY SECRETARIES GENERAL


Tim Marking - Th. Herman de Meester

EXECUTIVE ADVISORS


Christophe Tytgat - Sonia Karassavidou

EUROPEAN RO-RO CARRIERS ACTION GROUP
EXECUTIVE DIRECTOR


James Dempster

ECSA SECRETARIAT


Rue Ducale 67 b 2 - 1000 Brussels
Tel : +32 2 511 39 40 - Fax : +32 2 511 80 92
E-mail : mail@esca.be - Website : www.ecsa.be

DIRECT DIALING


Alfons Guinier +32 2 510 61 26 guinier@ecsa.be
Tim Marking +32 2 510 61 27 marking@ecsa.be
Herman de Meester +32 2 510 61 28 demeester@ecsa.be
Christophe Tytgat +32 2 510 61 29 tytgat@ecsa.be
Sonia Karassavidou +32 2 510 61 25 karassavidou@ecsa.be
James Dempster +32 2 510 61 23 dempster@ecsa.be
SHIPPING POLICY COMMITTEE


Chairman: M. Carlier
Vice-Chairman: N. Hassiotis

AUSTRIA H.G. Wurmböck
BELGIUM L. Werkers
CYPRUS T. Kazakos, M. Ioannides
DENMARK T. Petterson, J.F. Hansen, R. Piil Pedersen, M. Lund
ESTONIA R. Merisalu
FINLAND M. Nykänen
FRANCE E. Berlet, A. Barthe
GERMANY J. Habicht, D. Hosseus
GREECE J.C. Lyras, A. Bredima-Savopoulou, N. Hassiotis, K. Peppa
IRELAND B. Kerr
ITALY L. Paolizzi, S. Messina, L. Martin
NETHERLANDS T.P. Blankestijn, T. P. Tammes
NORWAY L. Almklov
POLAND A. Wysocki
PORTUGAL J. Bebiano
SPAIN M. Carlier, E. Seco
SWEDEN H. Friberg, P. Sjöberger, C. Frisk
U.K. M. Brownrigg, G. Simmonds, D. Asprey
ICS S. Bennett

SOCIAL AFFAIRS COMMITTEE


Chairman: P. Voss
Vice-Chairman: G. Sulpice

AUSTRIA H.G. Wurmböck
BELGIUM N. Simons
CYPRUS T. Kazakos, M. Ioannides
DENMARK P. Voss
ESTONIA I. Kaunis
FINLAND H. Loennqvist, K. Kostiainen
FRANCE G. Sulpice
GERMANY D. Lindemann
GREECE G. Koltsidopoulos, K. Peppa
IRELAND D. Hopkins
ITALY R. Aglieta, L. Paolizzi
LITHUANIA G. Kutka
NETHERLANDS G. Hollaar, J. Baggerman
NORWAY E. Midelfart
POLAND R. Czyzyk
SPAIN J. Barbadillo
SWEDEN P. Sprangers
U.K. E. Brookes, T. Springett
ISF N. Wiseman
SPAIN A. De Hita
SWEDEN C. Frisk*
U.K. J. Dowden*

COMPETITION WORKING GROUP


Chairman: L. Almklov

BELGIUM L. Werkers
DENMARK T. Petterson, J.F. Hansen, J.K. Clasen, M. Lund
ESTONIA M. Kullerkupp-Jõekaar
FRANCE T. Conte
GERMANY J. Habicht, D. Hosseus
GREECE L. Demetriades-Eugenides, J. Tzavaras, A. Bredima-Savopoulou, K. Peppa
ITALY L. Martin
NETHERLANDS T.P. Blankestijn, M. Schaap
NORWAY L. Almklov
SWEDEN P. Sjöberger
U.K. D. Chard
ICS S. Bennett

TAXATION WORKING GROUP


Chairman: V. Moorcraft

DENMARK P. Saaek, J.K. Clasen
FINLAND J. Hanses, T. Nylund
FRANCE J. Aubert, M. Charbey
GERMANY J-T Heitmann, H.H. Nöll
GREECE M. Foros, K. Peppa
IRELAND N. Mottram
ITALY A. Quadrani
NETHERLANDS R. de Kort
NORWAY T. Sigerset, G. Stenberg
POLAND R. Czyzyk
SPAIN M. Carlier
SWEDEN R. Lindgren, P. Sjöberger
U.K. V. Moorcraft, T. Reardon, M. Barlow
AIDA CRUISES P. Soulsby
COSTA CROCIERE A. Dietrich
CARNIVAL CORP. J. Border
ROYAL CARIBBEAN C. Gingrich

PORTS WORKING GROUP


Chairman: T. Conte

BELGIUM L. Werkers
DENMARK J.F. Hansen, J. Clasen
ESTONIA Y. Saarinen
FRANCE T. Conte
GERMANY D. Meenke, G. Kempf
GREECE M. Sarlis, N. Hassiotis
ITALY G. Lombardi, L. Martin, F. Napp
NETHERLANDS T.P. Blankestijn
NORWAY L. Almklov, K. Djoenne
SPAIN M. Carlier
SWEDEN C. Frisk, P. Sjöberger
U.K. D. Asprey, T. Reardon

WEST & CENTRAL AFRICA WORKING GROUP


Chairman: G. Cerruti

BELGIUM D. Geens, A. Pegg
DENMARK A. Egehus, R. Nielsen, M. Lund
FRANCE T. Conte
GERMANY H. Wenk, E. Donner, D. Griebel, D. Hosseus
GREECE K. Peppa
ITALY G. Cerruti
NETHERLANDS H. Veldman

AIR EMISSIONS WORKING GROUP

BELGIUM L. Cappoen, L. Werkers
DENMARK M. Lund
FINLAND T. Jokilehto
GERMANY H. Braun
GREECE J. Panopoulos
NETHERLANDS D. Anink
NORWAY T. Gloersen
SWEDEN B. Arvidsson
U.K. R. Ashdown
ICS P. Hinchliffe

SECTORAL DIALOGUE COMMITTEE ON MARITIME TRANSPORT


The Sectoral Dialogue Committee is a consultative body to the EC Commission, half representing shipowners' associations, the other half maritime unions.

Shipowner Members

AUSTRIA H.G. Wurmböck
BELGIUM N. Simons
CYPRUS T. Kazakos, M. Filippou
DENMARK P. Voss
ESTONIA I. Kaunis
FINLAND H. Ahlström
FRANCE G. Sulpice
GERMANY D. Lindemann
GREECE G. Koltsidopoulos
IRELAND D. Hopkins
ITALY R. Aglieta, L. Paolizzi
LITHUANIA G. Kutka
NETHERLANDS G. Hollaar, J. Baggerman
NORWAY E. Midelfart
POLAND R. Czyzyk
SPAIN M. Carlier, J. Barbadillo
SWEDEN P. Sprangers
U.K. E. Brookes, T. Springett
ISF N. Wiseman
Secretariat A. Guinier, T. Marking

HIGH LEVEL PASSENGER FERRY GROUP


Chairman: A.P. Panagopulos

DENMARK
H. Rorbaek (Scandlines), S. Jespersen (DFDS), K. Robdrup (Norfolk Line)
ESTONIA
M. Marek Mägi (AS Tallink Group)
FINLAND
A. Pankakoski (Silja Line Oy), N-E. Eklund (Viking Line AB), K. Nyström (Viking Line)
FRANCE
E. Ribier (Sea France), P. Denneulin (Brittany Ferries), P. Mattei (Corsica Ferries/Tourship Group), P. Vieu (Société Nationale Maritime Corse-Méditérannée), A. Person (L.d. Lines)
GERMANY
A-H. von Oertzen (TT-Line), G. Tesch (Scandlines Deutschland GMBH), G. Backer (KG Seetouristik GMBH)
GREECE
A.P. Panagopulos (Superfast Ferries), G. Yannoulatos (Hellenic Mediterranean Lines)
IRELAND
E. Keane (Irish Ferries)
NETHERLANDS
W. de Lange (Stena Line)
NORWAY
T. Kleivdal (Color Line), R. Kjaer (Color Line as alternate), D. Solem (Fjord Line)
POLAND
P. Waszczenko (Unity Line)
SWEDEN
J.E. Nilsson (Rederi AB Gotland), S-D Brax (Brax shipping) U.K. R. Peters (P&O Ferries Ltd)

SAFETY AND ENVIRONMENT COMMITTEE


Chairman: T. Gloersen
Vice-Chairman: E. Brookes

AUSTRIA H.G. Wurmböck
BELGIUM L. Werkers
CYPRUS A. Josephides, M. Filippou
DENMARK H.H. Petersen
ESTONIA H. Lepalaan, H. Suun
FINLAND T. Jokilehto, B. Bergman
FRANCE C. Véchot
GERMANY W. Hintzsche, H. Braun
GREECE J. Panopoulos, J. Andreopoulos, G. Gabriel
IRELAND B. Kerr
ITALY G. Ercolessi, C. Stagnaro
NETHERLANDS E. Staal, D. Anink
NORWAY T. Gloersen
POLAND Z. Nieweglowski
SPAIN A. Bazurko
SWEDEN B. Arvidsson, P. Marzelius
U.K. E. Brookes
ICS P. Hinchliffe

BUDGET COMMITTEE

BELGIUM M. Nuytemans
GREECE N. Hassiotis
NETHERLANDS G. Hollaar
NORWAY L. Almklov

STATISTICS WORKING GROUP*/FOCAL POINTS


Chairman: J. Dowden

BELGIUM M. Nuytemans
CYPRUS P. Hannas
DENMARK M. Lund*
ESTONIA T. Ninnas
FINLAND T. Jokilehto
FRANCE S. Barneoud-Rousset *
GERMANY L. Gramsch, C. De Bilde
GREECE N. Hassiotis*
IRELAND B. Kerr
ITALY N. Mazza*
LITHUANIA V. Lygnugaris
NETHERLANDS R. de Kort*
NORWAY H. Kristoffersen
POLAND A. Wysocki
PORTUGAL J. Coelho
NORWAY B. Markveien
POLAND J. Wisniewski
U.K. G. Simmonds
SWITZERLAND (MSC) C. Gargiulo

SHORT SEA TRADE WORKING GROUP


Chairman: G. Kempf

BELGIUM S. Jung, L. Werkers
DENMARK M. W. Nielsen, M. Lund
FINLAND H. Ahlström
FRANCE B. Huchet
GERMANY G. Kempf, H. Sommer, G. Krohn
GREECE M. Sarlis, N. Hassiotis, K. Peppa
IRELAND B. Kerr
ITALY L. Paolizzi, L. Martin, L. Bertani
NETHERLANDS R. de Kort, Y. Buitenwerf
NORWAY L. Almklov, K. Djoenne, J. Tollefsen
POLAND J. Korecki
SPAIN M. Carlier
SWEDEN C. Frisk, P. Sjöberger
U.K. D. Asprey

EXTERNAL RELATIONS WORKING GROUP


Chairman: N. Hassiotis

BELGIUM L. Werkers
DENMARK T. Petterson, R. Piil Pedersen, M. Lund
FRANCE A. Barthe
GERMANY D. Hosseus
GREECE N .Hassiotis, K. Peppa
ITALY L. Martin
NETHERLANDS T. P. Tammes, T. P. Blankestijn
NORWAY L. Almklov
SPAIN J. Barbadillo, M. Carlier
SWEDEN C. Frisk, P. Sjöberger
U.K. G. Simmonds

SECURITY WORKING GROUP


Chairman: T.P. Blankestijn

BELGIUM L. Werkers
DENMARK R. Piil Pedersen, M. Lund
GERMANY D. Meenke, D. Dabels
GREECE J. Andreopoulos
ITALY L. Martin
NETHERLANDS E. Staal
NORWAY T. Gloersen
U.K. T. Reardon, G. Simmonds

LEGAL WORKING GROUP


Chairman: B. Kröger

BELGIUM B. Vanheule
DENMARK U. Rasmussen, M. Lund
FINLAND M. Etu-Seppälä
FRANCE N/A
GERMANY H.H. Nöll
GREECE G. Koltsidopoulos, K. Peppa
NETHERLANDS T. P. Tammes
NORWAY K. Boehler
SPAIN J. Barbadillo
SWEDEN C. Frisk
U.K. D. Chard
ICS L. Howlett
BIMCO P. Holst

EUROPEAN RO-RO CARRIERS ACTION GROUP


Chairman: P. Kyprianou

BELGIUM
M. Cigrang (Cobelfret), M. Gray (Cobelfret)
FINLAND
T. Voionmaa (Finnlines), R. Eriksson (Transfennica)
FRANCE
C. Santoni (Louis Dreyfus Lines)
GERMANY
Y. Sonobe (KESS), T. Wendt (KESS), R. Luttmann (Mitsui OSK), T. Metzger (Mitsui OSK)
GREECE
N. Travlos (Neptune Lines)
ITALY
E. Grimaldi (Grimaldi Group), P. Kyprianou (Grimaldi Group)
NORWAY
S. Omholt (UECC)
SPAIN
V. Serrano (Flota Suardiaz), M. Eduardo Carballal (Trasmediterranea), F. Casas Blanco (Trasmediterranea)

EUROPEAN CRUISE COUNCIL


Chairman: P.L. Foschi (Costa Crociere s.p.a.)
Vice-Chairman: P. Ryan (Island Cruises)

D. Dingle (Carnival UK)
J. Duguid (Saga Shipping)
E. Frydenberg (Silversea Cruises)
J. C. Helary (France Ferries Croisieres)
S. Hooper (Royal Caribbean Line Cruises)
S. Kiliaris (Louis Cruise Lines)
N. Lingard (Fred Olsen Cruise Lines)
A. Molina (Pullmantur Cruises)
L. Narraway (Carnival Cruises Lines)
G. Potamianos (Arcalia Shipping Company Ltd.)
S. Schnier (Hansa kreuzfahrten GMBH)
D. Selby (Thomson Cruises)
M. Terrevazzi (Regent Seven Seas Cruises)
M. Thamm (Aida Cruises)
P. Vago (MSC Cruises)
M. Zengerle (Norwegian Cruise Lines)
J. Zurnieden (Phönix Reisen)
ANNEX 2
ECSA MEMBERS ADDRESSES
AUSTRIA


AUSTRIAN SHIPOWNERS' ASSOCIATION
Kolingasse, 12 - Postfach 3
1096 Wien
Tel: +43 1 317 42 830
Fax: +43 1 317 41 54
e-mail: office@oellvie.at
Website: www.oelsm.com

BELGIUM


ROYAL BELGIAN SHIPOWNERS' ASSOCIATION
Brouwersvliet 33 bus 9
2000 Antwerpen
Tel: +32 3 232 72 32
Fax: +32 3 231 39 97
e-mail: info@brv.be
Website: www.brv.be

CYPRUS


JOINT CYPRUS SHIPOWNERS ASSOCIATION
Blue Anchor House, 4R, Parou Street
1082 Nicosia
Tel: +357 25360717, +357 22446350
Fax:+357 25358642, +357 22446351
e-mail: jcsa@jcsa-cy.org

DENMARK


DANMARKS REDERIFORENING
Amaliegade 33
DK - 1256 Copenhagen K
Tel: +45 33 11 40 88
Fax: +45 33 11 62 10
e-mail: info@shipowners.dk
Website: www.shipowners.dk

ESTONIA


ESTONIAN SHIPOWNERS' ASSOCIATION
Luise 1 A
10142 Tallinn
Tel/fax: +372 646 01 09
e-mail: reederid@hot.ee

FINLAND


FINNISH SHIPOWNERS' ASSOCIATION
Satamakatu 4 A - PO Box 155
00161 Helsinki
Tel: +358 9 622 67 30
Fax: +358 9 669 251
e-mail : office@varustamoyhdistys.fi
Website: www.varustamoydistys.fi

ALANDS REDARFÖRENING
Hamngatan 8
22100 Mariehamn
Tel: +358 18 13 430
Fax: +358 18 22 520
e-mail : info@alship.aland.fi

FRANCE


ARMATEURS DE FRANCE
Rue de Monceau, 47
75008 Paris
Tel: +33 1 53 89 52 52
Fax: +33 1 53 89 52 53
e-mail : info@armateursdefrance.org
Website: www.armateursdefrance.org

GERMANY


VERBAND DEUTSCHER REEDER
Esplanade, 6
20354 Hamburg
Tel: +49 40 35 09 70
Fax: +49 40 35 09 72 11
e-mail: vdr@reederverband.de
Website: www.reederverband.de

GREECE


UNION OF GREEK SHIPOWNERS
Akti Miaouli, 85
18538 Piraeus
Tel: +30 210 429 11 59
Fax: +30 210 429 11 66 - +30 210 429 01 07
e-mail: ugs@ath.forthnet.gr

IRELAND


IRISH CHAMBER OF SHIPPING
Tolka Quay Road
Dublin 1
Tel: +353 1 855 90 11
Fax: +353 1 855 90 22
e-mail: bks@iol.ie

ITALY


CONFEDERAZIONE ITALIANA ARMATORI
Piazza S.S. Apostoli, 66
00187 Rome
Tel: +39 06 6748 11
Fax: +39 06 6978 3730
e-mail: confitarma@confitarma.it
Website: www.confitarma.it

FEDARLINEA
G. G. Belli, 2
00153 Rome
Tel: +39 06 58 300 100
Fax: +39 06 58 09 412
e-mail: fedarlinea@fedarlinea.191.it

LITHUANIA


LITHUANIAN SHIPOWNERS
I. Janonio 24
5813 Klaipéda
Tel: +370 46 39 36 78
Fax: +370 46 39 36 79
e-mail: lsa@klaipeda.omnitel.net

LUXEMBOURG


UNION DES ARMATEURS LUXEMBOURGEOIS
Rue de Hollerich 20
1022 Luxembourg
Tel: +352 48 28 50 1
Fax: +352 48 28 71

MALTA


MALTA INTERNATIONAL SHIPPING COUNCIL
Exchange Building, Republic Street
Valletta VLT05
Tel: +356 21228193
Fax: +356 21228196
e-mail: ships@maltanet.net
Website: www.misc.com.mt

NETHERLANDS


KONINKLIJKE VERENIGING VAN NEDERLANDSE REDERS
Wijnhaven 65 b,
3011 WJ Rotterdam
Tel: +31 10 414 60 01
Fax: +31 10 233 00 81
e-mail: kvnr@kvnr.nl
Website: www.kvnr.nl

NORWAY


NORWEGIAN SHIPOWNERS' ASSOCIATION
Rädhusgaten, 25 - Box 1452 Vika
0116 Oslo 1
Tel: +47 22 40 15 00
Fax: +47 22 40 15 15
e-mail: post@rederi.no
Website: www.rederi.no

POLAND


Zwiazek Armatorów Polskish (POLISH SHIPOWNERS' ASSOCIATION
Ul. Energetykow '
70-952 SZCZECIN
Tel: +48 91 8143 391
Fax: +48 91 8143 398
e-mail: secretariat@polshipowners.pl
Website: www.polshipowners.pl

PORTUGAL


ASSOCIACAO DE ARMADORES DA MARINHA DE COMERCIO
Rocha do Conde De Óbidos Edificio Da Gare Maritima 2' Piso, Sala B Cais de Alcântara
1350 - 352 LISBOA
Tel: +351 21 393 27 20
Fax: +351 21 393 27 29
e-mail: assamc@sapo.pt

SLOVENIA


SLOVENIAN ASSOCIATION OF SHIPOWNERS
Obala 55
6230 Portoroz
Tel: +386 56766 249
Fax: +386 56766 130
e-mail: slovenia@shipowners.si

SPAIN


ASOCIACION DE NAVIEROS ESPANOLES
Dr. Fleming, 11 - 1' D
28036 Madrid
Tel: +34 91 458 00 40
Fax: +34 91 458 60 87
e-mail: anave@anave.es
Website: www.anave.es

SWEDEN


SWEDISH SHIPOWNERS' ASSOCIATION
Södra Hamngatan, 53
P.O. Box 330
SE-401 25 Göteborg
Tel: +46 31 62 95 25
Fax: +46 31 15 23 13
e-mail: srf@sweship.se
Website: www.sweship.se

U.K.


THE CHAMBER OF SHIPPING
Carthusian Court, 12, Carthusian Street
London EC1M 6EZ
Tel: +44 207 417 28 00
Fax: +44 207 726 20 80
e-mail: postmaster@british-shipping.org
Website: www.british-shipping.org
ANNEX 3
SHIPPING IN ECSA
MEMBER COUNTRIES
BELGIUM
2005 was again an excellent year for the Belgian shipping companies and thus, according to the results of the updated Economic Impact Study (Policy Research nv), there is no longer any reason to doubt the efficiency of the shipping policy.
Policy Research's conclusion was that, despite the new policy coming into effect later than planned, most of the Belgian fleet was already sailing under the Belgian flag at the beginning of 2005. Added value in the merchant marine sector has risen by 65% since 2001 and employment for Belgians with 3%. The introduction of the new shipping policy in Belgium got off to a good start. The new policy framework also meant that the key players in the Belgian shipping cluster kept their decision-making power in Belgium.
On the national level, a project concerning company taxation has been finalized to permit private investment in ships on the same lines as real estate certificates. For seafarers on board short sea vessels separate wage conditions were negotiated.
After an absence of several years, Belgium was elected to the Board of the International Maritime Organization after an intensive election campaign by the Belgian government, supported by the ship-owners. Belgium can reassume its international role as a maritime nation.
Once again, the campaigns to promote the seafaring profession that the maritime sector organizes in collaboration with the merchant navy training institutions are proving highly successful. Enrolment for the 2005/2006 academic year has increased in adult education centres, secondary maritime training institutes and the Maritime Academy. The Maritime Academy is developing an option for students who are more interested in getting on with seafaring than in acquiring an academic title. They will be able to take only STCW-related subjects, leading to the granting of a seafaring certificate. If they decide to obtain the academic title at a later stage, the modular system will enable them to take the necessary courses for graduating fully.
CYPRUS
Cyprus constitutes the 3rd largest shipping fleet in the European Union, and is considered to be the largest third-party ship management centre in Europe. The contribution of Shipping to Cyprus is estimated to be between 2-4 % of the Gross Domestic Product, which exceeds EUR 350 million per year. Another important contribution of the Cyprus Shipping Industry is that it has created many employment opportunities for Cypriots. The total number of gainfully employed persons by Cyprus shipping ashore is approximately 5,000 and approximately 25,000 seafarers are employed onboard Cyprus flag ships at any one time.
The Cyprus Shipping Council is one of the closest co-operators of the Cyprus Department of Merchant Shipping in the formulation of the Government's maritime related policy. No policy decisions concerning shipping matters are taken by the Government without first consulting the Council. This has been achieved through the participation of the Council at numerous joint working groups with various Government Departments. Furthermore, the Council is regularly called to appear before Parliamentary Committees as the representative body of the Cyprus Shipping Industry, when matters affecting Cyprus Shipping are discussed at the House of Representatives.
During the EU accession negotiations, Cyprus adopted a new safety maritime policy, which concentrated on the effective control of the ships and the improvement of the quality of the fleet, through the implementation of stricter registration rules, the deletion of substandard vessels from the Cyprus Registry, unscheduled inspections of Cyprus flag vessels and a network of Independent inspectors of Cyprus flag vessels. All the abovementioned efforts and measures taken have paid off for Cyprus, and on 18 May 2005, the Cyprus flag was removed from the "black list" of the Paris MoU, and on 10 May 2006 was placed on the MoU's "White List".
The smooth development and operation of Cyprus Shipping is still hampered by the Turkish trade restrictions against Cyprus flag ships, which were introduced in 1987. Since Cyprus accession to the EU, these restrictions demonstrate that the illegal and discriminatory practice followed by the Turkish Authorities not only affect Cyprus, but also the interest of the EU. The Turkish embargo distorts the application of the principle of fair and free competition in shipping trade within the EU, undermines the economic development and cooperation of the region, and violate all commercial principles in shipping.
The Cyprus Shipping Council organised for the second time, the "Day of the Sea" Event, which took place on 17 September 2006, in Limassol. The "Day of the Sea" Event is a biennial "Open-Fair" social event related to the Sea and Shipping. Its aim is to increase public awareness of the Shipping Industry in general and at the same time promote the image of the Council in Cyprus, as well as maritime employment both onboard and ashore. Admission at the Event was open to the general public and approximately 4000 people attended the Event.
Last but not least, the Cyprus Shipping Industry in cooperation with the Cyprus Government organised for the ninth time with great success, the biennial international shipping Conference "Maritime Cyprus" on 25-28 September 2005, which attracted hundreds of shipping executives and experts from all around the world. The Conference was entitle " Shipping: What lies ahead?... A three piece puzzle" and focused on three interlinked key issues, which formed a "puzzle" for the Shipping Industry: Manning & Industrial Relations, Ship Safety & Security and Financing.
DENMARK
Shipping is a unique Danish stronghold with Danish shipping companies in the forefront of the most advanced segments of the global shipping market. With an inflow of foreign currency amounting to DKK 140 billion, shipping has cemented its position as Denmark's second largest export industry. At the turn of the year Danish Shipowners' newbuilding programme exceeded the tonnage of the existing merchant fleet. More than 13 million dwt, at a value of DKK 75 billion, were on order for delivery over the coming three to four years. With its 500 ships and 10 million dwt, the Danish merchant fleet has never been larger and this also applies to employment in the industry both at sea and with a growing number of onshore staff both at home and abroad. Through an added chartering in of 30 - 40 million tdw, Denmark has developed into an international centre for knowledge-based commercial operation of ships.
The positive development, which has characterised Danish shipping in recent years, must be seen as a unique combination of the industrial know-how combined with a political regulatory framework that together is the back bone of the competitiveness of Danish shipping. The Danish Parliament and changing governments have pursued a far-sighted industrial policy, which has established and maintained positive conditions for the industry. Denmark's International Ship Register and the tonnage tax system have proven to be absolutely fundamental for maintaining an efficient shipping sector in Denmark. The basis for Danish-flagged ships competing internationally is laid down within the framework of the EU recommendations for shipping taxation.
Although the wheels of the EU are grinding slowly as regards the proposal for a new EU constitution and the handling of the EU expansion, the EU with respect to shipping has not come to a standstill by any means. For example, in November 2005 a comprehensive shipping package was launched in the form of the Maritime Safety Package III, containing seven new legislative initiatives relating to safety and insurance related matters. Even if the proposals are mostly well-founded it is still important to seek to carry safety and environmental stipulations through at an international IMO-level rather than a regional EU level.
The shipping industry is a central part of the Commission's very ambitious work with the formulation of an all-encompassing policy for the seas in the EU, the so called maritime Green-Book. The stage is currently being set for a number of new governmental initiatives with respect to the environment, while for the shipping industry a predominantly global view remains. The shipping industry has, in previous talks with the Commission, determined that competitiveness, stability and international solutions are vital in order to maintain the world's largest maritime cluster in the EU. The best example of such a policy is the EU's rules, which provide the member states with the opportunity to establish competitive regulatory framework, such as the Danish International Ship Register, DIS, and the Danish tonnage tax regime. On the other hand one should clearly avoid short-sighted maritime employment requirements for European flagged vessels with a misguided reference to the need of keeping maritime knowledge. The knowledge building in European shipping is today not least land based in the shipping offices.
ESTONIA
Since Estonian shipping was privatised in the mid-1990s, AS Tallink Grupp has been the most successful. Although Estonian shipping does not receive any state subsidy at all, the company has managed to successfully compete with major well-known Baltic shipping companies. In 2006 AS Tallink Grupp bought Silja Line Ltd becoming thereby the largest passenger and cargo carrier in the Baltic Sea. Cargo-line between Finland and Germany was acquired, with fast ferries.
Ships of AS Tallink Grupp sail on routes between Estonia and Finland and between Estonia and Sweden, on which routes they account for half of the passenger and freight carriage. A new route was opened this year between Latvia and Sweden (Riga-Stockholm). In the recent years the company has started to modernise its fleet. Romantika, the most up-to-date passenger ferry in the Baltic Sea, capable of carrying 2,500 passengers and with the car deck having room for 1,000-meter lanes row of cars, was put into service in 2001. A sister ship of the former, Victoria I, was launched in 2004 and a third ship of the same series Galaxy was delivered in April this year. A few more new ships for AS Tallink Grupp are under construction.
As Saaremaa Laevakompanii (SLK), which until recently had only operated on island ferries, is also developing at a vigorous pace. Ferries of the line maintain daily traffic between the biggest West-Estonian islands, Saaremaa and Hiiumaa. The company won state procurement tenders for links to the Ruhnu Island in the Gulf of Riga. Last year they opened a new ferry route between Saaremaa (Estonia), and Ventspils (Latvia). In May 2006 a new ferry route from the Estonian port of Sillamäe (near the Russian border) to Kotka in Eastern Finland was introduced.
Amongst the members of the Estonian Shipowners' Association, the tug line AS PKL is also growing fast. During the past years it has acquired new tugs with ADS propulsion devices and has widened its area of services to the Port of Riga in Latvia. Thus far not all carry Estonian flag.
FRANCE
The fleet under the French flag increased with one vessel in 2005, amounting to a total of 213 units. It is worth pointing out two main items of interest to French shipowners which became evident last year and carried on in 2006.
Firstly, the future of the French tax lease scheme (GIE fiscal) is still under threat from the European Commission to be re-qualified as a non sectorial State aid for shipping, with risk for shipowners of having to reimburse the fiscal advantage dedicated to ships financed through it. Up to now, most of French shipowners have delayed their new shipbuilding programme.
Secondly, the RIF register: the law introducing the new French international register was voted in May 2005. Due to a late release of some additional legal texts, the entry into force of the French second register became only effective mid February 2006. About 25 ships have been registered under the RIF register so far. This register is open to every single ship operating on an international market except for ferries on intra-community traffics.
When adopting the law, there were fierce discussions in Parliament and between shipowners and unions about the mandatory number of European seafarers to be included in the total crew.
Eventually, the shipowners' point of view was adopted, with the obligation to have on board each vessel 35% of European officers and ratings (including the master) if the ship is to be financed through the French tax lease scheme, and 25% if financed otherwise. The unions considered last figure as a poor result and somehow not satisfactory. So they decided to ask ITF, during the Rio FPC of last year, to declare the RIF a flag of convenience and this is what ITF did, on the basis of article 12 of the Oslo-to-Delhi Policy. As a consequence, some French shipowners clearly said that they would not register their ships under the RIF register as long as this flag is being classified FOC by ITF. For the time being, Armateurs de France is currently re-opening discussions with the unions, and it is currently not clear what will happen next.
The law related to the RIF register also includes an exemption of their contribution to the national social security scheme for employers and also implies (under certain conditions) an exemption of payment of income tax for seafarers.
That last point is put forward in ongoing discussions with the unions about the FOC classification of the register as an item to be considered, as it is apparent that most French officers are asking shipowners to urgently proceed to registration of their ships under the RIF register to benefit from the exemption.
Another concern in France, as everywhere in the shipping world, relates to recruitment (and the quality of training). Because of early wastage among officers, especially in deep sea navigation, there is clearly a shortage of officers, more specifically of engineers. As in many countries, shipowners and other branches of the nautical industry have launched a common reflection on how to attract young people to careers at sea. A maritime cluster was created end 2005, both for the purpose mentioned above and also to promote the maritime industry with the authorities and the public.
FINLAND
The Finnish merchant fleet amounts to 1,6 million GT. The average age of the merchant fleet is about 20 years. Some newbuildings have been registered under Finnish flag in the past year and hopefully at least some of the ships on order will carry the Finnish flag.
The Finnish merchant fleet is still almost totally manned by Finnish seafarers (7500) due to strong opposition from the Seamen's Union against foreign employers.
Finland's own foreign trade shipments rose to 89,6 million tons, transit shipments being 5,6 million tons. The Finnish merchant fleet transported 32 % of the exports and imports of the country. The number of passengers transported by sea between Finland and other countries was 16,6 million.
From the beginning of January 2005 a net wage system, in line with the EU State Aid Guidelines, is in use even for passenger vessels. The net wage system applies to all types of Finnish flagged vessels in international traffic serving Finnish foreign trade, that is in regular traffic to and from Finnish ports.
The law on tonnage tax has been in force for some years now, but only one small shipping company has chosen this option. A functioning tonnage tax system is still one of the most important issues for Finnish shipping. It gives shipping companies the opportunity to make long-term decisions in an operating climate corresponding to that in competitor countries.
GERMANY
The German-owned and operated merchant fleet keeps on growing: 206 newbuildings with 6,4 GT and a gross investment of ' 6,7 Billion were put into service by German shipowners in 2005. In addition 259 second-hand vessels with a total of 4,5 Million GT were purchased from abroad.
On 1 January 2006, the tonnage owned by German companies flying the German or foreign flags added up to 2.729 vessels with a total of 50 Million GT. This is an increase of 154 and a total tonnage of 9,0 Million GT compared to the figures a year ago. The Germanowned fleet now ranks third in the world. It mainly consists of containerships, i.e. 1.167 vessels with a capacity of 2,8 Million TEU. This part of the fleet maintained its world-wide top position. Amongst these vessels, 603 are flying the German flag and 2.126 are flying foreign flags, of which 1.751 are entered into a Germansea-ship-register.
On 1 July 2006, the orderbook for deliveries to German shipowners, including their affiliated companies abroad, consists of 703 vessels with a total of 18,3 Million GT. This means a total gross investment of ' 23,1 Billion. The majority of the newbuildings are container vessels. This will keep the fleet modern, strong and efficient.
The change of government after the elections of September 2005 has not affected the positive development of the German shipping industry. In its coalition treaty the new government confirmed the basic principles of its predecessor in that the strengthening of the maritime cluster was declared to be an important policy aim. In particular, the tonnage tax and the additional measures for the reduction of wage cost differences between the German flag and foreign flags have been expressly confirmed. This was mainly due to the fact that all agreements made by the National Maritime Conference in 2003 had been fulfilled by the government, the union and the shipowners. The shipowners have met their promise to reflag more than 100 vessels. The number of ships flying the German flag increased since the beginning of 2004 by 42%, their tonnage by 100%. The number of young trainees grew more than 100% to around 900 within the same period while the current lack of seafaring and shore-based personnel becomes more and more apparent.
The German shipping industry is looking forward to the next National Maritime Conference which will be organised in Hamburg on 4 December 2006. At this Conference the continuation of the positive development and its political base will be the focus. A further important item will be the necessary expansion of the capacities of the public training institutions which have become small as a consequence of the training endeavours of the shipping companies.
The German shipping industry is also looking forward to the coming monitoring process of the European Commission which is scheduled in the 2004 EU State Aid Guidelines for the beginning of 2007. To reach compliance with European law is also under way in respect of the nationality of masters on board German flag ships. The manning regulation is going to be changed by admitting masters having the nationality of EU Member States but requiring sufficient knowledge of the German language.
GREECE
Developments in the global economy remained prosperous during 2005. The slow-down in global economic operations was limited, despite the impressive increase in oil prices. On the other hand, the decrease in freight rates during 2005 resulted in a reduced increase rate of the gross receipts of transport services. More specifically, the gross receipts from shipping services for Greece reached '13,871mn, an increase of '564mn or 4.2% compared to the unusually high earnings of 2004, which were themselves higher by 40%.
In this context, the Greek-owned fleet strengthened its power by increasing its total tonnage (dwt) by 4.1% whilst it maintained its world premiership, accounting for 16.1% of world tonnage (dwt). It is worthwhile noting that Greek owners control 19.8% of the world tanker fleet (chemical and product carriers, crude oil) and 23.6% of the world bulk carrier fleet in terms of dwt (excluding ships currently on order - ships greater than 1,000GT). Moreover, the Greek flag fleet amounted to 30.9 million GT, representing 22.1% of the EU tonnage (GT), whereas, Greek-owned vessels flying the EU Member States flags amount to 49.7% of EU shipping (dwt - ships greater than 100GT).
In the shipbuilding sector, Greek-owned shipping achieved similarly impressive rates resulting once again in a leading position of the global venture of "Quality Shipping". In particular, by the end of March 2006 newbuilding orders by Greek interests (excluding passenger, miscellaneous and offshore vessels) amounted to 364 vessels, representing 25.8 million dwt. Out of these vessels, 183 are tankers corresponding to 14.9% of world tonnage (dwt) (i.e. 62 crude oil tankers amounting to 17.6% of world tonnage (dwt) and 121 chemical and product carriers amounting to 10.2% of world tonnage (dwt)) and 92 bulkers corresponding to 14.4% of world tonnage (dwt) on order in this category. The impressive order book of newbuildings on behalf of Greek shipowners resulted in a further reduction of the average age of the Greek-owned fleet to 15.3 years compared with 15.9 in 2005, whereas the average age of the Greek registered fleet is 11.7 years compared to 11.6 years in 2005 (including vessels on order).
In order to manage this fleet, more than 1,000 shipping companies operate in Greece employing more than 11,000 persons, the vast majority of whom are Greeks. In a wider context, the maritime cluster creates almost 200,000 jobs, 50,000 of which are for seafarers.
The benefits to the Greek economy from shipping activities are more than obvious. In order to maximize these benefits, the vision of a large Greek fleet, closely related to the Greek economy and society, could become a reality through the support of a modern maritime centre of national, communal and international scope. There are encouraging signs that this development is not far off. The Balkan mainland and the wider area of the Near East, coupled with the recent interest for the promotion of Chinese trade in Europe through the geographic access of Greece, appear to call for the services of such a centre and of such a big and modern fleet. In the meantime, at a period when shipping is in the lead worldwide, efforts have to be made in order to further improve the competitiveness of the Greek-flag fleet.
ITALY
At the end of 2005, the Italian merchant fleet consisted of 1,434 ships totalling 11,848,404 gross tons, broken down as follows: over 1,000 GT : 683 ships, totalling 11,603,842 GT; from 100 to 999 GT : 751 ships, totalling 244,562 GT. As compared with the end of 2004, an increase of 4% in tonnage and a increase of 1% in the ships' number has been recorded. The fleet flying the Italian flag accounts for 99% of the total Italian owned merchant fleet and amounts to 1,428 totalling 11,364,209 GT; this is due to a large number of new ships and also to the growing registration in the Italian International Register.
The Italian units registered in the International Register are 530 totalling 10,424,743 GT; those in the Ordinary Register are 902 totalling 1,398,072 GT. The Italian ships temporarily flying a foreign flag (bareboat charter registration) are 2 totalling 25,590 GT, representing about 1% of total tonnage. The portion of the fleet owned by totally or partially privately owned bodies is equal to 94%.
The Italian fleet proves again to be a young fleet: 60% of the ships are less than 10 years old and 40% have not yet completed their 5th year of service. The modernization of the vessels, initiated during the last 10 years, has continued. Between 1996 and 2005, 493 ships were delivered totalling about 6,7 millions GT.
During 2005, the strong seagoing orientation of Italian foreign trade was confirmed, as the overall volume of international transactions for the maritime transport of cargo and passengers registered 12,702 millions Euro compared to 17,608 millions Euro for all the other systems of transportation taken together.
The maritime system produces about '36,300 million, equivalent to 2.7% of GDP, the same amount as the agricultural sector. The most significant portion of the maritime economy is to be assigned to the maritime transport of goods and passengers, yielding some '15,700 millions, equivalent to 43% of the entire maritime system. This is a sector with a strong capacity to produce profit: the national system creates yield of over '210 corresponding to each additional '100 that goes to the shipping sector because of new investments or increased exports and consumptions.
From the occupational point of view, 26,300 labour units employed in the shipping sector activate over 60,000 labour units in other branches of the economy. Therefore, the overall shipping sector employs on the whole 86,300 people with a high multiplier, equal to 3,028. It is estimated therefore that 100 additional labour units in the maritime sector become 328 in the entire economic system.
With the introduction of the international register and the tonnage tax, the reform of navigation has been completed, in compliance with the European Community directives; this means that not only is the Italian shipping industry currently able to operate on an equal footing with the international competition, but there has been a noteworthy revival of maritime activities, with the result that decision-making and administrative hubs that might otherwise have been moved to offshore areas have been kept (and in some case relocated) in Italy.
During 2005 there were major new developments regarding the tonnage tax, in force since the tax period following 20 October 2004, the date on which the European Commission declared it to be compatible with the new treaties establishing the system of optional taxation applicable to navigation enterprises.
LITHUANIA
The entire Lithuanian transportation system plays an important role in the economy of the country. Annually, this sector generates over 8.0 % of the national GDP and employs about 4.0% of its total labour force.
At the end of 2004, the Governmental Strategic Committee approved some guidelines on the basis of a study on the "Relevance and Economic Impact a Modern Shipping Policy on Lithuania's Economy." A set of measures to be implemented was proposed, aiming at improving the national setting. There are two main fiscal measures, i.e. a Tonnage tax system and a reduction of social contribution taxes.
It was finally concluded that a Modern Shipping Policy would have a significant positive impact on the Lithuanian shipping sector and the Lithuanian economy as a whole. The Lithuanian shipping sector suffers from some weaknesses and threats, namely manpower costs, a high average age of the merchant fleet and a declining number of merchant vessels under Lithuanian flag.
In 2005, the Lithuanian Government and stakeholders came to a mutual agreement, suggesting reducing Social contribution taxes. Following endorsement by the European Commission, the Lithuanian Parliament has to adopt implementing measures.
The Lithuanian Government also notified a proposal to introduce a Tonnage Tax system in Lithuania, which was approved by the European Commission on 19 July.
It is expected that these fiscal measures will come into force in 2007. Starting on 1st January, 2004 "0" % income tax was introduced for all seafarers, liable to taxation in Lithuania, irrespective of the flag of the vessel they work on. The question of reintroducing a Lithuanian flag link principle with regard to income tax exemptions is now under scrutiny. The EC forced Lithuania to reintroduce the flag link principle. Due to the fact that Lithuania joined the EU in May 2004, Lithuanian seafarers have become "more expensive" because of social contribution taxes, which are to be paid by European shipowners. Many Lithuanian seafarers were replaced by a labour force from third countries.
From 1st July, 2006 Lithuania has become a member of the Paris Memorandum of Understanding. It is hoped that this fact will reduce the number of Lithuanian ships being detained.
Increasing the competitiveness of the Lithuanian shipping sector demands a continuing improvement of the reputation of the Lithuanian flag and a further application of state aid measures in line with the Community guidelines on State aid to maritime transport. It should also enable a renewal of the Lithuanian fleet.
Altogether, the year 2005 was a profitable year for the main national shipping companies.
THE NETHERLANDS
Overall, 2005 was a good year for global shipping with a high volume of cargo being carried and with good rates. Although Dutch shipowners have benefited from this positive year, the Dutch share of global transport could have been bigger. The reason being an unsatisfactory business climate for shipowners in the Netherlands resulting in a decline of the number of ships registered under the Dutch flag.
Until 2003, the Dutch-registered fleet showed a steady increase of three to five percent annually. Since then, the number of ships under the Dutch flag has decreased with a similar percentage resulting in a fleet of 759 ships in July 2005, which was the fleet back in 2001.
In 2005, it once again became apparent that the Dutch shipping industry acts as a booster for other segments of the Dutch maritime cluster. Dutch shipowners have ordered a considerable number of ships to be built in the Netherlands and the positive consequences to a large part of the cluster (shipyards, maritime suppliers, ports) have been clearly visible. EUR 2.8 billion was spent on orders for new ships to be built on Dutch yards in 2005. Dutch custom is responsible for an important part of this amount.
The importance of the Dutch shipping industry was also underlined in the results of a study carried out by the University of Groningen, published in September 2005. Maritime transport is in the top five of most successful services in the Netherlands and came second for size.
The worldwide role of the Dutch shipping industry is important too. For instance, in terms of numbers (nearly 300), the Dutch short sea shipping sector is number three in the world and number two in Europe. The Dutch reefer trade and the heavy lift trade are also significant world players.
The total number of seafarers employed by the Dutch merchant fleet is 20,000. 192,000 people are employed within the maritime cluster as a whole and it generates an added value of ' 12.6 billion.
Dutch consumers too benefit directly from the shipping industry. In combination with the low cost of maritime transport, the enormous quantities of cargo transported cause a large number of goods to become available at (relatively) low prices. Very often the consumer is not aware of this, but 90 percent of goods for consumption and production worldwide are transported by ship. Last but not least, many short sea ships contribute to the reduction of traffic congestion on Dutch roads, by taking goods off lorries and onto this type of ship.
In order to make the Netherlands a more attractive location for shipping business, the Dutch government introduced a specific shipping policy about ten years ago. The policy was meant to contribute to the continuing development of not only the shipping industry but also the maritime cluster as a whole. By now the shipping policy is showing signs of aging. It has been copied and in many cases even improved upon by the countries surrounding us, and the Netherlands have fallen behind. The Ministry of Transport, Public Works and Water Management has recognised this fact and intends to carry out an evaluation of the policy over the past ten years. Based on this evaluation there will be recommendations to make the shipping policy attractive once again. It goes without saying that the KVNR, as a trade organisation to the shipping industry, will make a positive contribution in this matter.
Whilst renewing the Dutch shipping policy, the position of Dutch seafarers will have to be addressed as well. They operate in an international labour market of which the Dutch seafarers' one is only a part. Dutch seafarers are of value not only as long as they work as officers or masters on ships flying the Dutch flag, but also when -after an average of seven years at sea- they exchange their seagoing jobs for shore positions. Often they occupy specialist positions within the Dutch maritime cluster and thus continue to make valuable contributions to the Dutch economy. However, their competitive position in the international labour market is being severely impaired by government policies often not specifically aimed at the seafaring population. The new health insurance system, the continuation of the retirement age of 60 and the Life Course plan are a few examples.
National legislation "outranking" international legislation may be a negative influence on the appeal of the Dutch business climate. As it is potentially damaging to competitiveness with other flag states it is something that should be guarded against. In 2005 it looks as though it is happening anyway in the area of environmental legislation. The Inspectorate for the Environment has decided to maintain national legislation for Dutch flag ships regarding refrigerant agents in shore installations to the letter. Should this prove to be legally feasible in the Netherlands -which according to standard international interpretation it should not be- it will definitely have an adverse effect on the competitive position of ships registered in the Netherlands.
It is clear that the Dutch shipping industry's added value can only be maintained -and if possible increased- by amending the Dutch shipping policy. The fact that half the ships operated by Dutch shipowners are at present registered under foreign flags provides great potential for the expansion of the Dutch register. Amendment of the shipping policy should not be confined to the remit of the Ministry of Transport, Public Works and Water Management, but should extend to that of all other ministries that have links with the shipping industry. Should there be no or insufficient amendment to the policy, there is a very real chance that - despite efforts by the Ministry of Transport, Public Works and Water Management - the downward spiral plaguing the Dutch shipping industry prior to 1996 will once again become manifest.
NORWAY
Instability and controversy have marked the Norwegian maritime policy over recent years. The Norwegian tonnage tax system, which as introduced in 1996, is no longer competitive compared to international systems, including tonnage tax systems in other European countries. Over the last couple of years a clear trend has been seen in which new shipping projects and activities, controlled by Norwegian interests, are located outside Norway.
However, a government Shipping Policy White Paper in 2004 resulted in a very broad political majority in Parliament in favour of aligning the Norwegian tonnage tax system with EU countries. The majority included all parties except the Socialist Left Party. As a response, Government appointed an expert commission to review the Norwegian system and give recommendations with respect to aligning it with the European model.
The White Paper did not result in a similar broad political majority in the Parliament concerning the future conditions for Norwegian seafarers. A wide majority was in favour of maintaining the current net wage system for offshore vessels, but a majority voted to discontinue the net wage system for ferries in international service as of 2006. The liberal/conservative government lost the general election, in September 2005. The election returned a three party, red-green, majority government, including the Socialist Left Party as junior partner (holding the post as Minister of Finance). This is the first majority government in Norway for 20 years. The new government has committed itself to promote the Norwegian maritime industries and has made it clear that it will not discontinue the net wage system for ferries in international service.
The expert commission, which was headed by a professor in economics, presented a split recommendation in March 2006. The commission-minority recommended full alignment with European tonnage tax systems. However, the majority gave a very theoretical recommendation: in order to secure optimal allocation of resources in the Norwegian economy the general Norwegian tax system must apply on equal terms to all Norwegian industries and employees. Consequently all special tax provisions for shipping companies and seafarers should be abolished, even if this will result in shipping activities leaving Norway. The commission report was out for public hearings until June. It already seems clear that the theoretical majority recommendation does not have much political support. A joint maritime cluster, employing more than 90.000 Norwegians, hopes that the Norwegian government will decide to make the necessary changes to bring the Norwegian tonnage tax system in line with the system in EU-countries. The government is expected to draw a conclusion in the autumn of 2006.
The Norwegian controlled fleet declined by 9,3% to 37,1 million dwt in tonnage terms from January 2005 to January 2006. However, the fleet grew by 28 in numbers to 1.642 vessels. More than 2/3 of the fleet fly EEA-flags, including more than fifty percent under Norwegian flag.
At the beginning of 2006 Norwegian shipowners had a total of 212 new ships, valued at 64 mill NOK, and 20 rigs on order, valued at 32 billion NOK. The total value of 96 billion NOK (14,2 billion USD) represents an impressive 140% increase compared to January 2005. Norwegian yards accounted for 59 of the ships on order, another 35 orders were placed at other European yards in Poland, Spain, Finland, Netherlands and Germany.
As of February 2005 some 55.500 persons of more than 60 different nationalities were employed onboard Norwegian controlled merchant vessels and rigs. Some 15.200 of these were Norwegian nationals, 10.600 of other EEA-nationalities and another1.100 of other European nationalities. The most important non-European nationalities serving onboard Norwegian controlled vessels were Filipinos and Indians, represented by 16.600 and 4.000 seafarers respectively.
POLAND
As of 31.12.2005, Polish shipping companies owned (or co-owned) 130 ships which capacity amounted to 1 862 300 GT whereof, ships flying Polish flag were only 17 what represented 2,1 % (in GT) of the total figure. In comparison to 2004, it was 13 ships more (163 800 GT). An average age of the fleet was 20,1 years.
In June 2006, the country's statistics on vessels on order (including affiliated companies abroad) indicated 12 bulkers (406,170 dwt) for delivery in 2008-2009.
In 2005, the Polish owned and co-owned fleet carried 9 362 400 tons of seaborne trade, i e by 58,4 % less than in 2004. As far as the carriage of passenger in the Baltic Sea is concerned, there was an increase of 14,1 % compared to the preceding year (713 000 passengers carried in 2005).
The passenger coastal fleet comprised 21 small units of total 4 300 GT. In 2005 maritime affairs were dealt with by the Ministry of Infrastructure and later by the Ministry of Transport and Construction. On 5th of May 2006 the Ministry of Maritime Economy was established, thus fulfilling the expectation of the maritime industries forum, including the PSA.
There are now great hopes in shipping circles that there could be a speeding up of the process of consultation and work on the country's maritime strategy for the years 2007-2015, which includes such topics such as competitiveness, labour and growth.
As a result of intense discussions, on 12th April 2006 two separate Polish associations agreed to jointly represent Polish Shipping (20 members) at ECSA. The POLISH SHIPOWNERS' ASSOCIATION (PSA) now includes 4 Members from POLSTEM Group of Companies. The PSA's Secretariat has been transferred from Gdynia to Szczecin. PSA is actively co-operating with the Polish Shortsea Promotion Centre, Polish Chamber of Maritime Commerce and other organizations and associations in Poland.
Throughout the years, the Polish Government has been publicly declaring support for the national shipping sector. Yet, the years to come will show the results of a current discussion on a " tonnage tax regime". On the side of PSA there are hopes and expectations that the proposed Tonnage Tax regimecan be adopted by the PolishParliament in 2006. Regrettably, a reduction of social taxes and other wage related proposals have not as yet been considered.
Experts of the Polish Shipowners' Association are actively participating in all initiatives which are aiming at returning ships to the Polish national flag. However, such a return will require a more friendly approach from the Polish Ministry of Finance (State budget respectively) as well as fiscal incentives in line with the Community Guidelines on State aid to maritime transport.
PORTUGAL
The year 2005 was, once again, a frustrating one for the Portuguese Shipowners. The Government change, in March 2005, did not result in a policy change with respect to Portuguese shipping. Consequently, Portuguese Shipowners continue to wait for the adoption of the requested supportive measures, similar to those already adopted a long time ago in most other Member States, such as the adoption of a tonnage tax regime and measures in the field of social security contributions and income taxation.
The new Government has highlighted the importance of maritime in its Programme but the maintenance of three Ministries responsible for maritime policies, will not result in an integrated, consistent and efficient performance which the Portuguese shipping so requires.
The problems faced by the nautical school and maritime professional structure are still unsolved and the serious lack of national seafarers faced by the shipowners in order to man their vessels continues to increase.
The need to shape the legal picture to modern shipping and the lack of an action plan to solve for once the excessive administrative bureaucracy are also some features of prime importance that are still unsolved.
Also strongly felt is the absence of an articulated and efficient policy for the short sea shipping sector, which would allow the profiting of the national maritime potentialities and the energizing of the investment in the sector.
Flagging out increases, whereas the Conventional Registry continues to show a dramatic decline reducing the number of registered vessels to a meaningless 15 representing just 77,656 tdw.
A special reference deserves to be made to the celebration of the IMO World Maritime Day Parallel Event held in Portugal on the 15th November 2005 with the presence of the IMO Secretary General and of senior personalities of institutions and international and national maritime activities.
SPAIN
After two exceptional years of historical freight levels in most market sectors, the downturn registered in 2005 affected also Spanish shipping. The tonnage of the total merchant fleet controlled by Spanish shipping companies decreased by 2.2%, in terms of GT and 3.9% in DWT. Nevertheless, it is worth noting that the decline was concentrated in the Spain's registered ships, while the fleet controlled under foreign flags remained practically unchanged.
At the beginning of 2006, Spanish shipowners controlled 281 merchant ships with 4,083,308 GT and 4,941,178 DWT. Out of these totals, 60% of the ships, 55% of the GT and 43% of the DWT were flying the Spanish flag. Only 5 ships, of 6,193 GT and 7,198 DWT, remained in the traditional Spanish ship register so that 99.7% of the tonnage under national flag was registered in the Special Canary Islands register.
Last year, Spanish shipping companies received only 7 newbuildings, with a market value of about '237 million. Adding to the 18 new ships received in 2004 and the 13 in 2003, the total investment, only in these 38 newbuildings, exceeds '1,477 million in the last three years.
Spanish seaborne trade (imports + exports + national cabotage) increased by 8.2% in 2006, reaching a new historic record of 340 million tonnes. General cargo trade showed an increase of 10.4% to 101.4 million tonnes, dry bulk rose by 8.4% to 105.1 million tonnes and liquid bulk shipments by 6.4% to 131.9 million tonnes. Transport demand increased strongly both in exports (59 million tonnes, +9.7%) and imports (234 million tonnes, +8.6%), while cabotage trade increased more discreetly (45 million tonnes, +4.1%). While Spanish exports consist mainly of general cargo (65.7%), most of the import commodities are in bulk, both liquid (44.3%) and dry (38.1%), summing up together 82.4% of imports. In the cabotage trade, 47.7% is general cargo, 32.7% liquid bulk and 19.6% dry bulk.
The new national regulations on the employment of non-EU workers, effective by February 2005, made it extremely difficult to employ non-European seafarers onboard Spanish flag ships. That was the most important reason why, for the first time in ten years, the Spanish fleet reduced its tonnage by 3% in 2005. This fact demonstrates the permanent necessity for shipowners to have a competitive framework for their operations. This has been further confirmed in the first 5 months of 2006: while Spanish flag fleet remained stable, the Spanish controlled tonnage under foreign flags increased by a significant 14%.
Finally, as a consequence of the good results obtained by Spanish ships on Port State Control inspections during last year, as from 1st of January of 2006, the Spanish flag is in the Paris MOU White List. Spanish shipping companies, coordinated by ANAVE, are working together with the Maritime Administration to try and confirm this achievement for the coming future.
SWEDEN
2006 is a significant year for the Swedish Shipowners' Association. The Association celebrated its centenary as the association for the Swedish shipping industry.
In 2006, two important studies were presented as part of the centenary celebrations. A new cluster study was presented with new figures showing the growth within the shipping sector in Sweden. Approximately 220 000 people are involved in the shipping cluster in Sweden. The cluster has increased with 70 000 people since the last report from 2001. A second report included a programme presenting a vision for the coming ten years for the shipping industry in Sweden. This "Vision 2016" has 8 headlines which will be the leading star for the future work and ambition of the Swedish Shipowners' Association during ten years. Both reports are available on the website of the Swedish Shipowners' Association - (http://srf2.initiva.net/Sveriges_Redareforening_DXNI-679_.aspx).
The operation conditions for Swedish shipping are still a central question, primarily with respect to the implementation of the tonnage tax in Swedish legislation. During 2005 a report was presented and hopefully this proposal for a new tonnage tax regime will go to the Parliament during the fall 2006.
Education and research are core areas in the shipping industry of the future and its development. Together with Chalmers University of Technology and the School of Business, Economics and Law at Gothenburg University, the Association and its members, in the long term cooperation project, have established Lighthouse, a new competence centre in Gothenburg for shipping related education and research. This long term investment from the shipping industry will secure the future research and education which the industry will require for the future.
An important issue, in which the Association is actively involved, is that the Baltic Sea Area should be classed as a Particularly Sensitive Sea Area (PSSA). As the leading country, Sweden has been the driving force behind this issue at IMO and in mid-2005, the decision was passed.
Statistics from the Port State Control Paris MoU show that Swedish ships are among the very best in the world. The Shipowners' Association and its members have a policy of zero tolerance with respect to detentions following Port State controls.
An important question, which indirectly affects shipping in Europe, is the review of the emission trading system for carbon dioxide, which was initiated during the year. The Swedish Shipowners' view is that this tool, i.e. the trading system as such, is superior to the alternatives of taxes, regulations or higher charges. It means that European competitiveness is not weakened more than necessary at the same time as the environmental effects are rapidly achieved.
UNITED KINGDOM
The growth of UK-based shipping has continued through 2005/6, supported by an internationally competitive tonnage tax regime. Since the introduction of tonnage tax in 2000, the UK has benefited considerably from the recent period of buoyant shipping markets. As a result, UK-owned shipping increased in tonnage terms during 2005 by a further 5% to 17.1m deadweight tonnes (dwt) and is now some 140% higher than in 2000. UK-registered shipping outstripped even those achievements with an 11% increase to 11.7m dwt over the year, an expansion of more than 300% over the past five years.
The combination of sustained growth and healthy shipping markets has pushed up both turnover and the contribution sea transport made to the UK balance of payments. In recently released figures for 2004, shipping gross revenue broke the '10bn (Euros 14.5bn) barrier. Sea transport has risen up the table of service sector export earners, and now lies third for the first time in many years, overtaking insurance, air transport and royalties behind the two traditionally high earning sectors of financial services and tourism.
Maintaining this level of success in fiercely competitive international shipping markets is a major challenge. The EU's revised 2004 Maritime State Aid Guidelines aim to set a fair approach between the different national regimes of member states and to promote the international competitiveness of EU-based shipping but their detail takes a narrow approach to, for example, flagging which is particularly unfortunate for an internationally focussed shipping industry like that in the UK. The Chamber sees the development of a strong and influential EU hub for international shipping and shipping services as an essential component of the future global structure for shipping; key to this is maintaining the competitive advantage of European-based shipping.
The shipping industry, as we are all well aware, made a major advance in the field of seafarers' working conditions with the adoption of the International Labour Organisation (ILO) Maritime Labour Convention 2006, which is designed to provide an effective safeguard of decent conditions for seafarers across the globe. The challenge is to ensure that the convention in implemented in both British and European law in a pragmatic manner which preserves the flexible elements for which the Chamber and other shipping organisations have fought hard.
On employment the Chamber has continued to push the Government to take action in order to create a more favourable employment environment for UK seafarers. The Chamber remains firmly opposed to any mandatory employment link for tonnage tax companies, although it is willing to consider voluntary commitments by companies both in and outside tonnage tax. Improving employment opportunities for officers and particularly ratings continues to present a real test and challenge to policy makers and shipowners alike.
Maritime governance issues and environmental performance have remained high on the international, national and EU agenda during 2005 and throughout the Chamber has worked to ensure that progress is achieved against a background of commercial realism. Reductions in air emissions, to take only one example, must be achieved using the latest technology and it seems vital that legislation is flexible enough to allow industry to pursue the most cost-effective solutions. In advance of the EU Future Maritime Policy Green Paper the UK Government has its own commitment to a 'marine bill' which will introduce a system for delivering sustainable development of the marine and coastal environment. As with the EU Green Paper this legislation will seek to resolve conflicting demands amongst sea-users; from energy, aggregates, shipping, port and fishing interests, while also ensuring that conservation objectives are achieved.
The Chamber continues to provide the base for the Sea Vision UK campaign to raise awareness of the wider maritime sector whilst encouraging young people to consider a career within the sector. The campaign has benefited from the addition of three new staff and an increased membership. It now engages with over 250 organisations and companies from across the sector. Sea Vision UK is working hard to continue the legacy of SeaBritain 2005, capitalising on the momentum generated by the maritime focus of last year.
In 2006 Sea Vision partners will take part in wider range of public events than ever. The dedicated Sea Vision website, which contains the leading national maritime events database, is being continually updated to offer more service to the industry and public alike, with new careers, news and partner support sections and links to local attractions. The continued success of the UK maritime sector guarantees an exciting future for Sea Vision UK, encouraging us all to 'take a fresh look at the sea.'
ANNEX 4
GLOSSARY
| | |
| --- | --- |
| AEO | Authorised Economic Operator |
| AIS | Automatic Identification Systems |
| ASEAN | Association of South East Asian Nations. Encompasses 10 South East Asian countries, Indonesia, Malaysia, Philippines, Singapore, Thailand, Brunei, Vietnam, Lao Peoples' Democratic Republic, Burma/Myanmar and Cambodia. |
| CIS | Commonwealth of Independent States |
| CO2 | Carbon Dioxide |
| CTPAT | Customs Trade Partnership Against Terrorism |
| DDA | Doha Development Agenda |
| DWT | Deadweight Tonnage represents the maximum weight of cargo fuel and stores that a vessel can carry. |
| EEA | European Economic Area |
| EFTA | European Free Trade Association. Iceland, Liechtenstein, Norway and Switzerland are members of EFTA |
| ELAA | European Liner Affairs Association |
| EMSA | European Maritime Safety Agency |
| ETF | European Transport Workers' Federation |
| EU | European Union |
| FP | Framework Programme |
| GDP | Gross Domestic Product |
| GHGs | Greenhouse Gases |
| GT | Gross Tonnage is the internationally accepted measurement of vessels, notably taking into account the volume of the vessels enclosed spaces. |
| HNS | International Convention on Liability and Compensation for Damage in connection with the Carriage of Hazardous and Noxious Substances by Sea, 1996 |
| ICS | International Chamber of Shipping |
| ILO | International Labour Organisation (UN) |
| IMO | International Maritime Organisation (UN) |
| ISPS Code | IMO International Ship and Port Facility Security Code |
| LLMC | International Convention on the Limitation of Liability for Maritime Claims, 1976 and 1996 |
| LNG | Liquefied Natural Gas |
| MARPOL | International Convention for the Prevention of Pollution from Ships, 1973 and Protocol of 1978 |
| MEP | Member of the European Parliament |
| MERCOSUR | A political grouping of Argentina, Bolivia, Brazil, Chile, Paraguay and Uruguay aimed at promoting economic and political cooperation. |
| MIF | Maritime Industries Forum |
| NGO | Non- Governmental Organisation |
| NOx | Nitrogen Oxides |
| NVOCC | Non Vessel Operating Common Carrier |
| PARIS MOU | Paris Memorandum of Understanding on Port State Control |
| PM | Particulate Matter |
| PSC | Port State Control |
| R&D | Research and Development |
| SECA | SOx Emission Control Area |
| SOLAS | International Convention for the Safety of Life at Sea, 1974 |
| SOx | Sulphur Oxides |
| STCW | International Convention on Standards of Training, Certification and Watchkeeping for Fishing Vessel Personnel, 1995 |
| TEN-T | Trans- European Transport Networks |
| TEU | Twenty Foot Equivalent Unit (container) |
| TP WATERBORNE | EU Maritime Technology Platform |
| UNCITRAL | United Nations Commission on International Trade Law |
| UNCLOS | United Nations Convention on the Law of the Sea,1982 |
| UNCTAD | United Nations Conference on Trade and Development |
| VAT | Value added tax |
| VOC | Volatile Organic Compounds |
| WCO | World Customs Organisation |
| WTO | World Trade Organisation |
ANNEX 5
STATISTICAL TABLES

EEA REGISTERED TRADING FLEET BY MEMBER STATE


As at 1st April 2006 (100 GT and above)
TABLE 1

FLAG

No

GT

DWT

AUSTRIA

8

34 072

44 437

BELGIUM

70

3 904 222

6 447 313

CYPRUS

924

19 466 852

31 148 849

DENMARK

373

8 013 799

9 770 951

ESTONIA

49

398 808

106 429

FINLAND

156

1 349 878

1 071 784

FRANCE

201

5 286 137

7 164 423

GERMANY

523

11 155 847

13 242 309

GREECE

1 245

31 380 389

53 531 029

ICELAND

42

6 449

2 893

IRISH REPUBLIC

14

169 667

245 007

ITALY

886

11 486 896

12 306 373

LATVIA

33

255 027

340 540

LITHUANIA

63

371 594

369 883

LUXEMBOURG

38

461 051

636 299

MALTA

1 208

23 505 022

37 740 966

NETHERLANDS

584

4 960 683

4 935 633

NORWAY

1 195

16 563 128

22 586 934

POLAND

55

78 751

64 591

PORTUGAL

152

1 123 628

1 434 109

SLOVAKIA

47

212 161

300 835

SPAIN

218

2 320 797

2 297 117

SWEDEN

350

3 655 908

2 328 607

UNITED KINGDOM

603

10 745 621

11 412 277

TOTAL

9 037

156 906 387

219 529 588
Source: Lloyd's Register - Fairplay

EEA AND WORLD TRADING FLEETS


As at 1st April 2006 (100 GT and above - thousand tonnes)
TABLE 2

EEA FLEET

WORLD FLEET

TYPE

NO

GT

DWT

NO

GT

DWT

Bulk Carrier

1 258

39 042

70 591

6 416

192 204

344 804

Bulk/Oil Carrier

21

1 168

2 019

135

4 570

7 813

Chemical Tanker

168

1 139

1 781

1 338

5 562

9 090

Container (FC)

900

30 343

35 182

3 635

100 231

116 300

Cruise

79

2 694

356

403

12 058

1 440

Gen Cargo Multi Deck

586

2 676

3 587

4 365

19 403

26 514

Gen Cargo Single Deck

1 396

6 122

8 677

11 561

32 844

47 346

Gen Cargo/Passenger

56

53

18

317

591

292

Liquefied Gas Carrier

233

6 295

6 280

1 243

28 119

25 200

Oil Tanker

1 591

46 414

82 273

8 956

204 255

366 023

Other Tanker

75

140

204

380

884

1 278

Passenger

781

270

50

2 697

1 027

206

Reefer

143

967

1 050

1 237

6 199

6 661

Ro-Ro Other Cargo

278

4 030

2 586

889

9 490

6 563

Ro-Ro Passenger

1 167

9 536

2 143

2 714

15 358

3 889

Specialised Carrier

305

6 018

2 734

1 810

27 954

12 727

TOTAL

9 037

156 907

219 531

48 096

660 749

976 146
ADDITIONAL SELECTED COMMERCIAL FLEETS


As at 1st April 2004 (100 GT and above - thousand tonnes)
EEA FLEET

WORLD FLEET

TYPE

NO

GT

DWT

NO

GT

DWT

Dredging

347

1 007

1 311

1 215

2 628

3 156

Offshore Supply

450

929

1 038

3 221

3 730

4 098

Tug

1 678

489

217

11 141

3 084

1 170

TOTAL

2475

2425

2566

15 577

9 442

8 424
Source: Lloyd's Register - Fairplay

THE EEA REGISTERED AND WORLD FLEET DEVELOPMENT


As at 1st April 2006 (100 GT and above)
TABLE 3

YEAR

EEA

WORLD

EEA AS %
OF WORLD
TONNAGE

N'

MN. TONNES

N'

MN. TONNES

1990

7 659

72 326 GRT

38 221

383 955 GRT

18,8

2000

6 783

84 351 GT

45 023

518 221 GT

16,3

2004

9 291

152 709 GT

46 551

584 303 GT

26,1

2005

9 047

154 332 GT

46 801

618 109 GT

25,0

2006

9 037

156 907 GT

48 096

660 749 GT

23,7
Source: Lloyd's Register - Fairplay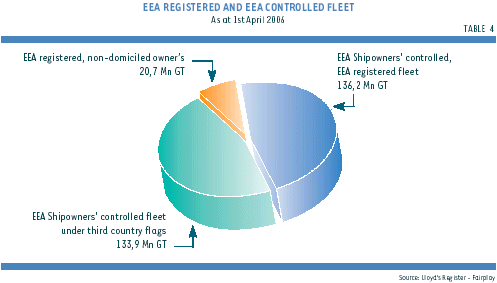 AVERAGE AGE OF FLEETS


As at 1st April
TABLE 5

2005

2006

EEA

WORLD

EEA

WORLD

DRY BULK

14,2

13,9

13,37

13,48

LIQUID

10,2

11,7

8,85

10,87

OTHER DRY CARGO

12,6

15,0

11,81

14,20

PASSENGER

14,4

12,6

14,39

12,42

TOTAL TRADING

12,24

13,40

11,24

12,75
Source: Lloyd's Register - Fairplay

THE WORLD MERCHANT FLEET'S DISTRIBUTION BY TYPE OF VESSEL


As at 1 July 2006
TABLE 6

1,000 GT

FLAG

OIL TANKERS

DRY BULK

GEN. CARGO

CONTAINER

OTHER TYPES

TOTAL

Panama

38 928

61 275

5 979

21 863

16 372

144 417

Liberia

32 564

10 820

1 263

16 009

2 184

62 840

Bahamas

16 837

7 223

3 412

2 104

8 528

38 104

Greece

17 260

10 406

235

2 350

1 566

31 817

Singapore

17 207

6 140

1 203

4 584

1 619

30 753

Marshall Islands

19 848

5 384

986

3 968

536

30 722

Hong Kong, China

7 018

17 396

1 699

4 167

314

30 594

Malta

7 813

11 219

2 178

1 227

1 333

23 770

China, People's Republic of

4 398

8 594

4 436

3 242

754

21 424

Cyprus

3 414

10 748

1 500

2 922

821

19 405

Norway

10 005

1 855

1 483

48

3 249

16 640

Japan

5 491

2 577

663

424

2 569

11 724

Italy

3 820

1 839

347

824

4 805

11 635

Germany

553

156

321

9 729

360

11 119

United

Kingdom

1 688

1 069

394

5 266

2 403

10 820

Korea, South

1 141

5 138

739

1 197

491

8 706

United States of America

2 409

1 239

280

2 983

1 658

8 569

Denmark

1 979

316

251

4 979

621

8 146

Isle of Man

5 460

1 805

384

259

160

8 068

India

5 161

2 192

244

106

46

7 749

Bermuda

3 208

1 852

13

731

1 877

7 681

Antiuga & Barbuda

68

617

2 211

4 221

248

7 365

Malaysia

4 028

432

402

689

162

5 713

St Vincent & The Grenadines

392

2 326

2 053

110

553

5 434

Russia

1 605

645

2 515

159

388

5 312

Rest of the world

30 874

20 862

19 188

8 215

15 648

94 787

TOTAL

WORLDTONNAGE

243

169

194

125

54

379

102

376

69

265

663

314

EEA

MemberCountries

Source: Lloyd's Register - Fairplay
NEWBUILDINGS ON ORDER


(Vessel types on multi annual order by Country of Domicile - as at June 2006)
TABLE 7

DRY

CARGO

CONTAINER

TANKER

COUNTRY

OFDOMICILE

N'

TOTAL

DWT

N'

TOTAL

DWT

N'

TOTAL

DWT

AUSTRIA

-

-

-

-

1

38 500

BELGIUM

1

3 890

11

397 160

25

2 336 460

CYPRUS

18

257 070

31

551 130

26

1 175 388

DENMARK

5

15 800

99

7 005 550

125

7 223 847

ESTONIA

FINLAND

1

4 600

2

23 000

2

124 450

FRANCE

-

-

63

3 567 174

14

313 800

GERMANY

118

1 004 028

357

10 352 430

64

2 223 245

GREECE

5

36 300

12

300 100

216

13 382 480

IRELAND

10

45 016

-

-

-

-

ITALY

8

85 600

22

969 300

81

3 027 395

LATVIA

-

-

-

-

14

667 360

LUXEMBOURG

-

-

-

-

-

-

MALTA

-

-

-

-

2

94 000

MONACO

-

-

-

-

4

293 600

NETHERLANDS

111

741 626

46

543 578

23

786 357

NORWAY

10

320 520

-

-

80

3 700 570

POLAND

-

-

-

-

-

-

PORTUGAL

4

26 500

-

-

3

450 000

SPAIN

1

4 500

2

33 000

4

83 999

SWEDEN

-

-

-

-

30

1 334 517

UK

26

185 900

7

272 979

60

2 143 358

EEA

TOTAL

318

2

731350

652

24

015401

774

39

399326

WORLD

TOTAL

660

5

265721

1

152

50

723414

1

860

121

069299
BULKER

RO-RO

PASSENGER

COUNTRY

OFDOMICILE

N'

TOTAL

DWT

N'

TOTAL

DWT

N'

AUSTRIA

-

-

-

-

-

BELGIUM

3

324 200

6

85 520

-

CYPRUS

5

157 250

-

-

-

DENMARK

14

486 965

4

55 765

2

ESTONIA

3

FINLAND

2

37 600

10

165 000

6

FRANCE

-

-

1

1 000

5

GERMANY

46

3 084 602

2

14 600

3

GREECE

82

7 478 225

17

230 130

2

IRELAND

-

-

-

-

-

ITALY

13

721 863

6

139 900

26

LATVIA

-

-

-

-

-

LUXEMBOURG

1

76 600

-

-

-

MALTA

-

-

-

-

-

MONACO

4

305 600

4

48 000

-

NETHERLANDS

4

273 000

-

-

1

NORWAY

19

939 945

41

718 996

17

POLAND

12

406 170

-

-

-

PORTUGAL

-

-

-

-

-

SPAIN

-

-

1

7 300

3

SWEDEN

3

27 000

5

66 100

5

UK

9

633 269

6

44 000

3

EEA

TOTAL

217

14

952289

103

1

576311

76

WORLD

TOTAL

832

66

446642

223

3

324865

157
Source: Fairplay Newbuildings

WORLD SEABORNE TRADE


(Million Tons)
TABLE 8

CRUDE

OIL

IRON

COAL

GRAIN

OTHER

TOTAL

OIL

PRODUCTS

ORE

CARGO

EST.

EST.

1990

1 190

336

347

342

192

1 525

3 932

2000

1 608

419

454

523

230

2 361

5 595

2004

1 792

461

589

664

236

2 789

6 531

2005 est.

1 820

488

650

690

242

2 894

6 784

2006 forecast

1 900

510

690

715

255

3 018

7 088

2007 forecast

1 975

525

730

740

265

3 108

7 343
Source: Fearnleys

WORLD SEABORNE TRADE


(Billion tonne-miles)
CRUDE

OIL

IRON

COAL

GRAIN

OTHER

TOTAL

OIL

PRODUCTS

ORE

CARGO

EST.

EST.

1990

6 261

1 560

1 978

1 849

1 073

4 400

17 121

2000

8 180

2 085

2 545

2 509

1 244

7 130

23 693

2004

8 795

2 305

3 444

2 960

1 350

8 720

27 574

2005 est.

8 985

2 475

3 801

3 091

1 384

9 132

28 868

2006 forecast

9 380

2 600

4 035

3 219

1 459

9 611

30 304

2007 forecast

9 750

2 680

4 354

3 350

1 515

9 901

31 550
Source: Fearnleys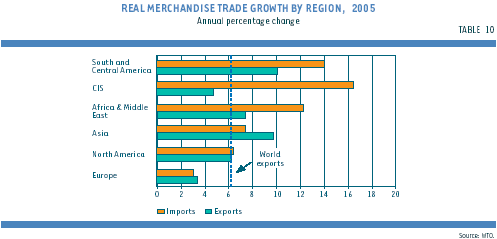 GDP AND MERCHANDISE TRADE BY REGION, 2004-05


(Annual percentage at constant prices)
TABLE 11

GPD

EXPORTS

IMPORTS

2004

2005

2004

2005

2004

2005

Norh America

4.1

3.4

8.0

6.0

10.5

6.5

United States

4.2

3.5

8.5

7.0

11.0

5.5

South and central America (a)

6.8

4.9

12.5

10.0

18.5

14.0

Europe

2.3

1.7

7.0

3.5

7.0

3.0

European Union (25)

2.2

1.6

7.0

3.5

6.0

2.5

Commonwealth of Independent States

8.0

6.6

13.0

4.5

16.0

16.5

Africa and Middle East

5.7

4.5

7.0

7.5

13.5

12.0

Asia

4.2

4.2

14.0

9.5

14.0

7.5

China

10.1

9.9

24.0

25.0

21.5

11.5

Japan (b)

2.3

2.8

10.5

1.0

7.0

2.5

World

3.9

3.3

9.5

6.0

-

-

(a) Including the Caribbean.
(b) Trade volume data are based on Japan's customs statistics.
National account data report a markedly stronger export and import growth in 2005.

Source: WTO
MERCHANDISE TRADE BY REGION IN VALUE


(Billion dollars and percentage)
TABLE 12

EXPORTS

IMPORTS

VALUE

ANNUAL

PERCENTAGECHANGE

VALUE

ANNUAL

PERCENTAGECHANGE

2005

2000-05

2003

2004

2005

2005

2000-05

2003

2004

2005

World

10121

10

17

21

13

10481

10

17

22

13

Norh America

1478

4

5

14

12

2285

6

8

16

14

United States

904

3

5

13

10

1733

7

9

17

14

South and central America (a)

351

13

15

29

25

294

7

6

28

22

Brazil

118

17

21

32

23

78

6

3

31

17

Europe

4353

11

19

20

8

4521

10

20

20

9

European Union

3988

10

19

19

7

4120

10

20

20

8

Other Western Europe

233

10

14

18

14

182

8

15

16

10

South-East Europe

132

21

29

34

17

219

19

33

36

18

CIS

342

19

27

36

29

216

21

27

31

25

Russian Federeration

245

18

27

35

34

125

23

25

28

28

Africa

296

15

26

30

29

248

14

21

29

16

South Africa

52

12

23

26

13

67

17

40

39

16

Africa less South Africa

244

16

26

31

33

181

13

16

26

16

Oil exporters (b)

166

18

33

41

45

63

17

17

34

17

Non oil exporters

78

11

18

18

12

118

11

15

22

16

Middle East

529

15

20

30

36

318

15

15

26

19

Asia

2773

11

19

25

15

2599

12

20

27

16

Japan

596

4

13

20

5

516

6

14

19

14

China

762

25

35

35

28

660

24

40

36

18

Four East Asian traders (c)

731

9

19

25

12

676

8

15

27

14

India

90

16

16

33

19

132

21

26

37

35

MERCOSUR (4)

163

14

19

28

20

113

5

11

38

18

ASEAN (10)

653

9

16

20

14

593

9

13

25

16

EU (25) extra-trade

1328

11

17

21

10

1460

10

19

21

14

a) includes the Caribbean.
b) Algeria, Angola, Chad, Congo, Equtorial Guinea, Gabon, Libya, Nigeria, Sudan.
c) Chinese Taipei; Hong Kong, China; Republic of Korea and Singapore.

Source WTO
SELECTED MAIN BULK TRADES
CRUDE OIL TOTAL SEABORNE TRADE 2004


(Figures in million tonnes)
TABLE 13

TO:

N/W

MEDITER-

NORTH

SOUTH

JAPAN

OTHER

OTHERS

TOTAL

FROM:

EUROPE

RANEAN

AMERICA

AMERICA

ASIA

2004

Middle East

65.8

62.9

130.0

10.6

179.9

352.7

30.3

832.2

Near East

0.1

11.0

1.1

0.0

0.0

0.0

0.0

12.2

North Africa

14.5

67.9

21.8

4.0

0.3

5.0

1.0

114.5

West Africa

5.2

21.2

91.7

9.0

7.6

67.4

3.7

205.8

Caribbean

5.0

8.5

189.1

12.5

0.1

6.0

0.3

221.5

South East Asia

0.0

0.0

5.3

0.0

10.2

25.3

15.4

56.2

North Sea

2.3

8.2

46.4

0.6

0.1

4.1

0.2

61.9

Others

88.1

67.2

40.3

14.3

2.2

32.0

5.7

249.8

TOTAL

2004

181.0

246.9

525.7

51.0

200.4

492.5

56.6

1754.1
Source: Fearnleys

IRON ORE TOTAL SEABORNE TRADE 2004


(Figures in thousand tonnes)
TO:

UK/

MEDITER-

OTHER

USA

JAPAN

CHINA

OTHER

OTHERS

TOTAL

FROM:

CONT.

RANEAN

EUROPE

FAR

EAST

2004

Scandinavia

6594

778

895

-

-

691

216

6655

15829

Other Europe

477

-

-

-

-

397

923

3446

5243

West Africa

7601

-

678

-

-

-

-

2721

11000

Other Africa

7158

330

3201

-

10072

17014

1582

2311

41669

North America

12034

1347

295

-

857

1925

2257

4458

23173

S. America Atl.

46234

2350

8110

7460

27149

54407

20881

38214

204805

S. America Pac.

-

-

-

403

4102

5701

2968

586

13759

Asia

630

139

-

-

21938

39798

3710

2081

68297

Australia/N.Z.

14620

958

503

120

76250

69645

38767

5202

206064

TOTAL

2004

95349

5902

13681

7983

140368

189579

71304

65673

589838
Source: Fearnleys

COAL TOTAL SEABORNE TRADE 2004


(Figures in thousand tonnes)
TO:

UK/

MEDITER-

OTHER

SOUTH

JAPAN

OTHER

OTHERS

TOTAL

FROM:

CONT.

RANEAN

EUROPE

AMERICA

FAR

EAST

2004

North America

12921

5810

4618

8170

10240

9234

3494

54487

Australia

19280

3315

6851

10328

102547

59318

23360

224999

South Africa

24231

7437

14449

2172

-

1340

6344

55973

S. America Carib.

16018

3949

4605

1678

44

40

21413

47747

China

1242

2229

492

676

28956

44326

6842

84763

FSU

17116

18475

6086

241

9298

7110

842

59168

Other East Europe

9020

114

4162

77

-

-

1011

14384

Indonesia

4123

5731

3680

1449

24982

55402

10454

105821

Others

2771

-

1189

957

3917

7680

813

17327

TOTAL

2004

106722

47060

46132

25748

179984

184450

74573

664669
Source: Fearnleys

GRAIN TOTAL SEABORNE TRADE 2004


(Figures in thousand tonnes)
TO:

USA

CANADA

SOUTH

AUSTRALIA

OTHERS

TOTAL

FROM:

AMERICA

2004

UK/Continental

2808

716

6006

-

260

9791

Mediterranean

3996

1667

6121

712

3503

15999

East Europe

642

45

583

-

3547

4816

Other Europe

408

113

2186

-

368

3075

Africa

14622

2247

7382

3827

11985

40063

Americas

26539

3232

7791

196

158

37917

Near East

3555

-

983

131

2894

7563

Indian Ocean

2107

755

4728

6695

4951

19237

Japan

22755

1673

768

2693

682

28571

Other FE

30138

5217

16430

9865

6746

68396

Others & Unspec.

-

35

-

476

34

546

TOTAL

2004

107570

15699

52979

24595

35130

235973
Source: Fearnleys
CONTAINER TRADES - FULL MOVES
TABLE 14
WORLD

WIDEFLOWS

Year

TEUs

Growth

2004

105,0 million

14,6%

2005

115,7 million

10,2%

2006 (forecast)

127,8 million

10,5%
SELECTED

MAINTRADES

TRANSPACIFIC

(*)

Eastbound

Westbound

Year

TEUs

Growth

TEUs

Growth

2004

11,4 million

15,6%

4,7 million

7,0%

2005

12,8 million

12,0%

5,2 million

9,8%

2006 (forecast)

14,2 million

11,2%

5,7 million

10,3%
NORTH

EUROPE&MEDITERRANEAN-FAREAST

Eastbound

Westbound

Year

TEUs

Growth

TEUs

Growth

2004

4,6 million

13,3%

8,2 million

17,4%

2005

4,9 million

6,5%

9,3 million

13,4%

2006 (forecast)

5,3 million

8,2%

10,5 million

12,9%
TRANSATLANTIC

(*)

Eastbound

Westbound

Year

TEUs

Growth

TEUs

Growth

2004

1,7 million

7,6%

2,3 million

4,10%

2005

1,8 million

5,2%

2,4 million

3,8%

2006 (forecast)

1,9 million

3,2%

2,5 million

5,6%
OTHER

TRADEESTIMATES

North - South vice-versa

20 million TEU

Regional

45 million TEU

Intra Asia

33-35 million TEU
| | |
| --- | --- |
| (*) Including Canada and Mexico | Source: Drewry Shipping Consultants |
TOP 25 CONTAINER LINES AS AT 1ST AUGUST 2006
RANK

OPERATOR

TOTAL EXISTING

CHARTERED

ON ORDER

2006

TEU

SHIPS

TEU

SHIPS

CAPACITY %

TEU

SHIPS

% EXIST
CAPACITY

1

APM-Maersk

1 729 818

576

955 773

404

55,3%

633 237

118

36,6%

2

MSC

937 989

306

325 118

105

34,7%

308 887

43

32,9%

3

CMA CGM

605 969

274

374 907

193

61,9%

275 872

57

45,5%

4

Evergreen

529 405

162

59 188

59

35,7%

124 288

26

23,5%

5

Hapag-Lloyd

447 548

137

20 846

73

4,7%

63 482

10

14,2%

6

COSCO Container

389 179

133

169 346

36

43,5%

156 018

24

40,1%

7

CSCL

368 710

129

165 021

51

44,8%

15 655

34

42,5%

8

Hanjin / Senator

86 339

304

262 698

67

77,4%

140 773

22

41,5%

9

APL

331 396

105

204 126

69

61,6%

117 358

29

35,4%

10

NYK

318 019

120

149 109

78

46,9%

204 708

35

64,4%

11

MOL

89 272

748

147 359

56

54,0%

113 588

17

41,6%

12

OOCL

271 937

70

110 251

41

40,5%

90 894

18

33,4%

13

K Line

84 257

631

130 161

54

50,5%

120 144

20

46,6%

14

CSAV

243 523

87

241 938

86

99,3%

39 246

6

16,1%

15

Zim

96 224

940

103 423

55

46,0%

182 356

33

81,1%

16

Yang Ming Line

212 526

79

81 073

36

38,1%

118 138

24

55,6%

17

Hamburg-Süd

98 199

422

126 477

74

63,4%

102 293

28

51,3%

18

Hyundai M.M.

156 939

39

111 887

25

71,3%

165 800

25

105,6%

19

PIL (Pacific Int'l Line)

139 351

102

50 273

32

36,1%

47 415

19

34,0%

20

Wan Hai

122 250

72

36 813

25

30,1%

49 022

11

40,1%

21

UASC

78 743

33

15 705

8

19,9%

54 400

8

69,1%

22

IRIS

56 642

60

592

9

1,0%

74 812

19

132,1%

23

MISC Berhad

51 512

20

15 688

6

30,5%

7 943

1

15,4%

24

RCL (Regional Container L.)

47 675

40

8 079

6

16,9%

25

Grimaldi (Napoli)

45 113

38

1 434

3

3,2%

6 660

6

14,8%

TOTAL TOP 25 - capacity employed

8 378 289

3 035

3 997 084

1 651

3 212 989

633

TOTAL Container Liner World

9 950 354

5 615
Source BRS Alphaliner
EUROPEAN COMPANIES
Main lines' consolidated subsidiaries :
APM-Maersk includes Safmarine, Portlink and MCC, ex-P&O Nedlloyd
CMA-CGM includes Delmas Group (OTAL, Setramar), ANL, Feeder Associate System, Cagema, MacAndrews
CSAV includes Norasia, Libra, Montemar, Hansa Star Line and Euroatlantic Container Line (ECL)
Evergreen includes Hatsu Marine, Lloyd Triestino
NYK includes Tokyo Senpaku Kaisha (TSK)
Zim includes Gold Star Line and Laurel Navigation
Hamburg-Süd includes Columbus Linie, Alianþa, Crowley American Transport, Ellerman and Kien Hung
Hapag-Lloyd includes ex CP-Ships
Grimaldi includes ACL
MOU PORT STATES' INDIVIDUAL CONTRIBUTION TO THE TOTAL AMOUNT OF INSPECTIONS 2005
TABLE 16

MOU


PORT
STATES'

INDI-
VIDUAL


SHIP
CALLS

INSPE-
CTIONS

INSPE-
CTIONS


WITH
DEFI-
CIENCIES

DETEN-
TIONS

DETENTS


WITH
RO
RELA-
TED
DEFI-
CIENCIES*

%-INSP.


WITH
DEFI-
CIENCIES

%

DETAINED

%

INSPE-
CTED
SHIP
CALLS
(25%
COMMIT-
MENT)

%

INSPE-
CTION
OF
MOU
TOTAL

Belgium

4975

1426

450

50

10

31,56

3,51

28,66

6,69

Canada

1850

896

275

37

10

30,69

4,13

48,43

4,2

Croatia

1228

411

238

16

2

57,91

3,89

33,47

1,93

Denmark

2361

613

190

14

0

31

2,28

25,96

2,88

Finland

1203

394

86

7

0

21,83

1,78

32,75

1,85

France

5730

1831

944

51

4

51,56

2,79

31,95

8,59

Germany

5238

1746

780

36

8

44,67

2,06

33,33

8,19

Greece

2284

772

327

33

5

42,36

4,27

33,8

3,62

Iceland

356

104

38

2

0

36,54

1,92

29,21

0,49

Ireland

1251

422

238

19

2

56,4

4,5

33,73

1,98

Italy

6505

2392

1506

226

29

62,96

9,45

26,39

11,22

Netherlands

5400

1373

776

71

11

56,52

5,17

25,43

6,44

Norway

2301

580

166

14

2

28,62

2,41

25,21

2,72

Poland

2583

723

366

12

1

50,62

1,66

27,99

3,39

Portugal

2697

1021

552

60

10

54,06

5,88

37,86

4,79

Russian Federation

3693

1104

738

37

8

67,21

3,37

29,89

5,15

Slovenia

744

247

129

69

27

52,22

27,94

33,19

1,17

Spain

6141

2169

1317

131

11

60,72

6,04

35,32

10,17

Sweden

2716

737

192

10

1

26,05

1,36

27,13

3,46

United Kingdom

6288

1895

1414

90

22

74,62

4,75

30,14

8,89

*) Involving responsibility of the Recognised Organisation
which has issued the relevant certificate(s).

Source: Paris MOU