The operators of the Ukrainian port of Pivdenny, under the coordination of the terminalist company TransInvestService (TIS), have sent an appeal to President Zelensky so that the operation of the stopover, activities that he or she is able to restore, can be restored. operators denounce it being sabotaged by representatives of Russia participating in the Joint Coordination Centre (JCC), the joint coordination center composed of representatives of Ukraine, Russia, Turkey and the United Nations that was established last July under the Black Sea Grain Initiative and has the task of enabling marine transportation in the safety of grain and other food and fertilizer products exported through the three Ukrainian ports of Odessa, Chernomork and Yuzhne (Pivdennyi) on the Black Sea. On May 17, members of the JCC agreed to extend the validity of the so-called grain corridor until July 18 and last May 19, the JCC resumed inspections of ships directed at the three Ukrainian ports.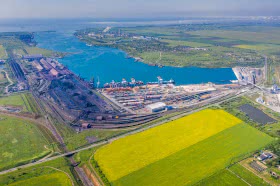 Remembering that in the port climber they work more than 10mila people and that the port activity generates over 80% of the revenue of the administration of the Yuzhne city and the village of Vyzyrka where a total of 45mila people live, operators in the port of Pivdenny have pointed out that since April 29, no ship intended for the port has been included in the JCC inspection activities in that-they have accused-Russian representatives refuse to inspect the ships headed to the port without explaining the reasons for it. Last May 17, the departure of the last ship from Ukrainian ports as part of the initiative for the safe corridor and-they specified-from 7 to May 18 to no ship was allowed to enter Ukraine.
The operators said traffic was also slowed affecting the other two Ukrainian ports participating in the Black Sea Grain Initiative, which are currently the only de facto operational, and that affects the number of other ports in Ukraine. exports of Ukrainian products, also because the increased traffic capacity is concentrated in the port of Pivdennyi, which means that 50% percent of Ukrainian product exports are blocked. It is currently reported to be more than 1.5 million tonnes of wheat and sunflower oil that have been stored in the course of two months to be shipped to African and Asian countries, while 26 vessels are waiting for them to be sent to them. granted the possibility of arriving at the port of Pivdennyi. This is also reflected in the commercial contracts that are being blocked at the present time and will not be guaranteed the effectiveness of the corridor and the possibility of restoring exports, " the statement said.
"In the meantime, Russia exports its grain freely and without any inspection, effectively cancelling Ukraine from the economic map of suppliers of food (wheat, oil and gas)," the trader said. sunflower and flour) to the world markets. "