The World Trade Organisation today released the latest reading of its Goods Trade Barometer, the indicator designed to signal current current and short-term developments in world merchandise trade world goods trade and now stands at 95.6 compared to 92.2 last March
(

of
1
march
2023). Despite the increase, the WTO pointed out that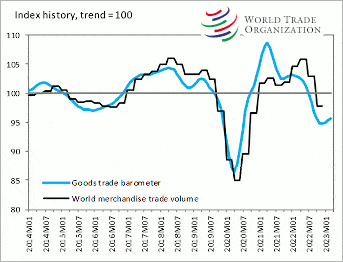 the indicator remained well below the base value of 100 suggesting a stabilisation and the beginning of a recovery in trade volumes volumes of trade, a recovery which, however, specified the World Trade Organisation - could be bumpy given the mixed signals of the indices that make up the barometer indicator.
The WTO explained that preliminary data indicate that in the first quarter of 2023 world trade remained rather depressed, but the recent recovery in export orders indicates an increase in demand for traded goods in the second quarter. The World Trade Organisation specified that they were broadly consistent with the most recent forecast published by the WTO on 5 April, which forecast for the whole of 2023 a +1.7% growth in trade in goods.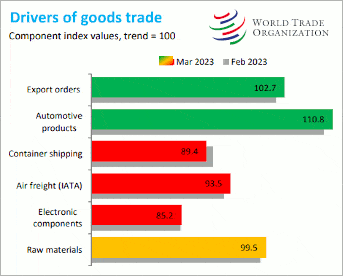 As for the various indices that make up the overall indicator the WTO noted that the latest barometer reading shows that the index for automotive products (110.8) rose clearly above trend in the wake of strong sales in the United States and Europe, and also the index of export sales index (102.7), which is very predictive, also returned above trend after a strong back above trend after the drop following the outbreak of war in Ukraine of the war in Ukraine. In contrast, the indices representing containerised maritime transport (89.4), air transport (93.5) and trade in electronic components (85.2) all continued to signal weakness all continue to signal weakness. The commodity trade index (99.0) was just below trend. The WTO has pointed out that the combination of strong positive and negative makes the short-term outlook less certain than usual.