The German technology company Freudenberg e-Power Systems, the German shipbuilding company Meyer Werft and the American cruise group Royal Caribbean have announced a collaboration in the development of a fuel cell system innovative, also in terms of size, specifically designed for the maritime sector. It is a multiannual project whose The first application envisaged is the supply of vessels from "Nova" class cruise which will be equipped with the Siversea Cruises company of the US group. With the new Fuel cell system is expected to generate on board sufficient energy to cover the entire need for hotel activities of the ship as well as to feed the whole ship when it stops in a port.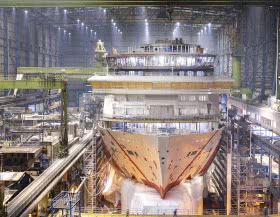 The CEO of Meyer Werft, Thomas Weigend, has explained that, if the necessary ones will be acquired in time IMO compliance approvals, the first new power system will be installed on board the Silver Nova, the luxury ship of 54,700 gross tons and of the capacity of 728 passengers currently under construction at the Papenburg shipyard of the navalmeccanica company which delivered next summer.




Managing Director of Freudenberg e-Power Systems, Max Kley, highlighted that the combination of fuel cells with a high degree of efficiency and the long life ensured by Freudenberg's battery systems will be particularly Suitable to meet the needs of the maritime sector.