The Swiss shipowning group Mediterranean Shipping Company (MSC), present in Italy in the container segment as well as with own maritime and logistic services also with terminals for containers in the ports of Genoa and Gioia Tauro, will consolidate the own national terminal network, which is headed by the branch Terminal Investment Limited (TIL), acquiring control of Trieste Marine Terminal (TMT) company that manages the container terminal at Pier VII of the port of Trieste. TIL, in fact, which already owns 50% of TMT's capital, will acquire a further 30% stake leaving to the partner T.O. Delta of the Maneschi family the remaining 20% of the company.
Trieste Marine Terminal currently owns a 60-year concession from 1 December 2015, deed of concession that provides, as established by the agreement at the end of 2015, which led to the extension of the concession, which TMT is obliged to carry out at its own expense works of lengthening and modernization of Pier VII. Works include extending the length of the quay from the current 770 meters, with a depth of -18 meters, bringing it to 870 meters, of which 810 meters operational, in order to allow the terminal to accommodate two at the same time mother container ships. In addition, it is planned that the cranes of quay can reach the 24th row of containers on the ships compared to the current limit of 21 rows. The value of Works, to be carried out in phases, would amount to 188 million euros.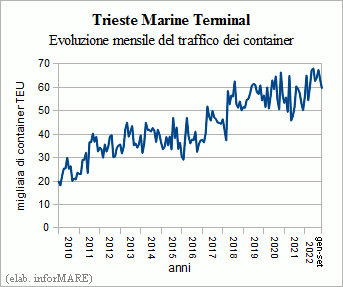 Currently the annual traffic capacity of the terminal is equal to 900 thousand teu. In the first ten months of this year the terminal of TMT has enlivened a containerized trade pairs to 633 thousand TEU, with an increment of +15.8% on the correspondent period of the 2021. The company plans to close the full year 2022 with a traffic record pairs altogether to 730 thousand teu compared to 652 thousand teu enlivened last year.