Corsica Sardinia Ferries joins the French Neoline in development of a 136-metre-long cargo ship project and powered mainly by wind, which will allow Save up to 80% of fuel compared to a ship traditional. Will be a ro-ro unit will be equipped of two masts of 76 meters with 3,000 square meters of rigid sails automatic control made with the Solid Sail technology of the shipyard French Chantiers de l'Atlantique and able to be oriented 360°. The ship will operate at a speed commercial of 11 knots and will be able to carry ro-ro loads for 1,200 linear meters, 400 cars or 265 containers, representing up to 5,000 tons of goods.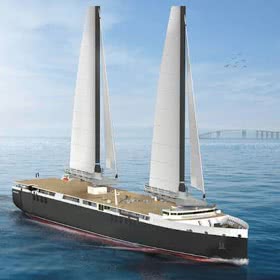 The project plans to deploy the new ship on the route between the French port of Saint Nazaire and the east coast of the USA (Halifax-Baltimore) passing through the archipelago of Saint-Pierre and Miquelon




In addition to initiatives to reduce as much as possible the carbon footprint of the shipping company, Corsica Sardinia Ferries recalled that its strategy is also aimed at diversifying the activities it has recently led to the purchase of the Italian ro-ro ship Rosa dei Venti from Visentini Trasporti. The Rose of the Winds, built in 2018 for the needs of the Grendi, it has a load capacity of 2,500 linear meters and has the hold designed to accommodate the innovative system of movement of container with "boxes" to embark and disembark in double height, doubling the exploitation of linear meters available garage and halving the handling time of the cargo. The ship is currently chartered to the Grendi group, that it will maintain the charter for the next five years, continuing to operate between Tuscany and Sardinia and employing the maritime staff of Corsica Sardinia Ferries and its know-how.