Like the other major shipping companies world containerized, also the Taiwanese Evergreen Marine Corporation closed the 2022 financial year with results record financial and with a sharp downsizing of performance in the last quarter. In the whole of 2022, the revenues of the companies amounted to the figure, never reached in previously, of 627.3 billion Taiwan dollars (20.5 billion US dollars), with an increment of +28.2% on the year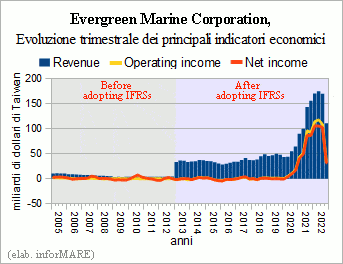 previous. New records were also set by profit operating at $374.8 billion taiwanese (+31.6%), and net profit, which totaled 346.2 billion (+31.6%).
In the fourth quarter of 2022 alone, revenues amounted to 111,0 billion dollars of Taiwan, with a decrease of -28,8% on the last quarter of 2021 when they were recorded Record financial results for this time of year. The profit operating has been of 32,8 billion (- 64.6%) and the profit clearly of 31,5 billion Taiwanese dollars (- 63.5%).