TX Logistik, the wholly-owned subsidiary of Mercitalia of the Ferrovie dello Stato Italiane group, has established with the Dutch Samskip and with the German Duisport a joint venture which will manage the intermodal terminal logport III a Duisburg-Hohenbudberg, near the river port of Duisburg. The new company Ziel Terminal GmbH is participated in the 49.8% from Samskip, while duisport and TX Logistik each hold 25.1% of the capital of the joint venture, which will manage the intermodal terminal on the basis of a long-term lease term with duisport (Duisburger Hafen AG), the company that manages the port of Duiburg.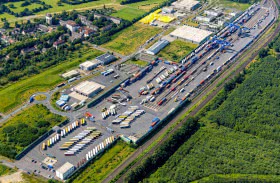 The agreement between the three partners will have to be approved by the European Antitrust Authority.




The logport III intermodal terminal occupies an area of 140 thousand square meters and has seven bundles of tracks 720 meters long. The Centro has an annual traffic capacity of 250 thousand units loading.