Today the Deputy Minister of Infrastructure and Transport, Edoardo Rixi, visited the Genoese shipyard in Sestri Ponente of the Fincantieri group with the aim of taking stock of the Progress of the project of the overturning at sea of the plant, consisting in the construction of a new descent within the Porto Petroli where to set up activities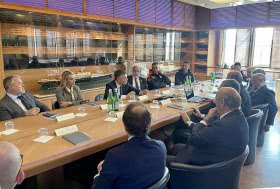 shipbuilding of the company. Following a meeting with the trade unions together with the CEO of Fincantieri, Pierroberto Folgiero, Fiom Genova has announced that the Deputy Minister Rixi gave guarantees about the commitment of the Ministry aimed at the decisive development of the potential of the shipyard naval, for which it is necessary to start the third phase overturning at sea consisting in the displacement of the line railway, without prejudice to the need to plan in the Detail of the intervention to ensure continuity productive, and to this end in the coming days will start the discussion with Rete Ferroviaria Italiana.
Emphasizing that the completion of the work will place the bases for an unprecedented development occupation of the site and that, with this in mind, the CEO of Fincantieri has affirmed that the territory of Sestri Ponente has already demonstrated a strong availability in recent years that has allowed fast growth, necessary for current loads Stefanozzi and Diego Dalzotto, Secretary General and naval secretary of Fiom Genoa, underlined the It is necessary that we already begin to think about the training processes to ensure the further development of the construction site, through training courses and more.




Remarking that "the Fincantieri plant is an international excellence that the city of Genoa owes safeguard" and that, for this reason, the wish is that 'the project for the overturning of the shipyard at sea Sestri quickly obtains the necessary funding for its completion", the general secretary of Fim Cisl Liguria, Christian Venzano, and the regional secretary of Fim Cisl Liguria, Fabio Carbonaro, expressed satisfaction with the words of the deputy Minister Rixi who gave reassurances from this point of view: "There must be - the representatives of the Trade unions - total convergence on the part of all, starting from institutions, so that a solution can be found soon positive that will guarantee new jobs and development. One once the works are completed, Genoa will double its capacity productive hosting one of the largest and most innovative construction sites of Europe, with important repercussions on the economy and employment'.