Cargo Incident Notification System (CINS), International Group of P&I Clubs, ICHCA International and TT Club have released guidelines for the safe transport of lithium-ion batteries in intermodal containers whose goal is to prevent the increasing dangers that the shipment by sea of these loads creates to shipping, providing suggestions to identify such risks. The initiative, which is intended as the first of a series of publications to be updated as circumstances require, is also aimed at addressing issues increasingly on the agenda in view of the exponential increase in the volume of transportation of lithium-ion batteries.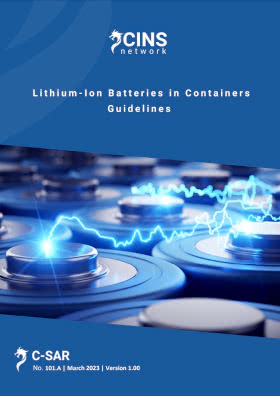 "By increasing the pressure on all forms of economic activity for decarbonisation," said Peregrine Storrs-Fox, director of risk management at TT Club insurance company, and the use of these batteries will increase. inevitably at rates that we have never experienced before. The transport by air has already been subjected to strong limitations and it is clear that the surface modes will also be called to transport these goods. As an adaptive unit, the container will continue to be, together with others, a central means for the safe transport of electric vehicles as well. The intermodal nature of the containers means that multiple actors other than the shipping companies, be they producers, packers, freight forwarders, logistics operators, warehouses and cargo handling attachments, they all have to be conscious of the security issues that we are facing and doing their part to ensure that the risks are properly managed. "
" We strongly urge all parties involved in the production, supply, transportation, handling and sale of lithium-ion batteries, both as individual components and integrated into an electronic device, vehicle or other product-it has underlined Dirk Van de Velde, Deputy Chairman of the CINS and a member of the Board of Directors of ICHCA-to acknowledge its responsibilities in maximizing safety during transportation. Our guidelines will create a greater awareness of the possibilities of harmful and potentially deadly accidents that have already occurred and will instill a motivation to act more urgently before disasters occur more catastrophic. "