Yesterday in Dubrovnik, coinciding with the sixth edition of the Adriatic Sea Forum, the first summit of the Presidents of the Port Authorities of the Adriatic area, initiative made possible thanks to the collaboration between the Association of Italian Ports (Assoporti) and Tourism Responses, the company that organized the Forum. On this occasion the Presidents of Adriatic ports have signed a declaration of intent in which they undertake to carry out joint initiatives, identifying together common points for a collaboration that can enhance the region.
It will not be a question of forming a new association or anything else. organism, but to carry out moments of confrontation on issues of common interest and sharing of good practices used to overcome challenges and critical issues. At the center of this first meeting, the maritime tourism of the Adriatic and, in particular, the Port-city relationship. Further objectives and themes to will be decided before the next summit and is Studies on trafficking and models of trafficking and models of trafficking will also be launched. Passenger tourism to enhance this experience both for tourists and for communities.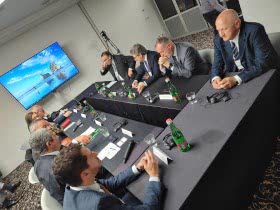 On the Italian side, the declaration of intent was signed by the presidents of the Port System Authorities of the Southern Adriatic Sea, Central Adriatic Sea, Sea North-Central Adriatic, Northern Adriatic Sea and the Eastern Adriatic Sea as well as Rodolfo Giampieri, president of Assoporti, and Zeno D'Agostino, president of the association of European ports ESPO as well as of the AdSP of the Eastern Adriatic. On the Croatian side, the document is was signed by the Port Authorities of Dubrovnik, Ploce, Rijeka, Šibenik, Split and Zadar and the president of the association of Croatian ports Tomislav Batur. For Greece it has signed the declaration the Port Authority of Igoumenitsa and for Montenegro the Port Authority of Kotor.




Noting that the new collaboration between the Adriatic ports represents an important element for the area and the countries involved in a system key, the president of Assoporti highlighted that "In this regard, the adhesion of ESPO is important, which gives a macro-European slant to the project. Italy - has underlined Giampieri - is compact with all the presidents of the ports of the AdSP of the Adriatic area, aware of how much the collaboration is a fundamental element to face the future of Compartment. I am very satisfied with what has been achieved today, a signature which involved four countries on the Adriatic shore is not something of little importance, moreover destined to expand even more».