The consortium company GOAS established by the association of the Genoese freight forwarders Spediporto, which sees the involvement of 21 city companies, officially took charge of the management of cargo traffic at Genoa airport. Thank you direct assignment of activities and certification of ground handlers being released by ENAC, from July Shippers will manage all traffic themselves goods departing and arriving on the "Christopher Columbus". The agreement also provides for the concession of the warehouse goods of approximately 2,200 square meters, including offices and changing rooms, of a maneuvering area of 3,000 square meters and a side quay Square of 900 square meters. About twenty employees who will be engaged in the activity, including four workers of Genoa Airport that will operate on behalf of GOAS while remaining employees of the airport management company.
On the occasion of the formalization of the agreement, Genoa and Spediporto recalled that thanks to its Infrastructures The Genoese airport can manage any type of shipment, including special cargo flights that are more times in the past they have seen the Antonov 124 land at Colombo, The largest cargo aircraft in the world. In 2022 the airport has Handled about 1,000 tons of cargo between air cargo and via surface, against a historical record of about 5,000 tons achieved between 2006 and 2007.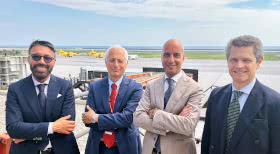 "The Cristoforo Colombo Airport - highlighted the president of Spediporto, Andrea Giachero - has a "natural" card to play and is linked to geographical location, really rare, inserted between commercial port (goods), port passengers, shipyards, ICT centres of excellence, siding motorway and railway (Terzo Valico). It is therefore It is essential to relaunch the cargo sector, also to encourage connection with the main national freight ports'.




"The development of cargo traffic - commented the general manager of Genoa Airport, Piero Righi - requests a sales network and skills that are typical of Freight forwarders. This is why we consider this partnership strategic. We are confident that the collaboration with GOAS will contribute to the recovery of airport cargo traffic, but can also benefit the entire Genoese logistics chain thanks to infrastructures and services that can also support activities port workers in case of need'.