By Decree No. 217 of the Minister for Infrastructure and Transport the gap at the top of the Authority has been filled Port System of the Western Ligurian Sea, the body that governs the ports of Genoa and Savona-Vado Ligure, left by President Paolo Emilio Signorini who submitted his resignation for take on the role of Chief Executive Officer and General Manager of the IREN group mainly active in the production and distribution of electricity and in the management of water networks.
A frankly disconcerting exit, which to many is seemed to confirm - if further proof was needed - that Signorini has held the role of president of the AdSP more than on behalf of the Minister, rather as an emissary of the local institutions, Region and Municipality, having already after the appointment, which took place by decree of December 1, 2016, did not move a step to the leadership of the Authority of Harbour System without have at his side the governor Giovanni Toti, who previously He had wanted close by choosing him as Secretary General of the Region, and the mayor Marco Bucci, the latter influential sponsor of the appointment of Signorini to the top of IREN and which has more times placed forcefully its imprimatur on the choices for the port of Genoa.




An almost unseemly exit from the scene, taking into account the local, regional and national relevance of the assignment assigned to Signorini, to which was added in 2021 the burdensome one of Extraordinary Commissioner for the construction of the new dam forane of Genoa.




An abandonment of the ship towards a lido evidently more inviting that has been filled by the appointment to the office of extraordinary commissioner of the Port System Authority of the lawyer Paolo Piacenza, who is secretary general of the institution since May 2021 and previously Director of Governance State-owned, Business Plans and Investee Companies. In Piacenza The commissioner functions relating to the management of Funivie Savona - San Giuseppe di Cairo.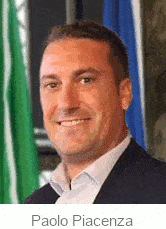 Before its entry into AdSP in 2018, Piacenza has carried out the profession of lawyer specialized in administrative law, public contracts and public-private partnerships, has held the role of sole director of I.R.E. Spa and is Legal Expert of the NARS and the DIPE at the Presidency of the Council of Ministers, in support of the Interministerial Committee for Economic Planning (CIPE).




"I thank - said Piacenza - Minister Matteo Salvini for the trust placed in me. The ports of Genoa and Savona-Vado are at the heart of a transformation that assigns to infrastructure and planning a strategic role for development socio-economic of the Liguria Region and the Italian system. It is So with a sense of responsibility that I am going to exercise the task assigned to me by carrying out the activities of the institution aware of the challenges facing the entire system portuale", declared the new commissioner.