Today in the port of Rijeka was celebrated the launch of the construction of the new container terminal in Rijeka Gateway, the joint venture between the terminalista company APM Terminals of the group Danish shipowner A.P. Møller-Mærsk and the Croatian group ENNA, which has signed a 50-year concession contract
(

of
16 March
2019, of
5 July
and
5 November
2021). The total investment envisaged is EUR 380 million, of which more than EUR 200 million in the first phase of to be realized in the next two years and 180 million in the second phase which will be implemented over the next decade. According to the forecasts, the terminal will become operational in 2025 creating More than 300 jobs.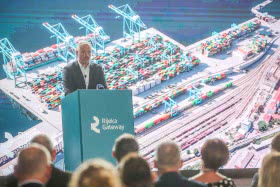 During the opening ceremony of the works the president and managing director of Rijeka Gateway, Koen Benders, stressed that "Rijeka Gateway will be the First Adriatic port equipped with cranes for electric containers and remote control" and - he added - "with a depth of the bottom of the quay of 20 meters, we will be ready to welcome some of the largest container ships in the world."




Tomislav Zunic, Chief Financial Officer and Advisor of administration of Rijeka Terminal, specified that in the first phase the terminal will have an annual traffic capacity pairs to 650 thousand teu, which is expected to be raised to more of one million teu in the next phase.




On the occasion of the ceremony, the wish was expressed that the Croatian Government recognizes the primary interest of the realization of the project for the construction of a line two-track railway to the port of Rijeka, connecting would improve the airport's connection with the markets of Central Europe, reducing traffic congestion and stimulate economic growth in the region.