The German shipping company FRS has sold its shipping company FRS Iberia, operating services between Spain and Morocco, to the Danish shipowning group DFDS which intensifies so its presence in the Mediterranean market developed particularly since 2018 with the acquisition of Turkish company U.N. Ro-Ro
(

of
12 April
2018). Currently the fleet of FRS Iberia is consisting of two ro-pax ferries, one ro-ro vessel and five high-speed catamarans. This year with these ships the Spanish company plans to transport a total of 1.9 millions of passengers and 370 thousand cars.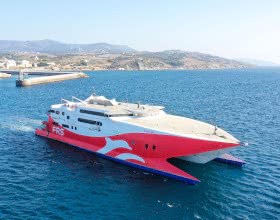 The agreement between the parties, which will have to get the green light of the antitrust authorities of Spain and Morocco, provides that the 750 employees of FRS Iberia join the DFDS Group.




The managing director of the FRS, Götz Becker, explained that after the sale of the activities in Spain the German company will expand into other markets and will modernize its fleet, consisting of about 70 ships that they mainly transport passengers and rolling stock, equipping it with emission abatement systems.