The Port Authority of Thessaloniki has been selected as the best bidder for the acquisition of 67% of capital of the Port Authority of Volos by the Council of administration of the Hellenic Republic Asset Development Fund (HRADF), the government agency that implements the Greek privatization. The Port Authority of Thessaloniki, which is controlled by South Europe Gateway Thessaloniki (SEGT), a company 47% owned by Deutsche Invest Equity Partners, 33% by Terminal Link of the CMA CGM group and 20% by Belterra Investments, submitted an offer worth 51 million euro.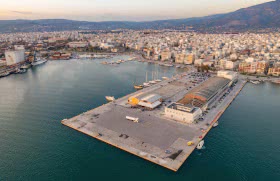 The Goldair Cargo - Goldair Handling consortium was selected as the second highest bidder. At the second stage of the Tendering procedure Two other tenders submitted were admitted the consortium Israel Shipyards Industries - Hellenic Halyvourgia and by Mariner Capital, while in the first phase they had participated Four other companies also submitted their proposals: Advance Properties, Gek Terna, the Intrakat - Tekal consortium and QTerminals.




The documentation of the tender procedure will now be sent to the Court of Auditors for a preliminary audit the signing of the contract for the sale of the capital share.