COSCO Shipping Ports, the terminalist company of Chinese shipping group COSCO Shipping Holdings Co., filed 2022 with record revenue of 1.44 billion, an increase of 19.3% percent on the annual 2022 financial year. This is the result of a decrease in operating activity carried out last year : in 2022, in fact, the company's port terminal handled 103.3 million containers, down -2.2% percent on the previous year ( inforMARE of the
January 17
2023), the decline that the company transforms into growth by 0.6% by communicating the annual financial results in contrast to what is highlighting the statistical data released monthly by COSCO Shipping Ports itself.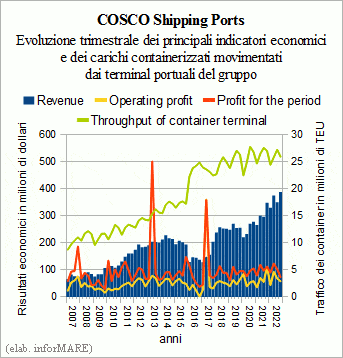 Operating profit and net profit fell -3.7% percent and -4.2% percent on 2021 percent, respectively, to 261.3 million and 388.8 million, respectively.
In the only fourth quarter of 2022, the value of revenues reached a new quarterly absolute record, having been 387.3 million, up 11.4% percent on the October-December period of the previous year. Operating profit amounted to 57.3 million (-48.6%) and net profit to 73.0 million (-34.8%).