In the port of La Spezia a boat entered service electric waste collection. After two weeks of testing the company Sepor, which carries out the collection service and management of waste generated by ships moored in the port of call Ligurian, has put into operation its innovative boat A
Sepor Elettra
full electric propulsion used for the withdrawal of waste from ships, which is characterized by its autonomy, Speed and maneuverability guaranteed thanks to two motors electric 176 kW each. The boat, 16.50 meters long and wide 4.60 meters, is made entirely of fiberglass, material Lightweight and durable.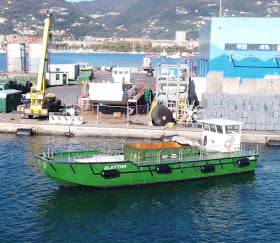 Elettra will use only energy produced from renewable sources, partly self-produced by the plant photovoltaic of the port waste treatment platform Sepor and partly purchased from suppliers who certify its origin from renewable sources. Therefore, the entire waste collection cycle solid from ships in the port of La Spezia will be zero CO2 production.




The Port System Authority of the Eastern Ligurian Sea highlighted that with Elettra the port of La Spezia becomes The first Italian airport to equip itself with such a technology advanced and Sepor confirms itself as a pioneer company in the blue Economy.