The German container shipping company Hapag-Lloyd will not make a counteroffer for the acquisition of HHLA terminalista company to compete with the one presented from the Swiss shipowning group Mediterranean Shipping Company
(

of
13
and
13
September 2023). This was assured by the CEO of Hapag-Lloyd, Rolf Habben Jansen, to the news agency "Reuters", stating that the volume of traffic of containers that the company's ships move to and for the port of Hamburg, port where the main port of call is concentrated part of the HHLA's business.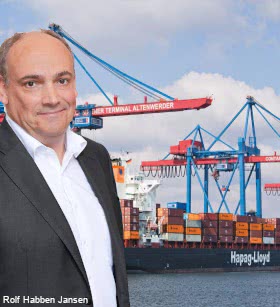 Hapag-Lloyd is partner of compatriot HHLA in HHLA Container Terminal Altenwerder, the company that manages the eponymous container terminal in the German port, a company that is 74.9% owned by HHLA and 25.1% by Hapag-Lloyd.




Habben Jansen told Reuters that Hapag-Lloyd will not submit an alternative offer to the one of MSC, which is aimed at buying all over 75 million HHLA Class A shares at a unit price of 16.75 euro, for a total investment of over 1.2 billion euros, but specified that Hapag-Lloyd could reduce its volume of traffic handled in the port of Hamburg of about 70-80% compared to the current volume.




Rolf Habben Jansen said that if the MSC-HHLA deal goes In port, this could change the competitive dynamics in the port of Hamburg. "I believe - he argued - that the volume that can be moved to Hamburg has its limit" and noted that Hamburg Airport has some disadvantages from geographical point of view in relation to the competing port of Wilhelmshaven. Recall that in April 2022 Hapag-Lloyd brought acquisition of 30% of the capital of Container Terminal Wilhelmshaven, the company that manages the terminal for containers of the port of Wilhelmshaven (

of 28 September 2021 and 29 April 2022).