---
---
The world of LNG shipping never ceases to amaze and it is difficult to pick up any journal without there being at least one reference to LNG.
Whilst 2002 ended with doom and gloom for US energy players, 2003 saw the US market featuring heavily in most LNG forecasts. There would appear to be numerous proposed import terminals for east and west coast of the USA and if all were to be completed there is not enough shipyard capacity to sustain that demand if they were all to arrive on quoted schedule! The realistic view however is that maybe 6-7 will mature to completion, with Freeport, Port Pelican, Altemeira, Corpus Christi, Sabine Pass, Bear Head LNG on the east coast and Baha on west.
ExxonMobil announced (prematurely?) that they envisage the requirement for 48 ships for their Qatari ventures. If this is to be the case, any other project with start-up scheduled for the same time frame (2007-2010) will possibly be treated as the poor relations by shipowners and the shipyards.
Whether it will be the US or not, what is clear from LNG reports today is that most LNG expansion will be focused on the Atlantic Basin. The UK, that was the first importer of LNG but ceased in 1990, is now looking to have at least two new import terminals in the near future. Isle of Grain should be in operation by early 2005 and Exxon in Milford Haven by 2008. How times change, but the UK's North Sea gas was never going to last forever.

The fleet
The year began with a fleet of 138 and it ended with a total of 169. The last ship to be handed over to its owners Repsol-Enagas was the 'Castillo de Villalba', in December by Izar. There were two vessels scheduled for 2003 but these were slightly delayed due to the typhoon "Maemi" that swept through the Korean yards in September. The 'Disha' and 'Golar Frost' are due for delivery very early in January 2004.
Gaz de France finally ordered a new 153,000 cbm vessel, like their 74,000 cbm 'Gaz de France energY', with diesel electric propulsion from the French yard Chantiers de l'Atlantique with a delivery of end 2005. This vessel is intended for use in their Idku project and/or the Snohvit project. A second vessel is expected to be ordered in the second quarter of 2004 for an October 2006 delivery.
Two new participants entered the LNG club in 2003: Maran Gas Maritime, the gas division of the Angelicoussis group and J&S Cheniere. Maran is a shipowner who has ordered two new 145,000 cbm vessels from DSME for delivery October and November 2005. Maran also has two more options for 2006 and 2007. J&S Cheniere arrived on the LNG scene when they quietly sneaked in and chartered the 'Tenaga Empat' for up to four years from MISC. J&S Cheniere is an LNG trading company with eyes on the US and Atlantic basin market. (Cheniere have intentions to build 3 of the US terminals mentioned earlier in this report).
The 'Hoegh Galleon' was out of action for a few months in the middle of the year after it broke down in the Atlantic having suffered an unfortunate gearbox failure. As luck would have it the owners were able to secure a replacement which enabled the vessel to be back in service after months rather than years, if the contract had been breached.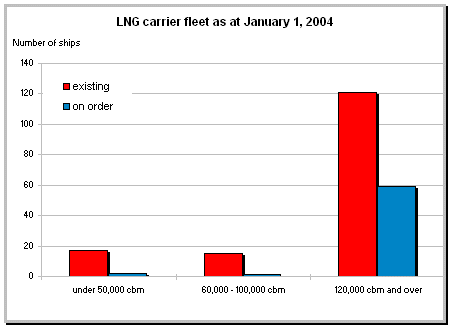 New ideas
The two ships under construction for Gaz de France, at Chantiers de l'Atlantique are some kind of forerunners both in the fields of propulsion (being the first LNG carriers with a gas-diesel-electric engine) and cargo containment system with the new CS1 membrane. Everyone will carefully observe the first steps of these vessels which performances would motivate further orders based on these technologies.
The other main talking point is the use of larger vessels. ExxonMobil have been pioneering development of very large LNG carriers in order to try and minimize the transportation costs on their anticipated long-haul routes from Qatar to the UK and the USA. Up to 250,000 cbm are presently under consideration. One problem presented with the very large vessels is compatibility with existing infrastructure. They will be suitable for new terminals that are planned for construction in the US and at Milford Haven but are probably too big for most existing terminals, especially those in Japan. For an industry that is moving to offer maximum flexibility in the new sales contracts it seems a little strange to build in obsolescence. It could be that the LNG industry might repeat the example of the oil tanker industry of the late 70's when the 500,000 dwt ULCCs were built that could only go to Antifer. They were soon cast aside: such a fate for the LNG carriers would be a very costly exercise.

New projects
No new projects came on stream this year but there was plenty of talk for ones to come.
The main attention seeker has been the expansion in Qatar with Exxon and ConocoPhillips each going for 15 million ton projects for 2007-2009. This has prompted talk of up to 48 ships to be ordered.
Sakhalin signed its first LNG sale-purchase agreement with Tokyo Electric but there is still a lot of unsold cargo to be disposed of.
Equatorial Guinea looks to have sold its planned capacity to BG with a proposed start-up of 2007.
Three new LNG receiving terminals were added to the existing 37. These were:
Dominican Republic

Bilbao, Spain

Sines in Portugal.
Two more terminals are planned for Spain at Ferrol (Reganosa) and Sagunto in Valencia. Italy should get two more with Brindisi and Rovigo the favorites for development. Fos 2, the new terminal proposed by GdF and Total, has stumbled upon environmental problems (but most terminals encounter this at planning stage) but is expected in 2007.
There has been no official contract declared for the Guangdong terminal in China but a signature is expected soon.

Castillo de Villalba



138,000 cbm, delivered in 2003 by Izar Puerto Real, owned by the Elcano Group
Summary
LNG has received tremendous press coverage this year with the US receiving the ultimate boost when Alan Greenspan declared that more new terminals need to build and fast to avoid a gas shortfall.
As ever there is usually more talk than action but what is clear that for the foreseeable future gas has a future in the energy sector of most countries and as such LNG is often the only way to deliver it. Qatar could be the biggest LNG exporter in the world by the end of the decade with LNG being transported over ever increasing ton/miles. Such a thought is only good news for shipping.
What is perhaps not so good for the existing participants is that the industry needs new entrants to cater for the rapid growth. There are numerous very good tanker operators on the wings who want to participate but none like Angelicoussis who has taken the plunge, with his Maran Gas, to order ships to facilitate his membership of the "Club". You have to pay the price to get your ticket to enter this club.

---
Shipping and Shipbuilding Markets in 2003

- Piazza Matteotti 1/3 - 16123 Genoa - ITALY
phone: +39.010.2462122, fax: +39.010.2516768, e-mail