In 2022, the year in which the group's port terminals have enlivened a traffic of the container in slight decrease of the -0,7% on the previous year
(

of
16 January
2023), PSA recorded record financial results that show a significant increase compared to the performance already high marked in 2021. Last year, in fact, the revenues of the Singapore's terminalista group reached the figure of 7.99 Singapore billion dollars (US$5.9 billion), with an increase of +71.2% on 2021. Operating profit was of 2,16 billion Singapore dollars (+15.3%) and the profit clearly of 1.62 billion (+13.5%).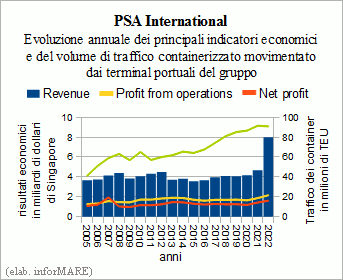 The group has specified that the significant growth of results of 2022 was supported by the acquisition of assets and the higher revenues generated by the storage of goods and specified that comparing the results of 2022 and 2021 in a consistent and homogeneous manner the increase in revenues is of +6.4% and that of net profit of +8.8%. We remind you that at the end of 2021 PSA has signed an agreement to buy the American BDP International, a company that closed that year with a revenue of 1.3 billion US dollars, acquisition that is was finalized during the following year (

of 1 December 2021).




Commenting on the performance achieved last year by the group, The president of PSA International, Peter Voser, recalled that During 2022 the company, in addition to developing its core business of port activities, has invested outside the ports to increase their logistics solutions and for the supply chain. He also recalled that 2022 was a very important year for PSA for the inauguration of the new large Tuas port area in Singapore (

of 1 September 2022).