A.P. Møller-Mærsk took a step today important to ensure the fuel that will be used from the 19 new container ships recently ordered by the group Danish shipowner that will be equipped with a propulsion system which can be fed with green methanol. Important especially because it involves the main container port World: Shanghai. The European company has in fact signed a Memorandum of Understanding with Shanghai International Port Group (SIPG) focused on the supply of methanol as a fuel for ships in the port of Shanghai. In particular, the agreement provides that the Two parts will define the modalities for the bunkering of ship-to-ship green methanol, which will be initiated in starting from 2024 with the delivery of the first ships of the Maersk group that can be powered with this type of fuel.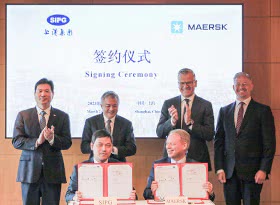 The agreement provides that in a first phase SIPG, as a potential Maersk bunkering service provider, service providers ship-to-ship bunkering and fuel storage in Chinese port tanks. In a potential second phase the two Parties will consider establishing a strategic partnership for promote the extension of the upstream agreement of bunkering, along the green methanol industrial chain.




'Given that SIPG, the main operator of the port The world's busiest container, strives to become Also a leader in the development of green and ecological ports - has explained the CEO of A.P. Møller-Mærsk, Vincent Clerc - the agreement will also support the aspiration of the port of Shanghai to become, as a regional center of Green methanol bunkering, one of the first refueling points of commercial green methanol in the world'.