Today in the ship yard of Chantiers de l'Atlantique in Saint-Nazaire the company MSC Cruises has taken in delivery
MSC Euribia
, 22nd ship of the fleet that represents the last evolution of the class "Meraviglia" and the second ship of MSC Cruises, after
MSC World Europe
, to be fed by liquefied natural gas. On board there are numerous state-of-the-art environmental technologies, including advanced wastewater treatment and waste management systems, and the ship has also been designed thinking about the future, so you can easily incorporate the next sustainability innovations such as zero-emission synthetic fuels and other alternative fuels as soon as available.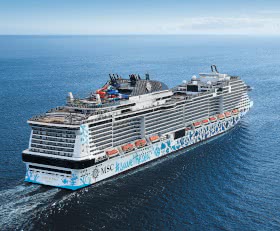 The crocieristica company of the group MSC has evidenced that when will enter in service MSC Euribia will emit up to 19% less than greenhouse gases per passenger per day than ships using conventional marine fuels and this is 44% less than greenhouse gas emissions per passenger per day than ships built only ten years ago.




On the occasion of the delivery of the ship, Pierfrancesco Vago, executive chairman of the cruise division of MSC, has evidenced also the essential role that energy efficiency plays in reducing the question of energy, role held in particular in the design of the new ship: "the cleanest energy - it has found Vago - is what we do not use and MSC Euribia was built taking into account this principle. This is why, with its entry into service, we celebrate a further step towards our goal of reaching zero GHG marine operations by 2050".




"This fifth and last ship of the class "Meraviglia" - added the general manager of Chantiers de l'Atlantique, Laurent Castaing - signs the conclusion of a series of ships already very efficient and the quality of the projects carried out from the environmental point of view".




MSC Euribia, which has a gross tonnage of 184,011 tons, is 331 meters long, 43 meters wide and is 73,6 meters high. The ship has a capacity of 6,334 passengers.




Today in the French ship yard the room ceremony of MSC World America, the third ship to GNL of the fleet of MSC Cruises and the first based in the United States. The new ship, whose delivery is planned for 2025, will present many of the environmental innovations present on MSC Euribia, but with the addition of additional innovations, such as technology that allows you to virtually eliminate the methane produced by liquefied natural gas when it is in operation.