The tail of a whale will ensure propulsion of medium and small boats and ships. Or rather, The pushing action will not be provided by the tail of a cetacean in flesh, bone, fat and skin, but from a propulsion system electric designed inspired by the dynamic movements of the tail of a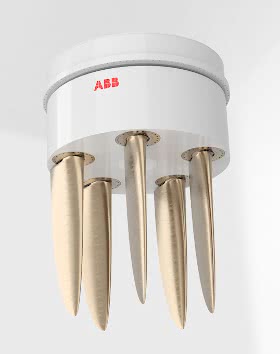 whale. The project is by the Swiss ABB who defined ABB Dynafin™, a propulsion system consisting of an engine main electric powering a large spinning wheel with a moderate speed of 30-80 revolutions per minute. From the wheel vertical blades depart, each equipped with an engine and a individual control system. The combined movement of the wheel and blades simultaneously generate propulsion and government.
The Zurich-based company has specified that ABB Dynafin™ is the result of more than a decade of research, development and testing and that The innovative system has been designed to contribute the shipbuilding industry's objective of reducing annual emissions of greenhouse gases by at least 50% by 2050. 'A study independent ABB Dynafin™ conducted by OSK-ShipTech A/S on a passenger ship project equipped with different propulsion - ABB has specified - has verified a saving in the Propulsion energy consumption up to 22% compared to Conventional configuration with shaft line. This allows to save significantly on fuel consumption and to avoid emissions. As part of an electric propulsion system - it has added the company - the concept is also fully Compatible with battery and fuel cell technologies zero emissions'.




ABB expects the first prototype to be available in 2025. The Swiss company explained that, "initially available in the power range from 1 to 4 MW per unit, the New drive concept is particularly effective for small and medium-sized vessels, including ferries for passengers and vehicles, offshore support vessels that They operate in wind farms and yachts." ABB emphasized that "by reducing vibration and noise levels, the system Improves the comfort of passengers and crew. In addition This propulsion concept offers maneuverability and Superior placement performance, i.e. capacity of the boat to maintain position and direction desire."