"Port reform is getting moving." It has announced the Deputy Minister for Infrastructure and Transport, Edoardo Rixi, on the occasion of yesterday's meeting with the presidents of the ports which took place in Rome at the Sala del Parliament at MIT. 'At the meeting of the National Conference of coordination of the Port System Authorities - has rendered known Rixi - the presidents of the AdSP have voted for the creation of a commission to start analyzing the issues of reform. Within a week the president of Assoporti Rodolfo Giampieri communicate the various critical issues in order to share the lines and objectives that will be included in the enabling law'.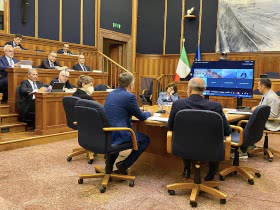 "We will put at the center - specified Rixi - the interest of each individual airport, respecting their respective vocations specialized and territorial. Also, we asked for one screening for all interventions concerning the Fund complementary to allow an immediate reprogramming of funds so that all PNRR resources can be used dedicated to the maritime sector'.




"The next meeting at MIT - specified the deputy Minister - It will take place in the first days of July. Time is not an independent variable. As reiterated by Minister Matteo Salvini in his greeting, all port authorities are involved with a leading role for a reform Indispensable to the entire sector and to our economy».