The Rimorchiatori Riuniti Panfido & C. was found to be winner of the tender for the award of towing services, and thrust of ships in the ports and roadsteads of Venice and Chioggia, services So far operated by the same Venetian company. Renewal The concession, which lasts for 15 years, takes effect tomorrow. The service will be guaranteed by a fleet of 13 tugs and 28 crews, in order to guarantee the 24-hour service, seamless, and to ensure safety port and navigation.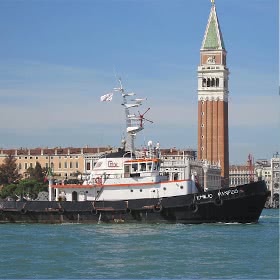 The Port Authority of Venice has emphasized that the race European evidence for the award of services has led to a particularly complex preliminary procedure, carried out by the Captaincies of the Port of Venice and Chioggia and which involved all the trade associations of the maritime sector, in addition to the Authority of Port System of the Northern Adriatic Sea.




The concession, for the first time in Italy, was structured in such a way as to take into account not only a "port system", rather than individual ports, but also a multi-site and dynamic mode of use of the vehicles, without binding the individual components of the fleet to a port specific, so as to ensure that all maritime operators and port optimization and cost-effectiveness performance, in the Overview of improved levels of safety of navigation and competitiveness of ports covered by the concession.