Last month, in the wake of the general weakening of the Trend of increase in the value of sea freight of scheduled services containerized, the growing trend of the revenues of the main Taiwanese shipping companies in this sector has registered a strong attenuation for Evergreen Marine Corporation, while it has reversed the sign for Yang Ming and Wah Hai Lines. Last month, in fact, Evergreen's revenues amounted to 50.2 billion Taiwanese dollars (1.6 billion US dollars), with a modest (compared to before) increase of +5.5% on September 2021, percentage change which is the first in single digits since July 2020 when - with a small +1.6% - the turnover of the company had begun to rise with rates of Dizzying rise already from the following month.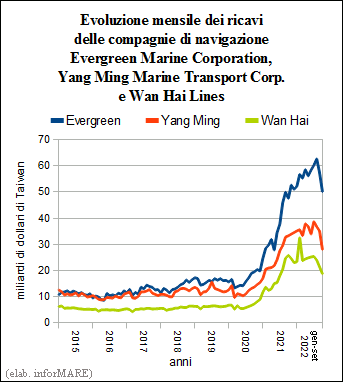 In September 2022, however, the revenue trend of Yang Ming Marine Corporation showed a reversal of sign: after 25 months of growth started in August 2020, last month revenues of the company are diminished of -15.8% being attested to nearly 28.0 billion Taiwanese dollars compared to 33.2 billion to September 2021.




Last month, the WHL also saw a decline in monthly receipts, which is the second consecutive after 24 months of uninterrupted growth. In September 2022 the revenues of Wan Hai Lines totaled 18.6 billion Taiwanese dollars, in Sharp decrease of -27.7% on September last year.




In the third quarter of 2022, Evergreen's revenues totaled 170.4 billion Taiwanese dollars, with an anchor significant increase of +18.8% on the corresponding period of 2021. More Yang Ming's quarterly revenue increase was modest, as in the July-September period of this year were equal to 99.8 billion (+4.6%), while those of the WHL, with a total of 63.6 billion, have accused a contraction of -9.7%.




In the first nine months of this year Evergreen's turnover is State of 516.3 billion Taiwan dollars, an increase of +54.8% on the same period of 2021, that of Yang Ming of 219.5 billion (+39.5%) and WHL turnover of 316.0 billion (+36,8%).