The President of the Port System Authority of the Sea Central Northern Tyrrhenian Sea, Pino Musolino, was elected president of MEDPorts, the Association of Mediterranean Ports. The members of the organization, which brings together 30 ports of the shore Mediterranean, elected him unanimously during the course of the general assembly that ended yesterday in Tunis. The responsible for the Strategy of the Port Authority of Barcelona, Jordi Torrent, has been appointed secretary general.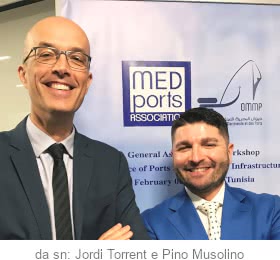 Founded in 2018, MEDPorts aims to promote collaboration among the ports of the Mediterranean to face the new challenges of the international trade and logistics emphasizing the centrality and importance of the Mediterranean in the new flows world trade. To achieve these goals The association has three working committees dedicated to promotion, cooperation and development of activities.




In learning with satisfaction the election of Musolino, the president of the Association of Italian Ports (Assoporti), Rodolfo Giampieri, in wishing him good work, stressed that "the presidency of MEDPorts to Italy represents a further step important for the port of our country and confirms the central and decisive role that Italy of ports is playing in the Mediterranean Sea, a sea that takes on an increasingly important value strategic. This presidency - Giampieri recalled - is added to that already obtained at ESPO as confirmation of the strategic importance of our country in the international arena».