Through new investments made through its Metrans railway subsidiary, the terminalist group Hamburger Hafen und Logistik AG (HHLA) in Hamburg further increases its presence in Southeast Europe, the market in which it is present long mainly with intermodal services and, more recently, also in the port of port having acquired control of the multipurpose terminal Logistic Platform Trieste of the port of Trieste (

of the
January 7
2021).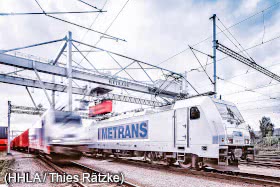 Metrans, in fact, has acquired 51% percent of the capital of the Croatian railway company Adria Rail, which operates liaison services between the Adriatic region and Central and Southeast Europe, an acquisition that also includes the inland Serb terminal in Indija, near Belgrade, which will thus become the first intermodal terminal operated by Metrans in Serbia.
In addition, Metrans has announced the realisation of a second intermodal terminal in Hungary that will be installed in Zseged and will be added to the one under construction in Zalaegerszeg. Both hubs will become operational in 2025 and will increase to 21 the number of inland terminals operated by Metrans.
In 2022 Metrans managed intermodal transport for a volume of 1.4 million teu containers.