The use of self-driving trucks can give a strong Boosting the transfer of freight transport from road to road to rail thanks to an increase of up to +40% in the efficiency of operations at intermodal terminals. This is highlighted by the results of the ANITA (Autonomous Innovation in Terminal) research project Operations) in which tests were carried out for the transport of containers with the use of an autonomous truck between a DB Intermodal Services depot and DUSS Container Terminal at Ulm, Germany.
"In the coming years - Martina Niemann noted, member of the Board of Directors of DB Cargo, commenting on the outcome of the project - combined transport will continue to grow and will play an important role in moving traffic towards an environmentally friendly railway. To achieve this Objective, complex processes in terminals must be made more efficient and accelerated. This can only be achieved if we continue to automate and digitize processes Logistical. Today, the conclusions of the ANITA project have demonstrated Impressively as the future could look like in terminals. The autonomous truck operates in real terminal situations and can thus making a decisive contribution to future sustainability combined transport'.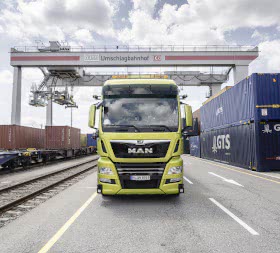 The ANITA project, which was launched on the first of July 2020, was funded with EUR 5.5 million under of the programme "New technologies for vehicles and systems" of the German Federal Ministry of Economic Affairs and Protection of the climate. Project partners are the railway group Deutsche Bahn, Götting KG, a company active in the sector of automation and robotics, the Hochschule University Fresenius and commercial vehicle manufacturer MAN Truck & Bus.




"In developing autonomous driving systems - he explained Frederik Zohm, member of the research and development committee of MAN Trucks & Bus - from the outset our goal is to realize concrete logistics applications and advantages for customers. That's why we at ANITA have not only worked the development of automated driving in a container terminal, but At the same time, together with our partners, we have carried out the digital integration of technology into the logistics process. Only in this way will we be able to make significant use of the Advantages of autonomous trucks: the gain in safety, the greatest flexibility - especially given the growing shortage of drivers -, good integration with other modes of transport and, Of course, the optimization of energy efficiency during operations, which will become particularly important in relation to electromobility. For MAN, ANITA represents a Important step to put autonomous trucks on the road as solutions standard in transport operations between logistics hubs such as Ulm to starting from 2030».