Today in Livorno the Authority of Harbour System of the Sea Northern Tyrrhenian Sea and the Uruguayan Administración Nacional De Puertos (ANP) signed a collaboration agreement aimed at the development of reference ports, which mainly provides for strengthening trade and, in particular, trade in forest products that sees the port of call labronico boast a important leadership at national and European level. In 2022 the port of Livorno has enlivened 2,13 million tons of forest products, with an increment of +19.2% on the year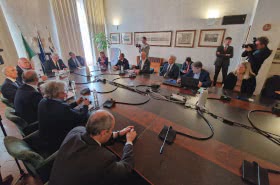 previous, and the Tuscan airport, which alone enlivens 60% of the national import of the sector, aims to become more and more of plus a reference hub for Uruguay, Chile and Brazil, with which already has very close relationships due to the role strategic played by shipping companies such as G2 Ocean and Saga Welco. Both maritime carriers, in fact, have in place commercial contracts with some of the most important pulp producers, starting with the Brazilian Suzano, and finally with the Finnish UPM, a company that has recently carried out in Uruguay and, in particular, in the Department of Durazno, near Montevideo, a new plant capable of producing When fully operational, about 2.1 million tons of pulp per year.
On average, about every year they arrive in Livorno from South America 900 thousand tons of forest products.