Today the start of the construction of the railway crossing that, passing over the railway line Genoa-Rome, will allow the direct connection between the port of Livorno and the freight village of Guasticce. The intervention, by Rete Ferroviaria Italiana, will cost a total of 27 million euros.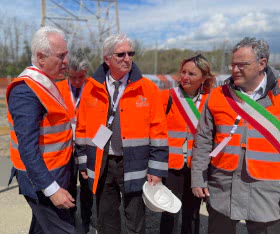 It is - it has emphasized the president of the Authority by Sistema Portuale del Mar Tirreno Nordreno, Luciano Guerrieri - of «an important day for Tuscany and for the port system of the Northern Tyrrhenian Sea', as The work - he highlighted - "increases decisively the value logistics of the port, also enhancing the freight village. The goal is that of being able to increase the intermodal share. In 2022 the Porto Livornese still recorded an increase of 35.8% of the total number of terminalised trains. And soon we will be able to think of achieving further growth results».




Guerrieri recalled that "the climb is the first important piece of the "Raccordo" project which, a Once the realization of the "overpass" on the direct port-freight village, will be able to connect the Guasticce pole with the Pisa-Collesalvetti-Vada tracks». A fundamental project - he added - "whose financing (under the RFI 2023-2026 program contract) is arrived thanks to the teamwork put in place by the Region Tuscany, the municipalities concerned, the AdSP and the Interporto'.




"We are gearing up - concluded Guerrieri - to transform Livorno into a modern railway port. Being able to Conveying more and more goods by rail: not only containers but also semi-trailers, traffic for which the port is a point of reference in the Mediterranean».