Venice is an atypical, unique city. And unusual is the agreement that the American cruise group Norwegian Cruise Line Holding has signed with the City of Venice and not with the local port authority, with which companies usually Maritimes make agreements. However, the agreement, while covering the operational activity of the NCLH company, is relevant especially the repercussions that cruise operations have on the lagoon city.
With the agreement, ratified by the Council of the City of Venice and NCLH is committed to limiting the impact of own activities on the Lagoon and the city using ships of maximum gross tonnage of 100 thousand tons, to moor them over two nautical miles from Punta Sabbioni to do not hinder the activities of the beaches, to limit the up to a maximum of 15 per year and not exceeding three per month, for example exclude weekends, holidays and pre-holidays in order to avoid congestion of tourist flows and to provide Passengers boarding campaign information material #EnjoyRespectVenezia aimed at orienting visitors towards the adoption of responsible and environmentally friendly behaviors and its inhabitants.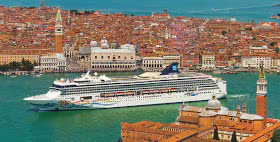 In addition, the agreement provides that the crocieristico group pays annually 600 thousand euros to actively support cultural life and social of Venice, regardless of the number of touches Made.




The parties have specified that the pact is of a extraordinary, exceptional and temporary nature and until the realization of the landing for large ships from cruise in the Lagoon to Marghera North Channel North Side, event that It will be an opportunity for the revision of the agreements.




The Municipality also recalled that NCLH has always adhered to the "Venice Blue Flag" voluntary agreement for the ports of Venice and Chioggia, with which it has undertaken that the own incoming ships change the fuel used in navigation with a lower sulfur content (not greater than 0.1% by mass), before vectors enter in the ATS area of Venice.




The municipal administration also recalled that the group U.S. Cruise Planning has strengthened its partnership with shipyards Venetian Naval Started with the construction of the ships of the group of new generation of class "First" (

of 13 August 2021).