The Shipbuilding market in 2003
---
General trends
Orders
Prices
Analysis by country
- Asia
- Europe
- U.S.A.
Prospects
---
The shipbuilding market of 2003 was marked by:
1. An explosion in the volume of orders, beginning from the second half of 2002. The figures speak for themselves: the world orderbook has gone from 65 million gt mid 2002, to 75 million gt end 2002, 85 million gt mid 2003, then 100 million gt end September 2003, to finish the year at a new historic level of around 115 million gt.
2. Asian shipbuilders now hold nearly 90 % of the world orderbook. Korea consolidates its first place with close to 48 million gt of orders in hand. Just for reference, the world orderbook ten years ago was 36 million gt. Japan follows with nearly 38 million gt and China has crossed a threshold, by surpassing its forecast, with over 15 million gt. Europe has hardly taken any advantage of the accelerating demand but remains close to the same level as last year with about 6 million gt.
3. Orders are spread out considerably over time since the majority of Asian shipyards were already full up until 2007 at the end of the year. Some even have deliveries due in 2008. Whilst most new standard ships are built today in less than nine months, between the cutting of the first steel plate to delivery, orderbooks which stretch out over four years constitute an opportunity and a challenge for builders, as well as a gamble for owners.
4. Generally speaking, newbuilding prices, which started to rise at the beginning of autumn 2002, have kept on progressing during the year under the combined effect of a very strong demand and the rapid disappearance of available berths. The number of "resale" transactions of ships under construction has multiplied, with prices always higher than order prices, and the fierce competition between buyers has sometimes resulted in quite impressive increases.
5. For the first time in thirty years we have come into a "sellers" market (in favour of shipyards) and players had to adjust their behaviour to this new situation. Builders have become more selective, both in the type of ships they want built and in their customers. Owners had to accelerate their decision process, pay higher prices and sometimes accept some contractual terms imposed by the builders. The opportunism of some yards has surprised more than one owner.

Growth and trade
With the world GDP increasing by about 3.2 % in 2003, the year was not so bad and represents a steady progression since 2001, when the world growth was moving along at the rate of 2.4 %, one of the lowest levels over the last ten years.
There has however been a large disparity in the growth between economic zones. China has managed to maintain its very strong expansion of about 9 %, compared to 2.6 % for the US and 0.5 % for the Euro zone. China has been a driving force in the world economy as well as for the jump in freight rates. Japan's recovery with a growth of 2.7 %, and that of Russia with about 6 %, is also noteworthy.



World trade growth has increased in 2003 by nearly 2.9 %, a rate close to that of last year's.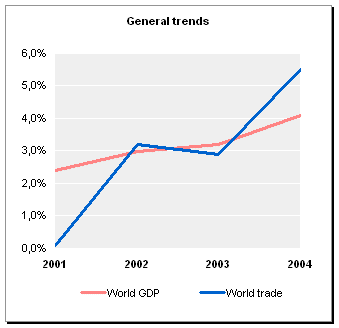 Freight rates
Dry bulk freight rates literally took off to unprecedented heights, fuelled by China's enormous needs for raw materials and other primary products used to develop its infrastructures. This take-off even accelerated in the second half of the year.
Tanker rates experienced impressive ups and down during the year but resulted in an average level well above the previous years. Container freights rates also marked a strong progression.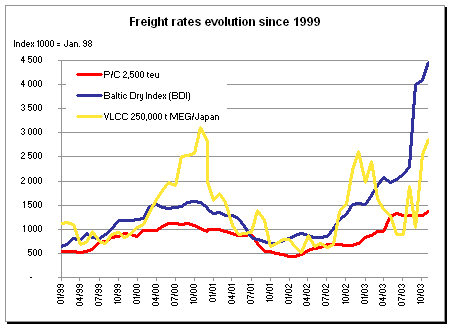 The robust levels of freight rates in 2003 certainly helped to order and finance new ships. The SARS epidemic and the Iraqi war were unable to put a hold on this trend.

Orders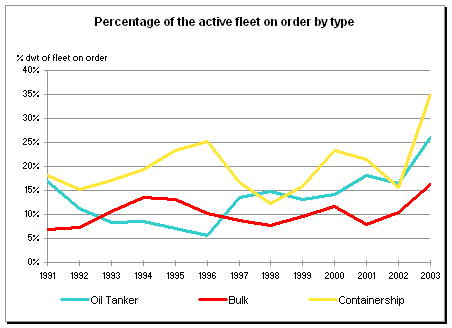 Tankers
With over 52.5 million dwt of new orders, the year 2003 was particularly strong for tankers, around two and a half times as much as in 2002. It is also far higher than the peak registered in 2000, which for reference was 34.3 million dwt. Without any doubt, the shipwreck of the 'Prestige' brought a change and pushed political and economic leaders to adopt tighter regulations, accelerate the phasing-out of old tankers and single-hulls, tighten inspections and adopt more restrictive chartering practices.
As a result, the tanker orderbook has been expanding and jumped from 46.6 million gt at the end of 2002 to 79.2 million gt at the end of 2003. Ships on order represent about 26 % of the fleet in service.
There has been a real rush toward the shipyards for placing tanker orders. Variations from one year to another are significant: orders for product tankers of 25,000 to 50,000 dwt went from 94 in 2002 to 238 in 2003, that for Panamax from 46 to 85, for Aframax from 44 to 106, for Suezmax from 18 to 49, and for VLCC from 16 to 57!
This year has seen a very strong demand for ice-strengthened tankers, very often for the highest ice class "1a" rating, which for example allows ships to load crude or refined products in the Gulf of Finland and the Sakhalin Islands, where Russia is in the process of building new ports and oil terminals. It is true that after a series of particularly mild winters, operators were caught by surprise that a large part of the Baltic became ice-bound. The specification for ice-strengthened ships has a considerable impact on the investment cost, since it is not only a question of strengthening the hull but also to install a more powerful engine that means also to adapt all the auxiliaries, entailing an additional 10 % on the overall cost.
Numerous product tankers of 37,000 to 47,000 dwt have been ordered with a "1a" ice class, as well as Aframax and Suezmax types. In view of the extra costs, some owners have opted for a combination of different ice class requirements ("1a" for the hull and "1b" for the engine). It is nonetheless probable, with the impressive increase in Russian oil exports from the Baltic and the Black Sea, that there will be stricter regulations imposed by adjoining countries, which may create a need for other types of tankers.
Some owners have designed innovative ships to increase the safety of oil carriage, offering their clients some original solutions. For instance Stena has ordered a series of six ships of a new type called P-Max, fitted with double propulsion. These ships offer a number of economic advantages: with the same length as a product tanker of 47,000 dwt, namely 183 m, but a breadth of 40 m compared to 32.25 m, they can transport 65,000 tons of products while retaining the same draught.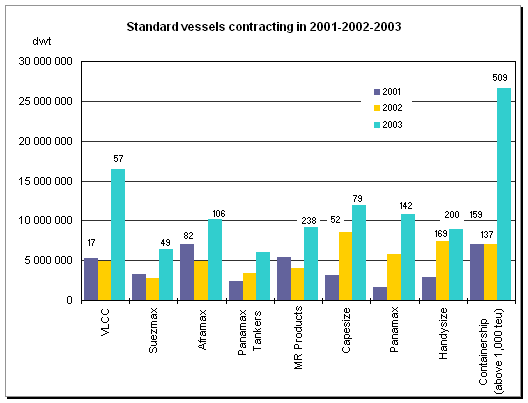 Containerships
With 26.7 million dwt, 518 ships for a total of 2.7 million teu, demand for new containerships was extremely strong in 2003. The numbers were by far superior to those of 2000, namely 13.7 million dwt when the world economy was flourishing, and more than three times the figure for 2002, which was 7.1 million dwt. The tonnage on order represents about 35 % of the active fleet in dwt terms.
Dominated by major Asian shipbuilders, the orderbook for containerships extends now up until 2007 comprising: 201 ships for 678,000 teu scheduled for delivery in 2004, 236 ships for 875,000 teu in 2005, 177 ships for 820,000 teu in 2006 and 54 ships for 352,000 teu in 2007.
The most significant factor for this year was essentially the size of the ships ordered. For 35 ships in service in the category larger than 7,500 teu (7,500 to 8,200 teu), we have seen 126 new orders during the year 2003. With the exception of some series of ships placed with IHI and ships being built at Odense for the account of Maersk-Sealand, all the remaining ships will be leaving the four big Korean shipyards (Hyundai, Samsung, DSME, and Hanjin).
One hundred and eight of these ships have been designed with a 42.8 metres beam, allowing them to load up to 17 rows of containers on deck. A smaller number has a beam of 45.8 metres (18 rows) reaching the limit imposed, for the time being, by the cranes available in the majority of container terminals.
Some operators who run their own "hubs" have already anticipated that their port equipment should in theory be able to handle ships of greater breadth, with up to 22 container rows. Thus the way seems to be opening for larger ships which future generations may go up to 10,000, 12,000 or even 18,000 teu.

Bulk carriers
Demand was very strong in 2002 for large size bulk carriers (Capesize and Panamax), with nearly 21.6 million dwt being ordered, as much as in 1999. In 2003, this trend was even more pronounced with 32.9 million dwt. This relatively smaller performance compared to containers and tankers can be explained by:
the full occupancy of traditional shipyards dedicated to building this type of ship which at the end of 2002 already was covered until 2006,

the greater attraction for builders towards containerships and tankers with higher prices which allows them to increase their turnover,

the uncertainties linked to the changing regulations concerning double-hulled bulk carriers,

the resistance from buyers during the first half of 2003 to accept price increases being claimed by builders.
The orderbook for bulk carriers is nonetheless on the rise and went from 28.6 million dwt end 2002 to 49.2 dwt end 2003. The tonnage on order at the end of 2003 was about 16.2 % of the active fleet in dwt terms.
The trend toward new types of ships is continuing. Thus specialised builders of Handymax bulk carriers, after having produced in 2002 "designs" for single-hull ships of 55,000 to 56,000 dwt have proposed this year ships of 58,000 to 60,000 dwt. The main dimensions do not vary much, with the length remaining for the moment at 190 m and the breadth at 32.2 m, but the draught is higher and cargo cubic capacity has increased. Chinese yards, Jiangnan, Shanghai Shipyard and Bohai are building for China Shipping bulk carriers of 57,000 dwt with a length of 200 m. It will be interesting to see if other owners follow the movement, thereby creating a new category of ships.
Some double-hulled Handymaxes were ordered in China, notably with the yards Yangzhou Dayang, Kouan, Mawei, Xiamen and Zhejiang. However builders and owners have most of the time gone for single-hulls, as rules and regulations related to double-hull design have not yet been completely decided.
There was no significant design evolution for Panamax bulk carriers but the trend to build larger Capesize bulk carriers is confirmed by the orders of ships of 200,000 and 230,000 dwt. The enormous needs for iron ore at competitive freight rates could create a new interest for larger ore carriers of 270,000 dwt or more. Interested shipyards are fine-tuning their projects.

Specialised tonnage
Demand for specialised tonnage has remained very weak with the exception of car-carriers and LNG ships. Consequently shipyards which have geared their operations to one type of ship are facing some difficulties. Their idea was originally good, since it was based on the principle of acquiring a better control over the project and its cost, but in very narrow markets, these yards encounter difficulties when volumes of orders drop. It should be remembered that specialised tonnage only represents a very small fraction of the tonnage of standard ships built in the world, both in volume and in number of ships.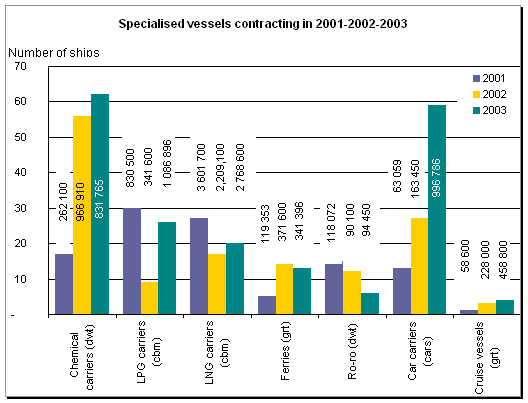 Prices
A significant rise in the price of tankers, bulk carriers, and containerships was experienced in 2003. The increase was on average 20 % (expressed in dollars).
Some observers are astounded at the moderation of this increase taking into account the enormous demand, but this is generally the case for a number of industrial goods, which are not mass-produced. This "reasonable increase" is in fact due to the diversity and the elasticity of supply which shipbuilding offers.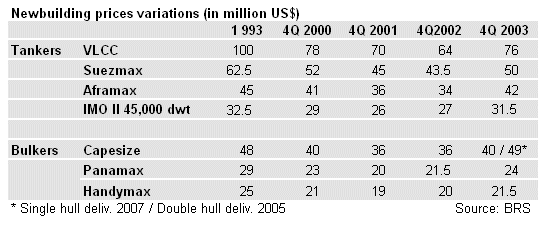 It seems that in the first half of the year there was a constant but reasonable increase in prices, principally justified by the sustained demand, then in the second half the trend got carried away.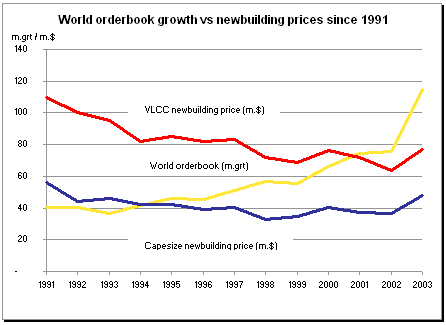 Other factors came into the equation, sometimes triggering off threshold price levels or dramatic variations in prices. First of all the scarcity of available docks within a reasonable delay, which created a fierce competition for the earliest possible delivery dates and allowed shipyards to play the bidding. There was a noticeable change in behaviour: with builders demanding a better return, owners were obliged to pay more if they wanted to make the deal, whilst betting on the continued firmness of freight rates.
Shipbuilders hedged their positions between the three most common types of ships: containerships, tankers, and bulk carriers (for a same size of ship, they give priority to the most expensive ships and to series), and only showed an interest in low-added-value ships to satisfy their traditional clients if the latter were prepared to pay substantial premiums on the price.
The resale of ships still under construction with prompt delivery dates started multiplying, at prices systematically higher than the price offered by the yards themselves for later deliveries, which was essentially motivated by the hike in charter rates notably in the bulk and oil sectors.
Strong demand was not the only factor pushing prices up. Shipbuilders' own costs increased particularly with the rise in raw materials and energy prices. Steel prices more than doubled and suppliers, very much sought after given the enormous orderbooks, also pushed up their tariffs. Moreover, the extended delivery dates meant that suppliers had to incorporate additional margins to cover future and unforeseen fluctuations of supply costs and exchange rates.
Change in currency values also contributed to the rise in newbuilding prices. For example the yen/dollar exchange rate in January 2003 was 118.2 compared to 107.8 by the end of 2003 while euro/dollar was 0.95 in January and 0.79 by year-end. Despite a fixed parity between the Chinese currency and the dollar, Chinese shipbuilders contracting in dollars buy a large part of their equipment abroad (Europe, Japan, Korea) and the decline in the dollar's value has increased the cost of these imported items.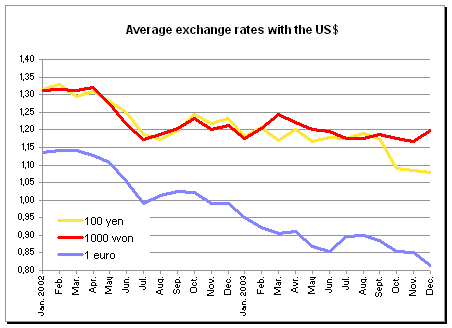 Specialised ships did not enjoy the same increases as standard ships, due to a less sustained demand. Shipyards which are building these do not always have the capacity to quickly adapt to other types of ships. Other builders who have this capacity want nonetheless to keep their expertise. All in all, this resulted in prices being kept down for such ships and reduced margins for the builders, despite facing increases in their costs. For instance, the 2003 price for 145 000 cbm LNG carrier remained roughly at the very low levels of 1999, namely about $ 150/155 million.
The general increase in prices seen in 2003 could continue in 2004, given the scarcity of berths available, the depreciation of the dollar and the rise in raw materials and equipment costs. Notwithstanding, if the shipyards are fully booked, their clients are also highly committed, and to order a ship with a delivery date in 3 or 4 years time is a gamble, albeit financed by the massive windfall profits owners have extracted from charter rates, which reached all time highs in 2003. The success of these future deliveries depends for a large proportion on the strength and stability of economic growth and above all on the firmness of freight rates.

---
Shipping and Shipbuilding Markets in 2003

- Piazza Matteotti 1/3 - 16123 Genoa - ITALY
phone: +39.010.2462122, fax: +39.010.2516768, e-mail