Rodolfo Giampieri confirmed as Chairman of the Association of Italian Ports (Assoporti) during of the assembly of associates held yesterday in the late afternoon. "I thank the presidents of the AdSP - has declared Giampieri - that at this crucial moment for the future of ports They renewed their trust in me. We have worked intensively in these two years to ensure that Assoporti had a role central in the country's development policies, always attentive to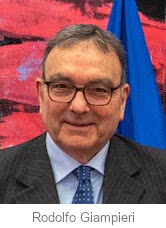 general interests. As I have said on several occasions, We are experiencing a phase of profound transformation, and we need to be compact to make sure that the AdSP can face the next major challenges, starting with the intention to proceed to a review of the Law of Reform of port legislation".
"The unity of intent of all the AdSP - it has added Giampieri - confirms the desire to continue with a constructive and collaborative dialogue first and foremost with our ministry of reference, and, of course, also with the Captaincies of Porto, the maritime-port cluster, the social partners and all players in the sector, to find the best solutions for a renewed sustainable future of the sector with particular attention economic and employment development'.