The shipowning group Mediterranean Shipping Company has expanded further its presence in the port market obtaining the management of the container port of Malindi. On Monday, in fact, the Africa Global Logistics (AGL), company (formerly Bolloré Africa Logistics) which the Swiss group acquired at the end of the 2022 and to which it subsequently changed its company name
(

of
31 March
2023), signed with Zanzibar Ports Corporation the concession contract to operate Malindi Container Terminal (MCT), which is the main port for containers of Tanzania, through the Zanzibar Multipurpose Terminal branch (ZMT).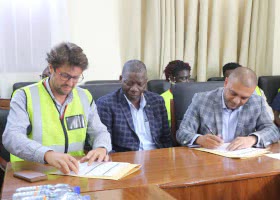 The agreement between the parties provides that Zanzibar Ports Corporation receives 30% of the revenue generated by the activity of the container terminal MCT and that Africa Global Logistics detains the 70% of revenues.




Recall that MSC's expansion strategy in the sector portuale, in which it operates mainly through the subsidiary Terminal Investment Limited (TIL), has brought in recent days the Swiss group has submitted an offer to acquire a stake in the German terminalista company HHLA defined together with the administration of the city-state of Hamburg (

of 13 and 13 September 2023).